How single-SKU purchasing can help your agency streamline procurement
Buy needed vehicle equipment faster and easier with the Single SKU Police Car bundle from Gamber-Johnson
---
Sponsored by Gamber-Johnson
By Robert Avsec for Police1 BrandFocus
Remember how we used to shop? You decided there was a product you needed or wanted, and you'd head to the local store to buy it.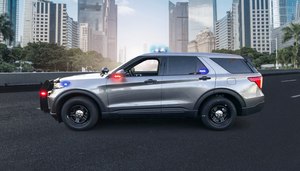 But when you got there, the store didn't have it. So, you went from store to store until you found it – or gave up. And if you did find it, it was likely not at the price you expected to pay, right?
Well, that all changed when Amazon morphed from being strictly an online bookseller to become the largest retailer in the world. Amazon made it so that, you the customer would always find what you were looking for, at the price you wanted to pay, and then Amazon shipped it to you. You never had to leave your home.
It's that kind of buying experience that Gamber-Johnson is bringing to the table with the Single SKU Police Car bundle.
How the Single SKU Police Car Bundle Works
A stock-keeping unit, or SKU, is a scannable bar code, most often seen printed on product labels in a retail store. The label allows vendors to automatically track the movement of inventory. Bundling all the items needed to outfit a police cruiser under a single one of these codes, rather than a separate code for each item, is the foundation of the Single SKU Police Car bundle.
"We provide everything necessary bumper-to-bumper for the vehicle outfitter or installer to take the vehicle they've been given and transform it into a 21st-century law enforcement vehicle," said Nathan Teodoro, public sector national sales manager for Gamber-Johnson.
Gamber-Johnson partnered with several manufacturers in the public safety sector, including All Fleet Solutions, a wiring harness company, to offer a total vehicle solution for police vehicles under one single SKU number.
What does that look like? Look at one of Gamber-Johnson's bundle options, a Low-Profile Console with All Vehicle Equipment: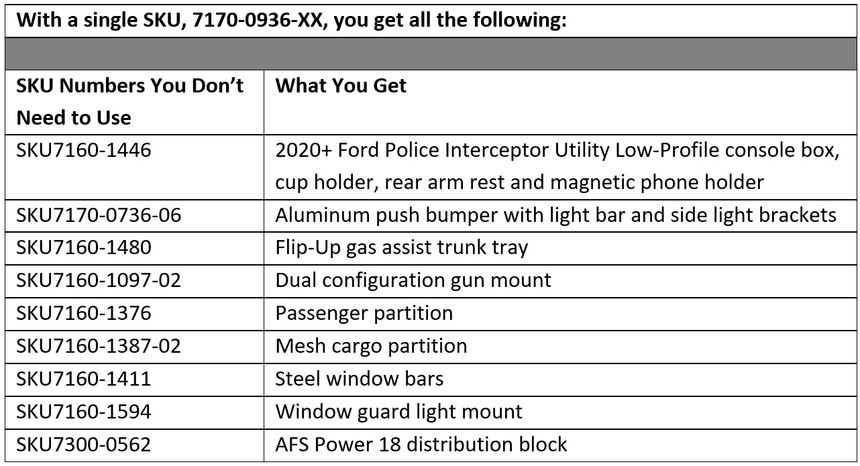 According to Teodoro, the "biggie" on that list is the AFS Power 18 distribution block, a single wiring harness that's designed to connect with every piece of equipment installed on or in the vehicle.
This enables the outfitter or installer to manage only one wiring harness that runs from the front to the rear of the vehicle. They can take the wiring harness, figure out what equipment (e.g., light bar, siren, radios) needs to connect to the it and then catalog all those connections using a schematic drawing and chart. With this approach, if there's ever a problem that needs troubleshooting (e.g., the light bar isn't working), the technician can quickly locate the cable they need to work with.
Common Problems in Outfitting a Law Enforcement Vehicle
Ask any public safety fleet manager what their common purchasing problems are and they'll list things like managing multiple orders, ensuring product compatibility and dealing with supply chain issues (e.g., items out of stock, delayed delivery times). The Single SKU Police Car bundle addresses all those issues for a much faster and easier process.
Outfitters and installers for law enforcement vehicles will find that using the Single SKU Package to outfit law enforcement vehicles provides many advantages:
Save time finding the right products.
Provide faster deliveries with fewer shipments.
Provide multiple bundle options (currently available for the 2020+ Ford Police Interceptor Utility) that include Gamber-Johnson's console box, vehicle equipment and AFS wiring harness, with more to come.
Provide universal light hole patterns on push bumpers and window barriers so outfitters can use lights from any manufacturer.
Provide products designed and built for long-term durability.
The Single SKU Police Car bundle is unique to Gamber-Johnson and can be purchased through any Gamber-Johnson reseller.
One Vehicle Outfitter's Perspective
 "When my boss came to me with the idea for the Single SKU Police Car bundle, I was, to put it mildly, skeptical," said Teodoro. "So I contacted one of the small vehicle outfitters that I had worked with in the past to get their thoughts."
What Teodoro found was one ecstatic vendor. When asked how many equipment vendors the outfitter needed to work with for one vehicle, the outfitter replied:
"Seven to eight on average, and that means many phone calls, emails and quotes that I have to deal with before I have all the equipment to outfit the police car."
Another concern voiced by the outfitter was the money that he had to "float," that is, the time between when the vehicle is completed and delivered, and the time before the outfitter received payment, which could be 60 to 90 days or more.
Teodoro says that same outfitter told him he might have eight completed vehicles awaiting payment at an average cost of $8,000 per vehicle. Do the math. That's $64,000 that the outfitter must "float."
Additional benefits for outfitters and installers include:
1. Eliminate the wait. The Single SKU Police Car bundle reduces product lead times by shipping everything needed to complete your vehicle install in one convenient order.
2. Reduce installation time. Gamber-Johnson's specially curated products are installed and tested together to ensure product compatibility and reliability, as well as more effective and efficient installation.
3. Competitive financing options. Resellers of Gamber-Johnson's Single SKU Police Car Bundle offer multiple financing options, making it easier than ever for outfitters and installers to purchase the products they need.
By providing all the elements from bumper to bumper in a single bundle, Gamber-Johnson's Single SKU Police Car bundle makes it much easier for fleet managers to outfit police cruisers for the needs of modern law enforcement.
Visit Gamber-Johnson for more information.
Read Next: Why a total vehicle solution for outfitting public safety makes good sense

Request information from Gamber-Johnson
Thank You!