Telogis and Ford Motors announce officer safety solution with telematics
Telogis is able to gather vehicle data specific to the officers' driving environment to keep officers on the road safer and more aware
---
Ford Motor Company and Telogis announced at IACP in Orlando that they have partnered to develop a solution built specifically for law enforcement agencies in order to safeguard against hazardous driving habits by using state-of-the-art telematics technology.
Telogis is able to gather vehicle data specific to the officers' driving environment through the new line of Ford Police Interceptor vehicles so that command staff can better understand the habits of its officers and keep officers safe on the road.
The technology has centered on safety in four innovative ways: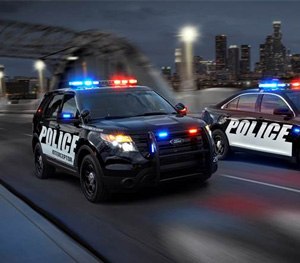 1.  The Ford Interceptors will have a 75 mph rear crash test rating to better protect officers during roadside traffic stops and rear-end collisions.
2. The vehicles' door panels are NIJ Level III ballistic certified.
3. A surveillance mode will be available that will turn on the vehicle's back-up sensors, giving officers the option to automatically roll up windows and lock doors when a person is approaching the vehicle from behind.
4. Telematics technology will record behaviors over a period of time so that a chief can look at things such as average speeds, average idle times, ABS activation, traction control activation, light bar activation, etc. so that potentially dangerous habits of a driver can be addressed properly.
"It's important to take all of these behaviors and put them into context," Jason Penkethman, Senior Director of Product Management for Telogis said. "Agencies can take non-disciplinary measures and create an opportunity for meaningful dialog with their officers – and they can't do that without the data."
The Telogis technology is customizable and offers opportunity for better fleet management. Officers can receive automatic updates about the maintenance needs of their vehicle, and can see diagnostics in real-time, which can allow for parts to be ordered prior to bringing a vehicle in for repair, saving time and money.
"This isn't another 'big brother' scenario," Business Development Manager Gary Oldham said. "Just like with dash cams, this technology is used to show that our officers are in the right."
Ford Telematics powered by Telogis – Law Enforcement Edition includes advanced custom dashboards, alerts, scorecards and reporting. Scorecards provide more accurate patterns of driving behavior that are specific to real-world law enforcement scenarios, while dashboards offer insight into key vehicle metrics that can be utilized to improve fleet utilization while reducing costs and vehicle downtime.
The package will be available starting January 2015. 
For more information, visit www.telogis.com/ford/law-enforcement.