All-new Havis VSX Console maximizes, organizes Ford SUV cockpit
The new Havis VSX Console provides an efficient and comfortable workspace solution for organizing radios, laptops, tablets, and more in 2020-2021 Ford Police Interceptor Utility vehicles
---
Sponsored by Havis
By PoliceOne BrandFocus Staff                          
When it comes to their respective 'cockpits,' patrol officers have specific requirements. They need all of their vital systems within easy reach, with no chance for confusion when the heat is on, and split-second decisions have to be made. Simultaneously, space is at a premium: officers can't afford to surrender a single cubic inch to larger-than-necessary mounting systems that eat into their already-cramped working areas.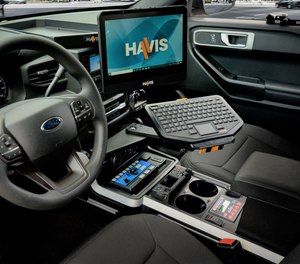 The new Havis VSX Console can make all the difference to officers riding in 2020-2021 Ford Police Interceptor Utility vehicles. Mindful that there's a lot of equipment that has to fit into this small interior, Havis has engineered this sleek new console to efficiently integrate radios, laptops, tablets, touchscreens, keyboards, printers, USB ports, and cup holders between the two front seats.
Rugged & Sleek
The VSX Console's ruggedness comes from the 10-gauge steel used to build its floor-mounted frame. Yet its appearance matches Ford's interior styling, thanks to the use of high-strength thermoplastic polycarbonate and OEM-style trim strips to hide accessory and faceplate mounting hardware. The result is a discreet equipment console that looks just right inside the Interceptor cockpit while providing the level of robustness, equipment space, and all-conditions durability that law enforcement needs.
"Our design goal was to mirror an automotive OEM bringing a new vehicle to market," explained Stephen Telesco, chief engineer for Havis. "We worked closely with industrial designers to create the console's conceptual version based on vehicle confines and critical customer feedback. The result is a product that is roughly 30% lighter than comparable consoles without sacrificing strength or versatility."
Uncompromised Versatility
As a respected manufacturer of LE equipment, Havis develops products based on customer feedback and marketing demands.  
The features and flexibility provided by the VSX Console are the results of such feedback, and they demonstrate that patrol officers know what they need in their cockpits. This is why the VSX Console fits so unobtrusively in the Ford Interceptor Utility cockpit: It has been purpose-built to not intrude on an officer's working environment.
At the same time, the VSX Console has been designed to accommodate and organize all of law enforcement's essentials. Starting where the console meets the dash, the unit is topped with a triangular steel horizontal platform for mounting a rotating arm to support a computer keyboard (with separate monitor mount) or laptop computer. From there progressing between the front two seats, the VSX Console has interior space available for a flush-mounted Brother PocketJet Printer (optional), a police radio, plus Whelen/Federal Signal/Code 3 siren/light control heads and other signalling control units. If the printer is not installed, there is room on the VSX Console's front section for an included removable tray plus the installation of two switches and one OEM lighter plug.
In addition, the VSX Console provides mounts for a Havis ChargeGuard® power management system under the elevated armrest at the back of the console and for a Motorola speaker on its rear housing, along with an 8-position fuse block (using standard automotive blade fuses) on the console's passenger side.
Finally, two easily accessible cup holders have been integrated into the VSX Console because officers must stay hydrated during long shifts in their vehicles. Storage pockets have also been included on the driver's and passenger's foot-wells. Yet the VSX Console provides easy access to vehicle functions such as the parking brake, rear seat climate controls, and Ford SYNC USB ports – all designed to make officers' in-car lives easier based on actual customer feedback.                                                                                                          
Enhanced Law Enforcement Work Environment
Collectively, the Havis VSX Console for 2020-2021 Ford Police Interceptor Utility vehicles offers an impressive range of functional and ergonomic features in a low-profile, visually appealing package. In doing so, the VSX Console measurably improves the working environment for patrol officers, just as the F-35 does for fighter pilots with its touchscreen controls and helmet-mounted display.             
"The development of this console began in 2019 with the vision for a new and unique design," said Chris Bernert, Havis' director of sales. "The thought and energy have been invested into a new console product that aimed to be best in class for the installer and the end-user alike. The development led to a heightened level of appearance, fit and finish, and feature content in the Ford Police Interceptor Utility."
Visit Havis for more information.
Watch how the Havis Console has evolved over time:
Read Next: Havis invests in development, redesign of mobile solutions for 2020 Ford Police Interceptor Utility vehicle

Request information from Havis
Thank You!