PRESS RELEASE
Grafix Shoppe Collaborates with Boston Heights Police Dept. on New Charger Design
---
New Dodge Chargers receive new designs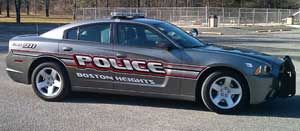 Eagan, MN
-
The Grafix Shoppe
worked with Officer Lou Keller of the Boston Heights Police Dept. (OH) on a new design. They choose the ULT-2130 design for their new 2011 Dodge Chargers. The Crown Victoria had previously been used for the squads but with the new vehicle they also wanted a new design. The Grafix Shoppe and Boston Heights PD have been working together since 1994 and in that time they have changed designs five times. The Grafix Shoppe is very appreciative of their business and hopes to continue working together for another 18 years.
About The Grafix Shoppe
The Grafix Shoppe was founded in 1988 and is currently based in Eagan, Minn. They serve the law enforcement, retail graphics, event marketing and commercial vehicle markets. For more information visit
www.GrafixShoppe.com
.