4 ways smart camera systems help officers focus on enforcement
Improve safety and accuracy with components that adapt to changing technology
---
Sponsored by Motorola Solutions
By Courtney Levin, Police1 BrandFocus Staff
Our phones are seconds away, ready to snap photos and shoot videos at a moment's notice. This widespread, everyday use of mobile video has elevated community expectations around documenting interactions between law enforcement and the public. It's also led Motorola Solutions to develop a complete smart camera system, one that helps officers focus more on enforcement than on the tools they use.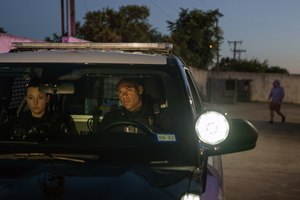 As part of the Motorola Solutions device lineup, the M500 in-car video system, the V300 body camera and the L5M mobile LPR system work in harmony to support officers in the field. These systems are designed to do much more than just record events and witness what happens around the patrol vehicle. Here are four ways these devices help make a cop's job easier:
1. ENHANCE SAFETY USING ARTIFICIAL INTELLIGENCE
Law enforcement officers need to be always alert, relying on their senses to detect threats and plan for the unexpected. But wouldn't it be nice to have another partner watching at all times? The M500 in-car video system is designed to provide an additional set of eyes with processing power that rivals any human brain.
"For instance, instead of merely recording footage of a vehicle pulled over for speeding, the in-car video system can now automatically recognize where the license plate is, what number is on it, run it through a database and proactively alert the officer of information they should know," said Andres Lacambra, senior director of mobile video at Motorola Solutions.
Even better, said Lacambra, it all takes place before the car has even pulled to the side of the road. Providing officers with this level of proactive information increases officer safety in the moment while noting possible suspects or witnesses that may otherwise be overlooked.
The M500 is also slated for future updates, including the ability to detect unnoticed threats and notify an officer when it sees a weapon of any kind on the scene. It will also be able to monitor a patrol vehicle's surroundings, potentially detecting someone outside the officer's vantage point who may be aggressively approaching or a person who may need assistance.
2. IMPROVE INVESTIGATIONS WITH LEARN TECHNOLOGY
The ability to digitally capture license plate information is only helpful if the details gathered can be used effectively. Many departments use their LPR data to compile hotlists, allowing them to receive alerts when a wanted vehicle is detected on the street.
To access more than just local data, Motorola Solutions customers can access shared data from law enforcement and business partners with Vigilant PlateSearch and use this database of nationwide plate detections to develop leads. This cloud-based software, a part of the Vigilant LEARN platform, allows investigators to search for vehicles by location or license plate and helps in creating plate hotlists.
Beyond simply tapping into this network, law enforcement officers who use the M500 can pull up relevant data while on patrol. If the camera detects a license plate that's part of a hotlist, you'll instantly be notified. By combining cloud and edge algorithms, Motorola's M500 provides quick and accurate results.
However, Motorola Solutions' smart camera system doesn't rely on only one device as a way to capture information. The M500 and L5M work side by side to ensure no vehicle is missed, even during nighttime hours.
"With a new, industry-leading image sensor, the L5M provides unprecedented low-light performance for accurate license plate and vehicle make and model recognition," said Lacambra.
When it comes to investigation, every tool in the smart camera system works together to locate vehicles of interest. Officers can connect data from multiple crime scenes and identify new leads using Vigilant PlateSearch software.
3. GET INFORMATION WITHOUT DISTRACTIONS
Distracted driving has become a pervasive problem, but civilians aren't the only ones whose gaze may be taken away from the road due to a digital device. Motorola Solutions developed the M500 user interface to be easy to navigate, with no function more than three taps away.
The CarDetector Mobile software provides audio and visual alerts when a hotlisted vehicle is detected and allows officers to conduct additional investigation to inform their next move.
Motorola Solutions' smart camera system takes a customized approach to meeting officer needs, allowing each unit to be configured with specific in-car notifications. Based on your day-to-day routine, you can create real-time alerts and access quick search features while the system self-monitors for optimal performance.
If you change vehicles often, there's no need to reconfigure your settings each time. The M500 automatically applies your preferences no matter which device you log into. The user interface is built to deliver a consistent experience across the entire ecosystem. Greater consistency means less training, more productivity and faster operations.
4. SAVE TIME DURING INSTALLATION
Efficiency is critical in law enforcement, and waiting for your smart camera system to be installed takes away from your time on the street. The Motorola Solutions smart camera system is simple to install and maintain, with a minimal footprint in the vehicle and automatic software updates.
The M500 is quickly and easily installed in the vehicle with simple, locking, color-coded connections, and each component will stay secure, even during harsh weather. The L5M mobile license place recognition camera system is built to work in the toughest conditions, withstanding shock and vibration from bumpy roads, plus rain and dust in high wind.
"It's designed for use year-round in the coldest and hottest environments," said Lacambra. "Not only will your system hardware stay intact, but you'll also always have the best new features with automatic updates that come standard."
EVOLVE AND ADAPT
Reinvesting in camera systems every time a more advanced model comes out can become expensive quickly. Instead of keeping technology updates on your radar, the ever-evolving capabilities of the Motorola Solutions smart camera system does the work for you. This benefits agencies and departments, as the system you buy today will stay up to date as technology changes.
While automatic updates are standard with the M500 and L5M, agencies also have the option to modify their hardware as needs change. The smart camera system allows for the easy addition of new AI applications, cameras, sensors and voice controls.
A police officer's job shouldn't be any harder than it has to be. Whether your department is looking to improve investigations, enhance situational awareness or simply create a less distracting patrol environment, the smart camera system by Motorola Solutions can be your department's easiest partner to work with.
Visit Motorola Solutions for more information.
Read next: How in-car video systems benefit law enforcement (eBook)

Request information from Motorola Solutions
Thank You!