PRESS RELEASE
CMC Government Supply Offers Eflare Electronic Helicopter Landing Zone Kits for Safe Night Landings
---
Dallas, TX - In serious accidents, seconds count. That's why helicopters are vital to getting victims out of a traumatic situation and over to medical personnel that can help. CMC Government Supply knows that landing zones are not always ideal and more accidents happens at night and in bad weather conditions. That is why they encourage the use of Eflare Electronic Helicopter Landing Zone Kits. These kits make landing in less than desirable conditions, not only safer but faster and more efficient. 
Each Eflare Electronic Helicopter Landing Zone Kit comes with four Amber or Red Eflare safety beacons, one blue Eflare safety beacon, five Eflare rubber bases, one zipper carrying case with handles, and a helicopter landing zone instruction card.
The kit features Eflare safety beacons which set the standard for LED warning beacons when used in the application of landing areas for helicopters. Each safety beacon has up to eight bright LEDs. Eflare beacons are extremely durable in harsh conditions.  They are waterproof, dustproof and rugged. They also have impressive battery life using standard flashlight batteries. Eflares avoid the night vision, point fixation and distance judgment problems associated with strobe and incandescent lights.
           
EFlares are a safe and effective alternative to pyrotechnic and chemical flares and safe to use in no burn and high fire risk areas.  Eflare safety beacons carry ATEX Safety and HAZMAT accreditations.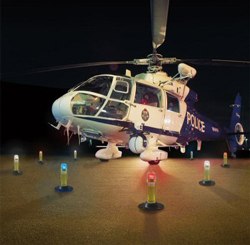 "We respect the job of commanding and securing a landing zone (LZ). Marking the landing zone is important.  The Eflare Helicopter Landing Zone Kit is easy to deploy and helps to create a safer landing zone," stated Debby Parker, Vice President, CMC Government Supply.  "Many Police, Fire, EMS and other Public Safety Departments use these at accident and crime scenes where emergency medical air transport is required." 
For more information on the Eflare Electronic Helicopter Landing Zone Kit, see www.cmcgov.com/store/pc/c349.htm.
About CMC Government Supply
CMC Government Supply provides United States federal, state & local governments and authorized government contractors specialized products, software, data and services. Most of our products are used for military, intelligence, homeland security, law enforcement, public safety and general government applications. Dallas, Texas based CMC Government Supply is classified as a small business supplier to all federal, state and local governments. For more information, visit http://www.cmcgov.com.