How to design the ideal equipment mounting solution for police vehicles
Executed properly, an in-vehicle mounting structure can improve police officer performance while enhancing their safety
---
By James Careless, P1 Contributor
As technology has advanced, the amount of equipment in police vehicles has exploded. Securing all this essential equipment – while keeping it both charged and connected online – is critical for officer and public safety.
Police fleet managers need to understand how mounting equipment is designed in order to create a solution that will work for their officers and vehicles. But that's just the beginning: They also have to consider what specific equipment officers require in their vehicles, how to power this equipment adequately, and how to install it to maximize ease of use for officers without impairing their ability to enter/exit the vehicle quickly. Here are four key considerations when installing in-vehicle equipment mounting systems: 
1. Lots of mounting options
The days of police technicians having to cobble together in-car mounts from raw materials are history. Today, there are many pre-manufactured mounting options for departments to choose from, and many creative ways to use them together.
Mounting options include:
 
Console systems (located between the two front seats) that can contain multiple radios and equipment within easy reach of the driver;
Pedestal systems (mounting a computer/other equipment on a pole anchored to the vehicle floor or passenger seat);
Rotating docking cradles mounted to the dash, to hold computers and other devices.
Depending on the space available within the vehicle cabin and the amount of equipment to be installed, police technicians can select and mix which of these options work best for them.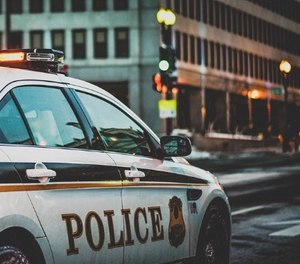 2. Take account of officers' in-vehicle needs
Mario Guzman is general services manager for the City of West Palm Beach, Florida. In his role, Guzman has gained extensive knowledge of effective in-vehicle mounting solutions, and the best ways to address the needs of police officers.
His advice: "Think of the police vehicle cabin as being a miniaturized office; one must meet all of the officers' data entry and communications requirements. This is what you have to account for when selecting mounting options to hold everything that they need; from computers and printers to radios and guns."
In laying out this 'office,' a police technician should first compile a list of all equipment to be included in the car. They then need to assess the power requirements of this equipment to ensure that the car's electrical system can support the necessary DC/AC inverters to run it all.
"Be sure to provide some in-vehicle outlets to plug additional equipment in," said Guzman. Cabling pathways should also be figured out at this point.
3. Plan to maximize cabin space
Once the equipment has been specified, a police technician can choose between mounting options to create the very best in-vehicle solution possible.
Ideally, it should maximize cabin space for the officers inside, while putting as much equipment as possible within easy reach of either front seat. Officers should also be able to enter and exit the cabin without having to squeeze past laptops or other protruding devices.
Remember: Whatever mounting solution you choose should allow for the easy removal and replacement of equipment components, because even the most rugged computers and radios can break down over time. This means using connectors that are simple to disconnect/reconnect, equipment mounts that are easy to access for fast removals/reattachments, and leaving enough space so that a technician can do this work without needing to be a contortionist.
4. Building for the real world
It is vital that any vehicle's mounting structure does not interfere with the operation of the car/truck's interior controls and ventilation system.
To prevent this from happening, a police department should allocate a car to the technician designing the mounting structure. Doing so will allow the tech to install the initial mounting design, and then troubleshoot it for issues before rolling the design out to the fleet.
It is also wise to test out a finished mounting design, with equipment installed, on a pilot basis (in one car) to identify and resolve unforeseen problems. In fact, any new mounting solution should be field-tested in this way, so that officers aren't put at risk by an in-vehicle 'office' that doesn't function as planned.
Make sure that all equipment is properly secured; both to protect officers from being struck by loose equipment, and to prevent theft from vehicles as well.
Executed properly, an in-vehicle mounting structure can improve officer performance while enhancing their safety – and the safety of the communities they serve.
---
About the Author
James Careless is a freelance writer with extensive experience covering computer technologies.