PRESS RELEASE
Troy Products Introduces its Newest Prisoner Partition
---
For Immediate Release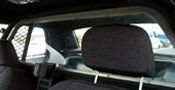 Troy Products has designed a new window for its TP-3 cage line to provide officers with 25% more view! The new window is 75% glass (polycarb) and 25% vinyl-dipped expanded metal. Now, the officer sees only what he's supposed to see when looking into the rear-view mirror (as illustrated below). Nothing obstructs the view.
The new window is available in both the flat panel and patented recessed Stash-n-Stow partitions.
For more information, please visit www.TroyProducts.com or call (800) 700-8769.