A hybrid SUV engineered specifically for police work
The 2020 Ford Interceptor Utility hybrid is introducing a new paradigm in police patrol vehicles
---
This feature is part of our PoliceOne Digital Edition, a supplement to PoliceOne.com that brings a sharpened focus to some of the most challenging topics facing police chiefs and police officers everywhere. To read all of the articles included in this issue, click here.
By Dale Stockton
The 2020 Ford Interceptor Utility hybrid is introducing a new paradigm in police patrol vehicles. It's capable of a top speed of 137 mph while achieving an overall fuel economy of 24 mpg and providing a towing capacity of 5,000 pounds.
This is a purpose-built vehicle, meaning there are features provided or available that are designed specifically for law enforcement. Some of those features, like optional ballistic door panels and a standard rear crash survivability of 75 mph, mean that officers will be more likely to make it home at the end of their shift.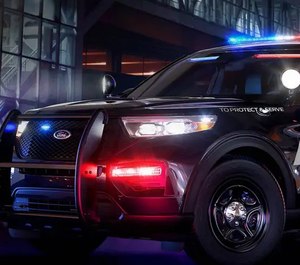 The engine is specifically designed to support rapid acceleration and pursuit capability with a computer tweak that permits faster throttle response and a coordinated 10-speed transmission that gives less priority to fuel consumption when duty calls. Buttons on the steering wheel are numbered and can be programmed to control specific functions like lights, siren or microphone activation. The center of the dash has a steel plate installed just below the surface to support mounting of special equipment. The suspension system is tuned to slightly lower the vehicle while retaining a ground clearance of 7.4 inches. The powertrain is protected by a large skidpan for times when the going gets rough.
In addition to all the special features outlined above, this vehicle delivers something that only a hybrid can do: It squarely addresses the costly routine of leaving the engine idling to support battery-draining emergency equipment and radio(s). Idle time burns a lot of fuel and incurs significant wear and tear on internal combustion engines that are often serviced based on miles that don't convey the true amount of wear that the engine has undergone. The hybrid powertrain makes it ideal for this aspect of law enforcement operations because the on-board electrical equipment can be powered using only the lithium-ion hybrid battery while running the gasoline engine intermittently to charge the battery. The result is significant fuel savings, decreased engine wear and lowered carbon dioxide emissions.
---
About the author
Dale Stockton is a 32-year-veteran of law enforcement, having worked in all areas of police operations and investigations and retiring as a police captain from Carlsbad, California.

Request product info from top Police Vehicles companies
Thank You!