PRESS RELEASE
Laguna Manufacturing announces the new Ford F-150 police responder seat cover
---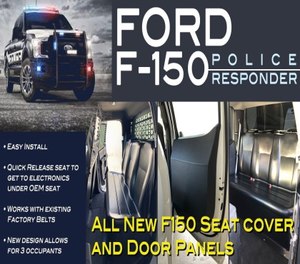 RENO, NV – Laguna Manufacturing, a leading manufacturer of prisoner transport systems for the past 27 years, would like to announce the introduction of the all new Ford F-150 Police Responder Seat Cover. The New F-150 Seat Cover easily slips over the factory OEM seating which eliminates contraband from being hidden in and around the seat and also allows for a safer and easy cleanup of any mishaps that may occur during transportation of a detainee.
We at Laguna wanted to bring a new seating concept for our next generation of seating by designing a seat that is easier to remove occupants in and out of the vehicle and also having a center seating position to allow for a three-person transport when needed and this new aftermarket seat design covers that. Our seating is made with rugged ABS that wraps around the entire factory seating all the way to the vehicles floor to prevent from any unwanted contraband getting kicked underneath but is also designed for quick removal to access any equipment installed under or behind the factory seat for maintenance
The F-150 also has quick install rear door covers available to prevent anyone from accessing door handles and locks but also designed with a flat surface finish to help fight against detainees from being able to grab the interior door panel for leverage. Laguna Manufacturing, Inc. proudly serving the law enforcement community for 27 years.
About Laguna Manufacturing 
Since 1992 we have been serving the law enforcement community all over North America. Our mission since day one was to provide the highest quality vehicle transport products with officer safety in mind- That mission still continues today. Since the day we opened we focused on seating systems and restraint systems, we continue to keep our company focused on these few items to make sure we're always delivering you the best quality made seating and restraint line in the industry.

Request more info from Laguna Manufacturing, Inc.
Thank You!