Baltimore police union calls for better training of recruits
The academy's head of legal instruction recently said 17 of 50 recruits repeatedly failed tests on legal standards
---
By Kevin Rector
The Baltimore Sun
BALTIMORE — Police union officials and civil rights leaders joined Monday in calling for better training at Baltimore's police academy, citing an academy legal instructor's claim that recruits are being sent onto the city's streets with a poor understanding of constitutional policing standards.
Lt. Gene Ryan, president of the Fraternal Order of Police Lodge 3, thanked the instructor, Sgt. Josh Rosenblatt, for voicing concerns about the preparedness of new recruits who received guns and badges over the weekend, saying the "training deficiencies that he exposed are real and should, by no means, be allowed to continue."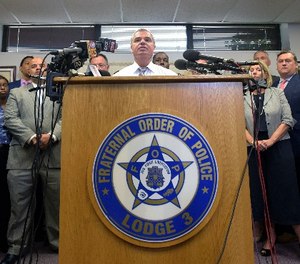 Ryan said his 5,000-member union wished to "extend our sincere gratitude" to Rosenblatt for the "courage and his commitment" he showed in speaking out about the readiness of the department's newest officers.
"As we have stressed in the past, this is a job that is not suited to every individual who applies and, as such, we also strongly suggest there be a more stringent process at the hiring level," Ryan wrote.
NAACP Legal Defense and Educational Fund President Sherrilyn Ifill, meanwhile, wrote a letter to officials in Baltimore and at the U.S. Justice Department — which is overseeing a consent decree mandating police reforms in the city — to call for "assurances" that Rosenblatt's concerns about the readiness of recruits will be addressed.
"Officers who have not demonstrated proficiency in the legal requirements of constitutional policing should not patrol city streets," Ifill wrote.
Rosenblatt, the academy's head of legal instruction, said Friday in an interview with The Baltimore Sun that 17 of 50 recruits in the latest academy class had repeatedly failed tests on legal standards and lacked even a basic understanding of certain principles — such as the need for probable cause to make arrests.
He said all of the recruits eventually passed, but only after academy leaders removed him and other legal instructors from the process and swapped out his more rigorous testing model for an older multiple choice version.
"We're giving them a badge and a gun tomorrow, the right to take someone's liberty, ultimately the right to take someone's life if it calls for it, and they have not demonstrated they can meet [basic] constitutional and legal standards," Rosenblatt, an attorney, said Friday.
In response, Acting Commissioner Darryl De Sousa said he was looking into Rosenblatt's concerns, but that the recruits had met state testing standards. He also said they would receive eight weeks of training on the street before formally becoming Baltimore police officers.
"Under my watch, there isn't going to be a single police officer who does not satisfactorily pass any Maryland police training requirements," De Sousa said. "They won't be allowed to go on the streets. It's plain and simple."
The recruits received their guns and badges on Saturday as scheduled, with Mayor Catherine E. Pugh in attendance.
Pugh and top police commanders have said in recent months that the department is hundreds of officers short, and needs to improve its hiring practices and move large numbers of new recruits through the academy each year to outpace attrition.
Pugh has lauded efforts under her administration to streamline the recruiting process, reducing the amount of time it takes to get recruits trained, into uniform and onto the streets.
In his statement Monday, Ryan blasted the department for what he said were longstanding deficiencies in the recruitment and training process.
He noted the union has long called for training improvements, including in a letter it sent to the Justice Department in October 2016 as the city and the federal agency negotiated the consent decree.
"Exceptional training is of the utmost importance to the success of any reform of the Baltimore Police Department," that letter read in part. "A cultural change within the department will require long term, sustained, and focused training to offset decades of indoctrination by past failed policies."
The letter said the department's training program was "less than adequate in terms of both recruit training and continuing education," and that the training academy was "woefully insufficient in terms of staffing and resources in its ability to communicate policies and requirements."
The letter said the academy required "a major overhaul of curriculum, standards, and facilities," and that the department "would be better served by instructors who are proficient in their subject matter and are qualified to offer specialized training."
One of Rosenblatt's central concerns was that he and other legal instructors who had been administering written and practical legal tests were recently removed from the process by academy leadership. He said tests are now being administered by other police officers without legal expertise.
De Sousa said that he is reviewing the academy curriculum and the way the current recruit class was tested and would make "any modifications" needed.
Ryan said the union supports that review and hopes "that these required corrections can be made swiftly."
Ifill wrote that while her organization recognizes the department has an immediate need to put officers on the streets, meeting that need must not take precedence over the requirements of the consent decree, which mandates reforms to address what the Justice Department found were widespread unconstitutional and discriminatory policing practices in the city.
Ifill, who cited The Sun's coverage of the instructor's concerns, recommended that city and Justice Department officials "expedite revisions to BPD's policies and academy and in-service training curricula so that all officers are adequately trained for the job," and asked that the city "retrain immediately any officers who failed to demonstrate a full understanding of the parameters of constitutional policing requirements, and that those officers be withheld from patrol duties until they have met the necessary standards."
She also suggested the city should hold off on putting any new police officers to work until it satisfies the requirements for improved training methods under the consent decree.
"It seems unreasonable and in contravention of the letter and spirit of the consent decree to place new police recruits on city streets prior to the implementation of new policies and training curricula required by a court-enforceable agreement," Ifill wrote. "Doing so may expose residents of Baltimore to the same unlawful stops and public strip searches documented in the DOJ's investigative report and thwart the purpose and intent of the consent decree. We also do not serve new cadets well by failing to ensure that they are properly trained and fully prepared to engage in constitutional policing."
©2018 The Baltimore Sun
McClatchy-Tribune News Service