LAPD launches paid training program for high school grads
The students will work part-time for the LAPD and get paid as part of a new program that aims to recruit and train the next generation of cops
---
By Brenda Gazzar
Daily News, Los Angeles
LOS ANGELES — Eric Estrada is eagerly awaiting the day that he'll be old enough to apply to become a Los Angeles police officer.
In the meantime, the 20-year-old Pacoima resident is one of more than two dozen high school graduates who will be working part-time for the Los Angeles Police Department and getting paid as part of a new program that aims to recruit and train the next generation of police officers.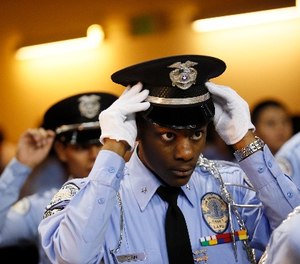 "I've already experienced a lot with the (LAPD) cadet program" —  which aims to provide the building blocks to becoming a better student and adult —  "but this will open many more doors," Estrada said during a program orientation at LAPD headquarters.
Through the Pledge to Patrol program – also known as the Associate Community Officer Program or A-COP – participants spend up to 20 hours a week working in civilian roles such as at the front desk – where they will take crime reports and assist the watch commander – performing minor evidence collection, and observing and assisting with patrol functions. They also assist detectives with investigations and enter and retrieve data.
The program, in which participants earn between $15 and $20 an hour depending on education level, allows them to continue their college studies at the same time.
"This is a tough moment for policing nationwide, where a lot of young people don't think about becoming a police officer because of what they see in the news or the divisions that are sometimes showing in other cities," Los Angeles Mayor Eric Garcetti said in an interview.
It's also a chance to further diversify the police force by recruiting participants from every city zip code, he said, while retaining talent that might be otherwise drift away from the department.
Garcetti first announced the initiative for young adults who have participated in LAPD youth programs at the Mayor's 2017 State of the City address in April. The Mayor's Innovation Team designed the program with LAPD and the city's personnel department. It is expected to cost the city about $1 million in its first year.
The inaugural class of 28 participants is more than half female, according to the mayor's office.
Nationwide in 2013, about 88 percent of full-time law enforcement officers were male, according to the FBI.
"There's no reason we can't get those numbers up as well," Garcetti told the inaugural class on Monday.
Women make great detectives and Senior Lead Officers and have tackled roles in LAPD's elite Metro Division as well as in the department's mounted units, the mayor said.
"They are naturally better listeners, naturally better communicators sometimes than even men," he said.
Adriana Cervantes, 20, of Arleta is among the young women who is part of the inaugural class. She is a former LAPD cadet and is also taking part in the Police Orientation and Preparation (Popp) program, a two-year Associate's Degree program for students who aspire to join LAPD ranks.
"I just want to be able to serve my community properly and take the proper training – make sure I serve them right," said Cervantes, who owns three Toy Poodles and aspires to work for LAPD's K-9 unit one day.
LAPD Chief Charlie Beck said the new program will serve to fill the gap for young adults who graduate from high school but are too young to enter the Police Academy.
But it's also "an opportunity for each of you to become wise beyond your years in this profession," he told them.
The public will benefit greatly from having officers who underwent this program as civilians, said LAPD Officer Johnny Gil, who is helping to launch the program. That's because it will help them become even better trained and polished when they do enter and make it through the Academy, he said.
And because many of these participants will go on to get college degrees through Cal State Los Angeles, "once they graduate from the full-time Academy, they will be super cops," he said.
©2017 the Daily News (Los Angeles)
McClatchy-Tribune News Service