Ohio lawmakers propose lowering minimum LEO hiring age from 21 to 18
Supporters say lowering the age will help with staffing shortages, but opponents say 18-year-olds don't have the mental capacity for the job
---
By Jeremy Pelzer and Olivia Mitchell
cleveland.com
COLUMBUS, Ohio — Ohio lawmakers are considering a bill that would allow many police departments around the state to lower their minimum age to become officers from 21 to 18.
Proponents, including representatives of cities and townships, say such a change would help address a widespread hiring shortage and note that many city police departments already hire people younger than 21. But critics – including many law-enforcement officials – say teenagers don't have the emotional or mental capacity to handle such a job.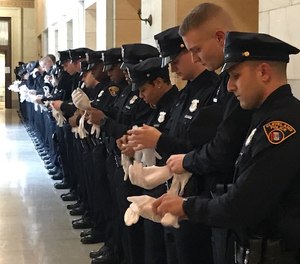 Twin bills in the Ohio House and Senate – House Bill 84 and Senate Bill 53 – would give police departments in some cities and townships the option of hiring 18- to 21-year-olds.
If either of those bills pass, the minimum hiring age for police officers would be lowered only in cities and townships that follow state civil-service rules, according to a memo from the non-partisan Legislative Service Commission. It would not affect cities and townships that have their own civil-service rules in their charters – including Cleveland, which only hires officers at age 21, and Columbus, which has a minimum hiring age of 20.
It was unclear on Saturday exactly how many departments the change could affect.
County sheriffs and villages in Ohio already can hire 18-year-old officers, according to a 1978 opinion by the Ohio attorney general's office. The legislation also wouldn't affect the Ohio State Highway Patrol, which under a different state law can't hire anyone younger than 21 to become a state trooper.
At least a dozen other states already allow 18-year-olds to become police officers, including neighboring Michigan and Pennsylvania, according to a Buffalo Law Review study released last year.
State Rep. Josh Williams, a Toledo-area Republican co-sponsoring HB84, said in an interview that even though some police departments already have the authority to hire 18-year-olds, to date no law-enforcement agencies have hired anyone that young.
However, he said, his legislation would create a "uniform standard" in state law for when Ohioans can be hired as law-enforcement officers.
Williams said police departments around the state are having staffing problems right now for a number of reasons, including early retirements and an increase in resignations. There are "a myriad of reasons" for that, he said, including low salaries and police being "villainized" in recent years.
"It is our greatest fear that a citizen will call 911 and be in need of help, and officers will either arrive too late or not enough officers will be able to respond, and there will be a tragedy," Williams said. "So whatever we can do to help law enforcement agencies deal with this staffing shortage, we're willing to do that."
Groups representing Ohio municipalities and townships have testified in support of the idea. Kent Scarrett of the Ohio Municipal League, in an interview, emphasized that the legislation wouldn't require police departments to hire 18-year-olds – it would only give them the option of doing so if they feel it's right for them.
"If some communities have a need to fill the ranks, and there are candidates they want to involve more in the police force than just a cadet program, they would have that opportunity to do that," Scarrett said. "And, for some communities, this could be an opportunity to kind of fortify their forces."
One of the people who has testified in favor of HB84 is Will Hayes, a 19-year-old patrol officer in Pataskala, a city about 20 miles east of Columbus. "Despite all of the public attention I received due to my age, I was held to the same standard as any new hire," Hayes said in his testimony.
Some supporters of lowering the minimum hiring age also point out that 18-year-olds have long been able to join the U.S. military.
However, a number of law-enforcement officials said they're skeptical about lowering the state's minimum hiring age for police officers.
Jeffrey Scott, a retired chief who had served as the director of the Ohio Peace Officer Training Academy, said he doesn't think 18-year-olds are mentally capable of carrying a badge and a gun at such an early age.
"An 18-year-old does not have the life experience or the developed neurological state that would support them in the role (police officer)," Scott said. "And we know all 18-year-olds are not bad, but we should not be lowering standards when we are expecting more out of officers."
Scott said those under 21 years old could be placed in civilian roles or gain experience in other non-commissioned positions within the department until they're old enough to become an officer. Some law enforcement agencies have started "cadet" programs that hire younger adults to those types of roles and can create a pipeline for academies.
Michael Weinman, director of governmental affairs for the Fraternal Order of Police of Ohio, said it's not the same to hire an 18-year-old to be a police officer as it is for an 18-year-old to join the military.
"When you're in the military, you're not alone, and you have multiple NCOs and officers above you on your shift," Weinman said. "It's just not really a fair comparison."
Amber Dacek, the police chief of Chagrin Falls, agreed with Scott. Police departments across the country are battling staffing issues, but Dacek does not think lowering hiring standards will solve the problem.
"I do think there is something to be said for having some life experience before becoming an officer because that is what policing is," Dacek said. "It's learning how to navigate difficult life situations, relating to, and being able to talk to people."
Both HB84 and SB53 are currently being heard in the Ohio House Homeland Security Committee and Senate Government Oversight Committee, respectively. House Homeland Security Committee Chair Haraz Ghanbari, a Perrysburg Republican, which is currently hearing HB84, said the bill sponsors haven't yet asked him to hold a vote on sending the legislation to the House floor.
"If they're confident in their vote count, let me know and we'll bring it up for a vote in committee," Ghanbari said.
©2023 Advance Local Media LLC.
Visit cleveland.com.
Distributed by Tribune Content Agency, LLC.
McClatchy-Tribune News Service