What law enforcement recruiters can learn from the military
Recruitment methods deployed by the armed services have helped them consistently meet their manpower goals over the last two decades
---
By Charles H. Ramsey, Sean M. Smoot, Dallas Thompson and Sharon Carothers
Police departments across the country are seeing their ranks shrinking. Outreach efforts are hampered by negative public perceptions, difficulty finding quality candidates, a strong job market with low unemployment, comparatively low salaries, increased retirements across departments and safety concerns. Many law enforcement agencies have difficulty not only identifying and hiring qualified candidates, but keeping them as well.
Police recruitment, retention statistics paint a grim picture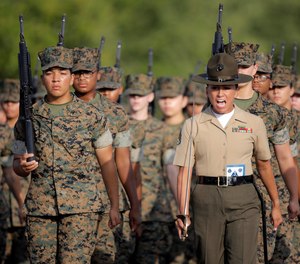 In a 2019 report on workforce trends, the Center for State & Local Government Excellence reported that 32% of local governments listed policing as the hardest profession to fill. This figure is up from 15% in 2015. Nationally, the number of full-time sworn officers has dropped by over 23,500 between 2013 and 2016, reflecting a historical low of 2.17 officers per 1000 residents, down from 2.42 over the last 20 years.
In a Police Executive Research Forum (PERF) survey, nearly 66% of police departments reported applicant numbers had decreased. Of the 400 police departments surveyed, retention was a major issue, with 29% of the officers who left the job voluntarily leaving within one year, and an additional 40% leaving after less than five years.
The reduction in applicants indicates that current recruiting practices are not resonating with new entrants to the workforce. The retention issues suggest that what was communicated in the recruiting process did not accurately reflect the realities of a police career.
Police officer candidate qualities
A 1934 article on police recruiting and training published in the "Journal of the American Institute of Criminal Law and Criminology" provided a framework for officer recruiting that remains valid. Seeking candidates with intelligence, high moral character, an aptitude for service, adaptability, physical stamina and an ability to work in a team setting, is timeless. What has changed significantly is not the "what" to do, but the "how" to do it.
The competition for talent in the current environment is stiff. The changing landscape in regard to diversity, technology and societal norms, as well as generational differences in workplace expectations for both millennials and the newest workforce entrants, Generation Z, demand adjustments in outreach techniques and messaging to identify, educate and persuade quality applicants to consider a law enforcement career.
Millennials and Generation Z collect information in different ways. Recommendations from their peers play huge roles in their decisions. Communications from trusted influencers and organizations, as a type of "third-party" validation, will increase the likelihood of qualified applicants considering a law enforcement career. These relationships, coupled with clear and consistent communications regarding how a law enforcement career meets the workplace expectations of a new generation, are critical. This is something the military has learned and is using to its advantage.
How the military approaches recruitment
The armed services face similar challenges to law enforcement when it comes to attracting and retaining quality personnel. Only 29% of the population of age-eligible personnel are fully qualified for military service. Similar to law enforcement, moral, behavioral, health and fitness standards are a barrier, but getting qualified candidates to even consider a career in the military is a huge obstacle.
However, the reality is that the millennial generation has an affinity for service. A Gallup study reveals that most millennials are not just looking for a paycheck, they are also looking for a purpose. Similarly, statistics from the U.S. Department of Labor and recent research by Campus Intelligence indicate a high volunteerism rate for Generation Z and a desire to work in careers that positively impact the world.
For those seeking a purpose in their professional lives, few paths deliver like law enforcement and the military. Both professions seek candidates with similar demographics and mindset, but the military has employed methods that have helped them consistently meet their recruiting and manpower goals over the last two decades.
Here are four military recruitment best practices law enforcement could use to boost its ranks:
During times of war, economic downturn and economic boom, each of the armed services has maintained a dedicated and professional recruiting corps. In addition to that foundational approach, the military services advance the idea within their ranks that everyone in uniform is a recruiter. Organizationally, they seek to establish partnerships with educational, civic, corporate, social, faith-based and other community service organizations. These relationships help extend messaging to inform prospects, pre-prospects, influencers and the general public about the value of military service.
Another basic tenet of military recruiting is working in collaboration with professional marketers to conduct thorough research on target audiences, build thoughtful and consistent communications strategies, and develop ongoing measurement protocols to assess and optimize outreach effectiveness.
Both professions have a relatively long recruitment process. This has been cited as a hindrance in law enforcement recruiting. To mitigate this barrier, military recruiters implement lead-nurturing procedures to maintain contact with potential recruits throughout the recruitment journey to keep them updated on their status and informed of next steps.
It is important to recognize that for individuals contemplating a career in the military or law enforcement, marketing communications and outreach are rarely the factors that solidify a decision. The important role of these activities is to inform quality candidates of the opportunities within the profession so they include it in their consideration of potential occupations, and to prompt them to seek more information. In spite of the value of marketing communications to the recruiting process, it cannot replace the role of a recruiter and partner influencers.
As police recruiters engage the next generation of potential officers, they don't need to invent new strategies. They should, instead, study what has worked, build on approaches that have benefited the military and adapt them to meet the changing demands of law enforcement.
---
About the authors
Charles H. Ramsey led the fourth largest police department in the nation with 6,500 sworn and 800 civilian members of the Philadelphia Police Department before he retired from his post on December 31, 2015. In January 2015, President Barack Obama called on Commissioner Ramsey to co-chair the President's Task Force on 21st Century Policing. Former Commissioner Ramsey has long been at the forefront of developing innovative policing strategies, evidence-based initiatives, organizational accountability and neighborhood-based programs. He is a partner with 21CP Solutions, which helps law enforcement agencies and communities effectively tackle the challenges of policing in the 21st century.
Sean M. Smoot serves as Director and Chief Counsel for the Police Benevolent & Protective Association of Illinois and the Police Benevolent Labor Committee. He is a partner with 21CP Solutions.
Sharon Carothers has more than 20 years of experience in leading research, planning and strategy, and leads behavior change practice for Sensis, a cross-cultural marketing agency driving behavior change.
Dallas G. Thompson, Jr., has more than 20 years of experience in integrated marketing communications with expertise in marketing research, strategy and branding. He is a senior account director for Sensis.