Do Americans admire police? A new Gallup poll says yes
Gallup asked the question, 'How much respect do you have for the police in your area — a great deal, some or hardly any?' and the results were surprising
---
As I have stated previously in this space, I am of the firm belief that most Americans admire and respect police officers. 
I have ardently held to the argument that despite the anti-police rhetoric among a stridently vocal but tiny percentage of the population, most folks proceed with their daily lives without even thinking about the cops. In fact, most law-abiding citizens never even come in contact with the police. They're more likely to thank the airline pilot at the pointy end of the airplane than they are to thank the police officer taking a burglary report at the end of the cul-de-sac, even though the officer's impact on their safety is more immediate and more persistent. 
Anecdotally, we've seen shows of support, from ordinary citizens paying officers' meal tabs to lining miles of streets to witness an officer's funeral procession. But today, we now have hard data to back up these observations. A new poll from Gallup not only confirms my intuited conclusion, it indicates that respect and admiration for the cops is on the rise in this country, not on the decline.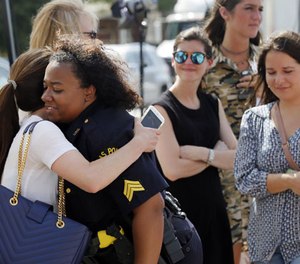 Renewed public support, by the numbers
In a summary posted to the Gallup website by researcher Justin McCarthy, it was indicated that 76 percent of Americans say they have "a great deal" of respect for the police in their area, up 12 percentage points from last year. Further, 17 percent say they have "some" respect while seven percent say they have "hardly any" respect for the cops. 
This year's numbers are in stark contrast to 2015 results, which saw Americans' confidence in police sink to a 22-year low. "In addition to the increases across racial groups," McCarthy writes, "respect for local law enforcement has increased among most political party, ideological and age groups." 
Among those who identify as conservative, 85 percent of respondents answered they support the police  "a great deal" in this year's poll, compared to 69 percent last year. Among liberals, "a great deal" was selected by 71 percent, compared to 50 percent last year. 
When broken down by race, whites' approval rating of police rose by 11 points, up to 80 percent from 69 percent last year. Among non-whites, the rise was even more dramatic, a bump of 14 points from 53 percent to 67 percent. In terms of age, the 18-34 age group had the highest jump in approval, going from 50 percent in 2015 to 69 percent this year. The 35-54 group went from 61 to 77 percent approval rating (a 16-point increase), and the 55-and-older crowd rose four percentage points, from 77 to 81. 
"Gallup has asked this question nine times since 1965," McCarthy writes. "The percentage who say they respect the police is significantly higher now than in any measurement taken since the 1990s and is just one point below the high of 77 percent recorded in 1967. Solid majorities of Americans have said they respect their local law enforcement in all polls conducted since 1965."
Confusing, considering current events
These results seem incongruous when one takes into account what's been happening on the street in the past couple of years. In addition to the verbal epithets hurled at police, cops have been targeted by rocks, bottles, punches, knives and firearms. It has been an unsettling thing to witness. Even the left-leaning Los Angeles Times has acknowledged that the "number of killers hunting cops nationwide has risen." 
At the time of this writing, there has been a 53 percent increase in shooting deaths of law enforcement officers so far this year compared to the same period in 2015, according to the Officer Down Memorial Page. Further, according to data released in July 2016 by the National Law Enforcement Officers Memorial Fund, ambush attacks on cops — like that which happened in Dallas this summer, where five officers were killed and nine others were injured in July, and 10 days later in Baton Rouge, where six officers were shot, three of them fatally — have risen by about 300 percent. 
Just this month, two Palm Springs (Calif.) police officers were killed and another injured by a suspect who appeared to lure them to their deaths via a 911 call. 
Not all of the attacks this year have been deadly — however, each has been consequential for the officer involved.
For example, in April we witnessed Nashville (Tenn.) Police Officer Matthew Cammarn — who last year was named that city's Police Officer of the Year — suffer a head injury after he was attacked by multiple assailants in a city housing project as he attempted to arrest a man who had just assaulted a woman. One day earlier, Nashville officer Josh Hausman was stabbed in the hand while patrolling the same development.
Sadly, there are many more such incidents that do not make the news. It seems to happen every single day. So what are we to believe? Are more people supporting cops, or are more attacking them? 
What can we conclude from the data?
When we look at the headlines that have shown cops to killed or injured across the country — which appear to conflict with the findings of the recent Gallup poll — we might be tempted to shake our heads in disdain, muttering about the veracity of "lies, damned lies and statistics." 
But Gallup concludes that the rise in approval of police is actually correlated to the rise in the number of (and severity of) attacks on police. 
"The increase in shootings of police coincided with high-profile incidents of law enforcement officials shooting and killing unarmed black men," McCarthy writes in the Gallup summary. "The sharp increase over the past year in professed respect for local law enforcement comes as many police say they feel they are on the defensive — both politically and for their lives while they are on duty — amid heated national discussions on police brutality and shootings."
That may be a plausible argument, but I have a different take. 
We all know that the vast majority of crimes are committed by a tiny fraction of the population. We call them regular customers. We call them the frequent fliers. 
These are the individuals who are prone to criminal behavior, are predisposed to violence, and who truly hate the police. The cops are seen as the folks who detain, arrest, prosecute, and incarcerate them. 
Cops and robbers are natural adversaries, and that will never change. Criminals in some cities probably feel emboldened by the perception of de-policing — the end of proactive policing we've taken to calling the Ferguson Effect. But this group is so vastly outnumbered by the potential victims of their treachery that we should be unsurprised by the Gallup findings this week. 
In fact, we should be encouraged by it.
I believe Gallup. The tiny fraction of cop-haters has not changed — nor will it not change in our lifetimes. However, I think that the silent majority of police supporters is grumbling, growing more vocal, and soon may be heard in full throat backing the blue. 
"Although confidence in police varies among subgroups," writes McCarthy, "majorities of all groups say they have a great deal of respect for their local police. And the percentage of national adults who say they have 'hardly any' respect for local law enforcement remains small."
Let's look at this for what it is: a little bit of good news. The vast majority of people in this country love you and respect you. A tiny percentage hates you. 
Let's take it for what it is. Keep your head on a swivel and guard against sudden attack, but know that most of the people in this country consider you to be the heroes you are.