'Drunk lab' refresher training helps La. cops recognize signs of impairment
Civilian volunteers drink, submit to field sobriety tests at police headquarters to refresh officers on the scale of responses in people under the influence
---
Jacqueline Derobertis
The Advocate
BATON ROUGE, La. — A group of about 15 people gathered at an event in Baton Rouge and had a few drinks with the express purpose of getting drunk. But it wasn't about getting a buzz and having a good time.
There was pizza, snacks and plenty of alcoholic beverages to go around. Everyone talked loudly, told jokes and laughed uproariously, sometimes at nothing in particular. It felt like a typical weekend night for the average 20 or 30-something adult.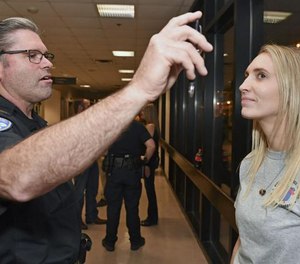 But then, at 7:10 p.m., a police officer entered the room and made an announcement.
"We're cutting everybody off in five minutes," he said. "Come on, y'all. Finish your drinks."
A few people groaned dramatically, and others protested, but for the most part they took the news in stride. After all, this is what they had signed up for.
The Friday evening event was part of the Baton Rouge Police Department's annual "drunk lab," where instructors enlist people to show up to headquarters and have a few drinks in a safe and controlled environment so they can submit to field sobriety tests by officers looking for a DWI refresher.
As the holiday season ramps up, bringing with it festive parties and end-of-year company functions, BRPD has alerted drivers that they'll be on the lookout for impaired driving when people are on the way home from their ugly Christmas sweater get-togethers and Secret Santa gift exchanges.
A grant from the Louisiana Highway Safety Commission and National Highway Traffic Safety Administration has equipped BRPD to fund more than 17,000 additional hours to enforce impaired driving, speeding and underage drinking.
Impairment comes in many forms and levels, and drunk labs are one way to assess the scale of responses found in people under the influence.
From the well-known "Walk and Turn" test that requires a potentially intoxicated person to walk in a line toe-to-heel and turn around, to the "pen test" — in which an officer holds up a pen and moves it back and forth across someone's field of vision, officers had an opportunity to practice recognizing the signs of subtle intoxication without the pressure of being in the field.
Cpl. Jason Martin, a member of the BRPD's DWI Task Force, said this kind of hands-on training is helpful, even with experienced officers who have conducted many field sobriety tests over the years.
"Basically, the best training is the most accurate training you can get — is real life training," Martin said. "What better way to learn how to test an impaired person than with an actually impaired person?"
The practice of using a closed environment to measure impairment is not new. In Colorado, where marijuana has been legalized, police conduct so-called "green labs" to teach officers how to recognize stoned drivers in isolated conditions.
The controlled environment of BRPD's drunk lab allows officers to identify impairment even at nearly imperceptible levels. They measure out servings of alcohol — some participants are served more than others — and keep a close eye throughout the night on their Blood Alcohol Content. They mark the numbers on a sheet after having them blow into a breathalyzer.
BAC is the number of grams of alcohol found in 100 milliliters of a person's blood. The legal limit is .08, but Martin said impairment can be spotted much lower than this cutoff.
The training helps police detect drunk drivers when they are impaired enough to hurt themselves or someone else on the road but may not appear impaired to the average friend or bartender who may be keeping an eye on them.
"The goal is not to get everyone super drunk and plastered," said Lt. Jerad Daniel with the East Baton Rouge Sheriff's Office. "We want them to be functioning. The lay person could walk around and look at somebody who can't stand up and go, 'Oh, that person's drunk.'"
Daniel, who works in the traffic division at EBRSO and is an instructor for the training, said police officers need to notice the signs of impairment that may not appear obvious, helping them minimize the risk for both the impaired driver and other cars on the road.
"Impairment begins pretty much when you start drinking," Martin said. "The levels of impairment are different for everybody. But significant impairment begins to show .03, .04 .05, which is well below that legal limit of .08."
To qualify as a drunk lab participant, Martin said each person had to undergo a screening to check that they had no history of DWIs. An EMS medic was standing by throughout the night, and at the end of the event each person would head home via either rideshare, a sober friend or an officer who would personally escort them home.
After participants stopped drinking around 7:15 p.m., they had to wait for about 45 minutes before undergoing the tests – mimicking the time a person may drink at a bar and then hang around with friends before heading to their car for the evening. Twenty BRPD and EBRSO officials were waiting in a hallway around the corner ready to administer the pen test, walk and turn test and the one leg stand test (where a person must stand on one foot and point their toe while counting out loud).
The tests, both Martin and Daniel emphasized, are not "pass/fail." A common misconception about the walk and turn test and the one leg stand test is that they are about balance. Daniel laughed, recalling the number of impaired people who had boasted about their balancing abilities to him, citing yoga or a high school cheerleading career.
The truth is, balance is just a part of the puzzle, he said.
"We're not testing just your ability to walk down a line and turn around and walk back without messing up," Daniel said. "It's multiple simultaneous mental and physical tasks. That's what it takes for you to drive a vehicle. You have to pay attention to road signs, colors of paint, speed limits; I've got to turn all those mental tasks into controlling my vehicle."
Each in-service officer or deputy had the chance to administer the three tests, and the night closed with a discussion of their assessments.
Sgt. Ralph Walker, one of the students, has been a police officer for 22 years and managed the program in the past. He said he was re-taking the class because a recent injury while on duty has kept him away from work for the last four months.
"The training is wonderful because you actually get to see someone who is inebriated or under the influence of an alcoholic beverage, rather than watching a video," Walker said. "It never hurts to have a refresher course like this to make sure you're doing it according to the guidelines."
McClatchy-Tribune News Service