How yoga and meditation helped sharpen my aim
While they may not be using the language of yoga, police firearms instructors are teaching many of the same principles and techniques
---
By Detective Wendy Hummell, contributor to In Public Safety
Even after 20 years as an officer, I continue to dread mandatory firearms qualification time. Officers in my department are required to qualify twice a year with their duty handgun and shotgun.
For new and veteran officers alike, firearms qualifications can be a source of great stress. Firearms are arguably the most important tool of our trade and officers must be proficient at using them, but it can still be nerve-wracking to go to the range.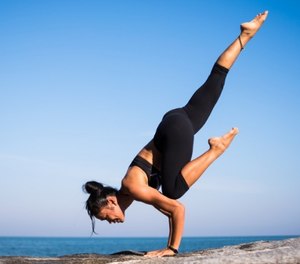 Personally, I have always struggled with the shotgun; it's always been my nemesis starting back during my early years of police training. Each time mandatory time rolls around, I get that sinking feeling in my gut. Whether I pass or not (and I actually pass more than I fail), I still put myself through hell. I hear the words of the range staff telling me that if I get nervous here in the controlled environment of the range, just imagine what it would feel like to be in an actual gunfight. And they are absolutely right. I do not take any of it lightly.
In the last few years, I found an extremely effective, but completely unintentional, way to improve my aim. About nine years ago, I started practicing yoga after my second daughter was born. I had a difficult pregnancy, needed to drop weight and get healthy so I decided to try yoga.
After taking a beginner class at the YMCA, I started attending classes at a hot yoga studio and was hooked. I was able to build strength, balance and flexibility, which was all very beneficial, but what proved to be even more useful was that I started paying closer attention to my breathing. I started applying the principles of yoga to work, life and specifically my problems with shooting and it didn't take long for me to start seeing significant improvements.
Similarities between yoga and shooting
The guys at the range are not exactly "yogis." Instead, they are precisely who you'd expect to be shooting instructors: burly guys who are former Marines or seasoned officers who are very passionate about their jobs. They truly care about each and every one of us coming home safe at night and it shows in their delivery.
While they aren't using the language of yoga, they are actually teaching many of the same principles and techniques. They talk about focusing on breathing to calm the nervous system. They discuss stance and the importance of balancing body weight, as well as sight alignment. They even recommend reciting a mantra.
All these elements are similar to what's taught in yoga. The concept of proprioception (body awareness) is necessary at the range and is a skill that can be honed during yoga. Not to mention concentration (Dharana) and breathing (Pranayama), which are two of the eight limbs of yoga.
Improving Concentration with Meditation
Meditation has been part of my yoga practice for many years, I just didn't realize it. This past year, I started a regular meditation practice. Almost every morning I spend anywhere from five to 20 minutes sitting in stillness. To be honest, some days it's just a minute or two and sometimes it has to happen during my commute, but I make a point to do it. It's the equivalent of an adult time-out. I feel calmer; like I've recharged my battery.
When I first decided to meditate, I was a little overwhelmed. There is so much information out there so I decided to start with the Calm app. It offers a lot of options and is great for beginners; you can choose more guidance, meditations for sleep, stress relief, etc. I further improved my meditation practice by attending a training class offered by the PauseFirst Project, a program dedicated to bringing meditation to the first responder culture.
I've found that my go-to relaxation technique is tactical breathing. I learned this during my yoga training through Yoga for First Responders and it's truly been a game changer. I do tactical breathing several times a day and incorporate it into my meditation practice.
Revisiting the Range
Now, before my firearms qualifications, I do visualization meditation for several days leading up to my day at the range. I passed my most recent qualification, but I know I still have a lot of work to do. With the help of the awesome range staff at my department and more practice, meditation and yoga, I will overcome my anxiety. One thing yoga has taught me is that practice, discipline and repetition lead to success.
Talking about things like yoga and meditation to a bunch of cops is no easy task. However, one of the first things Olivia Kvitne, the Executive Director of Yoga for First Responders, teaches is that the original intent of yoga is mastery of the mind and optimal functioning of the nervous system. That should appeal to every single officer.
If yoga can help on the range, just think how valuable it can be during other aspects of policing, including critical incidents, citizen encounters, and the overall stress management and well-being of officers. I feel very fortunate to have found the tools of yoga and meditation in my career and only wish I would have known about them earlier. I hope that officers will put aside their doubt or apprehension and give yoga and meditation a try – every officer deserves to have all the necessary tools to aid their emotional, physical and mental well-being.
---
About the Author
Wendy Hummell is a 20-year veteran of the Wichita (KS) Police Department. She is currently the Crime Stoppers Coordinator and spent a majority of her career working persons crimes investigations, homicide, gang and sex crime cases. She is also a member of her department's CISM (Critical incident Stress Management) team. She holds a Bachelors and Master's Degree in Criminal Justice. She is a 200-hour level registered yoga teacher and a Yoga for First Responders (YFFR) ambassador. She teaches YFFR classes at her department to officers and police recruits. She also teaches restorative and vinyasa yoga classes at the Hot Asana studio in Wichita. To contact her, email IPSauthor@apus.edu. For more articles featuring insight from industry experts, subscribe to In Public Safety's bi-monthly newsletter.