Ill. officers spend days training on ground-control tactics, combining wrestling and Jiu-Jitsu movements
"It's teaching officers how to effectively control suspects on the ground who may be noncompliant."
---
By Kelsey Watznauer
The Pantagraph
NORMAL, Ill. — A room full of Bloomington-Normal-area police officers, sweating as they caught their breath, sat in a circle and watched an FBI instructor pin the hips and gain control of the legs of an officer playing the role of a noncompliant suspect.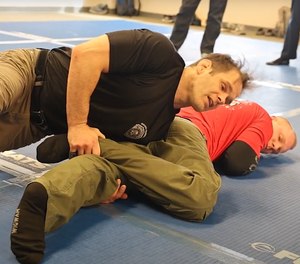 In a five-day training class held at Heartland Community College this week, about 30 officers became the first in Illinois to be introduced to and trained in these defensive tactics that focus on ground control and weapon retention, combining wrestling and jiujitsu-style movements.
"This, I thought, would be a great complement to what we're currently doing," said Steve Petrilli, chief of the Normal Police Department. During a seminar at FBI Headquarters last year, he saw a demo of this training and knew he wanted to bring the free program to his officers if he could.
"It's filling in the gaps (in training)," he said. "It's teaching officers how to effectively control suspects on the ground who may be noncompliant. It's teaching a lot of critical skills as it comes to weapon retention."
As part of the FBI Law Enforcement Officer Defensive Tactics Outreach, Normal police welcomed officers from the Bloomington Police Department, Illinois State Police and other agencies to participate in the training that Petrilli said differs from the "pressure point control tactics" that officers traditionally have been trained in. Unlike this ground control training, the pressure point control tactics training is limited in its effectiveness when the subject is not standing.
Officers from every rank — including Petrilli — are finishing the training with an occasional scraped and taped knuckle and likely some soreness, but they're also walking away with confidence in their abilities and new skills.
"My confidence from day one has grown," said Kyley Hepler, a patrol officer for Normal police, noting the training has been "extremely beneficial" and could one day say their lives.
In a drill nicknamed the "shark tank," officers took turns taking on continuous attacks from other officers, working through fatigue to defend themselves and ensure their "dummy weapon" was not taken during the fight.
"The fight we had yesterday showed me what I'm really capable of and just helped the continual growth of confidence," Hepler said.
Brittany Evans, also a Normal patrol officer, said the training has been humbling and eye-opening, especially as one of only two women in the class, but "it's a nice feeling to know that we can handle ourselves for the six minutes of fighting (in the shark tank). We are able to keep our weapons covered, keep ourselves safe, as well as the other person that's fighting with us. ... I don't know how long I would have lasted in a fight versus now with the things that they've shown us."
[RELATED: 4 steps to incorporate Jiu-Jitsu into your department's use of force training]
Sgt. John Fermon was among the BPD officers to join the training, which he said was valuable since the agencies frequently work together.
"It's nice to get law enforcement all on the same page, so if we do have somebody fighting with us or resisting, we all know the same things and we all know what we're doing," he said, adding that Bloomington is looking to implement this training, too.
Lt. Mike Chiesi, of NPD, said this training fits well into Petrilli's emphasis on officer wellness as well as building officer confidence.
"Having officers in better shape, better prepared, I think that'll prevent unnecessary outcomes when it comes to the use of force with the public," he said. "Officers are more trained and more confident in their abilities, and they're less likely to use, maybe, tools. They're able to keep de-escalation down because they're more confident in their abilities."
With the repetition of training, officers know that if a situation with a combative or resistant suspect becomes physical, "they have the tools and abilities to not only keep themselves safe, but keep the public safe as well," Chiesi said.
Petrilli also said the focus on control in this training lends itself to improving safety and reducing harm.
"Instead of several officers showing up ... and it kind of seems to be at times a little bit of a chaotic situation, this training lends more of a system to how do we strategically address noncompliant individuals and get them in custody without injury to the suspect and without injury to the officer," he said.
Often when officers are called to a scene, emotions run high, Chiesi said. "It's important for officers to come on scene and to show confidence and to show ability and to be calm — not to come in and escalate that situation because they are untrained or they are not confident in their abilities."
Training is a key part of removing fear of the unknown, the lieutenant added.
"Because you've been there, we've done it, we understand how to do it. We know we can get out of it," he said. "I think a lot of the problems nationwide in law enforcement, we've seen officers were untrained or undertrained and they let fear take over."
But with this training, "you take the mystery out of what it's like to be on the ground defending," he said.
Petrilli said he believes as a profession, law enforcement "needs to do a better job of taking care of our people," which starts with taking care of their wellness.
"When you're mentally and physically healthy, you're going to have a better officer."
NEXT: The benefits of Jiu-Jitsu beyond technique
(c)2023 The Pantagraph (Bloomington, Ill.)
Visit The Pantagraph (Bloomington, Ill.) at www.pantagraph.com
Distributed by Tribune Content Agency, LLC.
McClatchy-Tribune News Service