Seconds save lives: A review of Ed Monk's active shooter instructor class
This school was very unique in that I felt I could walk out of Last Resort Firearms Training headquarters and teach a class with very little preparation
---
How many people die in the first 30 seconds of an active shooter event? The first five minutes? The first ten minutes? Time and math are the most important factors for an active shooter event. I wish I could take credit for that sentiment, but it belongs to nationally renowned researcher and instructor, Ed Monk of Last Resort Firearm Training. 
I was fortunate enough to be invited to Ed's Active Shooter Instructor class in 2022 in White Hall, Arkansas. Having attended many of Monk's lectures at the Rangemaster Tactical Conference, I was elated to have the chance to delve deeper into his bank of knowledge.     
Before the class
After I enrolled, Ed sent out an email with all the normal details you would expect from a top-tier class, including ammo count, address, directions, where to stay and more importantly, where not to stay, and a breakdown of the two days of training.
He also sent out a questionnaire about the student, including prior experience and training. We're seeing this more often in the training industry and it's a good thing. This information helps the instructor plan the pace of the class and decide how many assistant instructors he or she will need.
First blush
I arrived at a comfortable classroom with comfortable chairs. Each station had a pen and pad, a sack with a bottle of water and snacks, and a custom Last Resort steel tumbler. The site had a refrigerator, a microwave, drinking water and two restrooms. There was also a printout of the 84-page, 249-slide presentation to aid with note-taking. Not all instructors are willing to share a hard copy of their slides like that. For those new to training, please don't ask for the actual PowerPoint. That is hard-fought intellectual property. Still, sharing this information is a characteristic of an instructor who truly wants their students to learn the material and be able to pass it on to others. When Ed opened the class, he asked for questions. There weren't any because the students and the venue were so thoroughly prepared.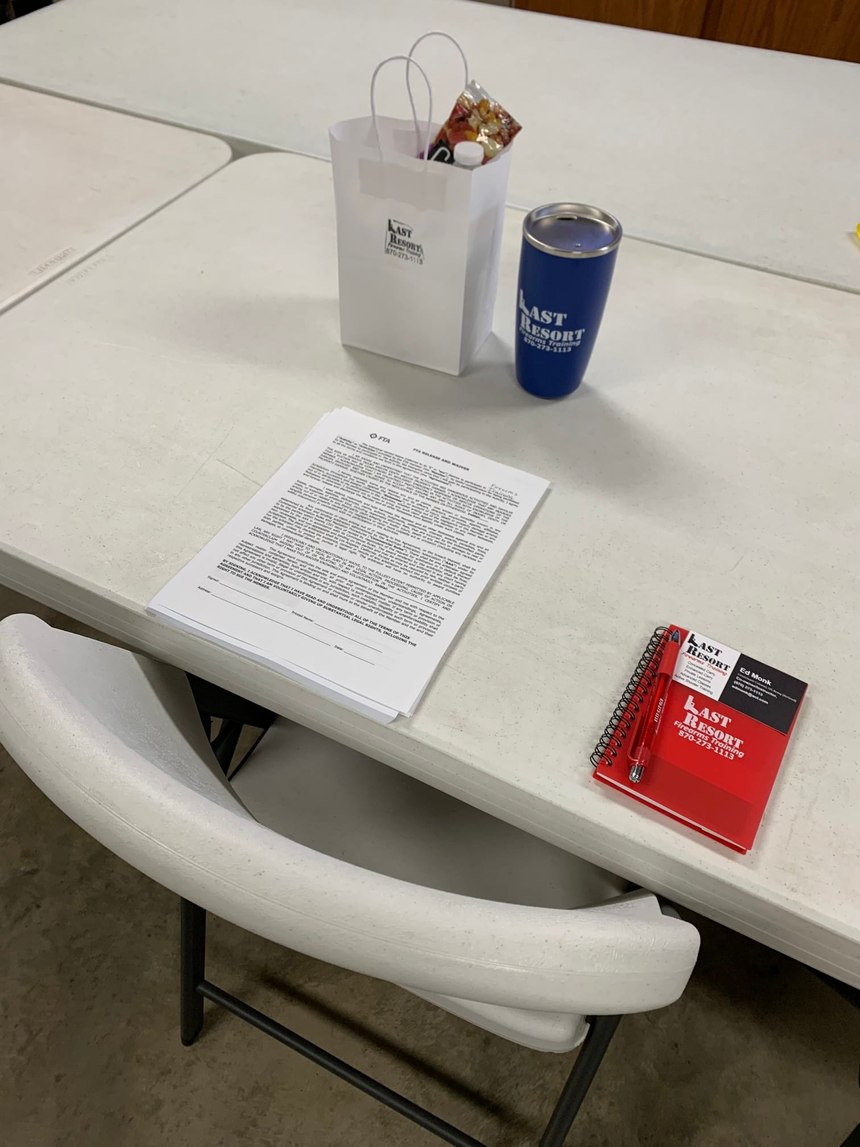 The environment and creature comforts are taken care of before the student enters. (Photo/Warren Wilson)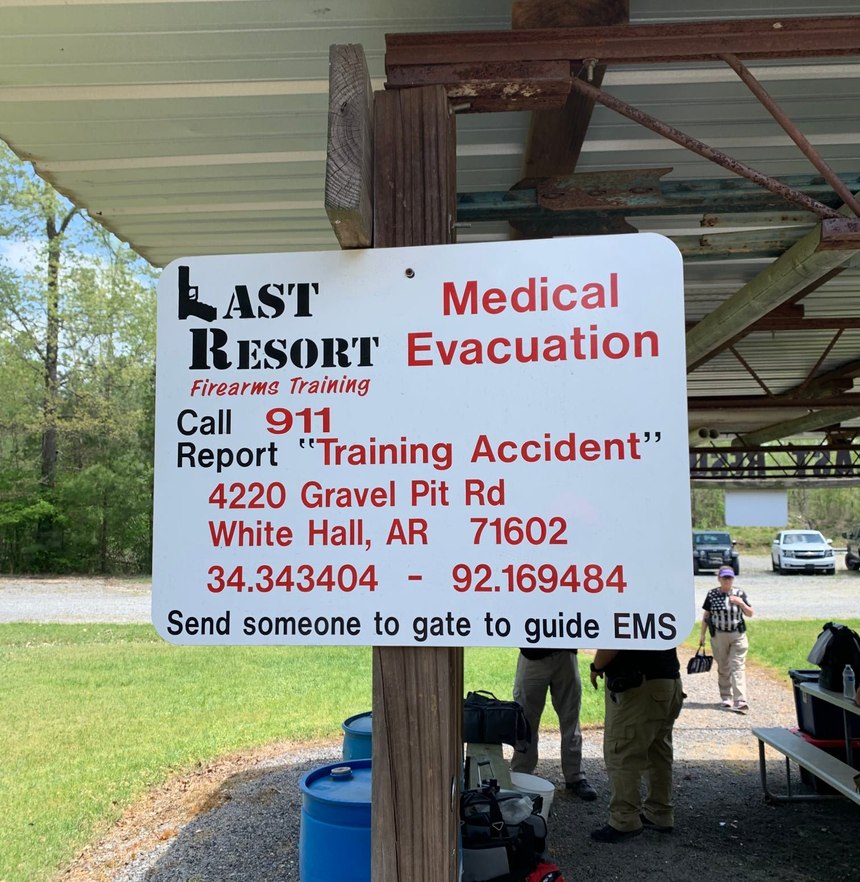 Any class you attend should have a well-considered safety plan. (Photo/Warren Wilson)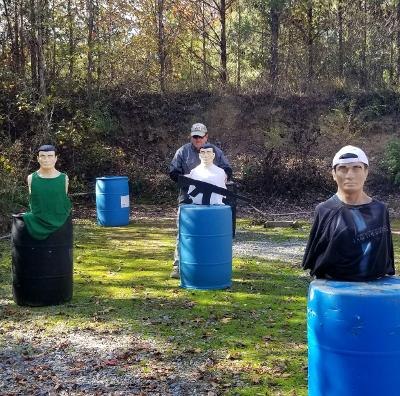 3-D targets and live-fire shooting. (Photo/Warren Wilson)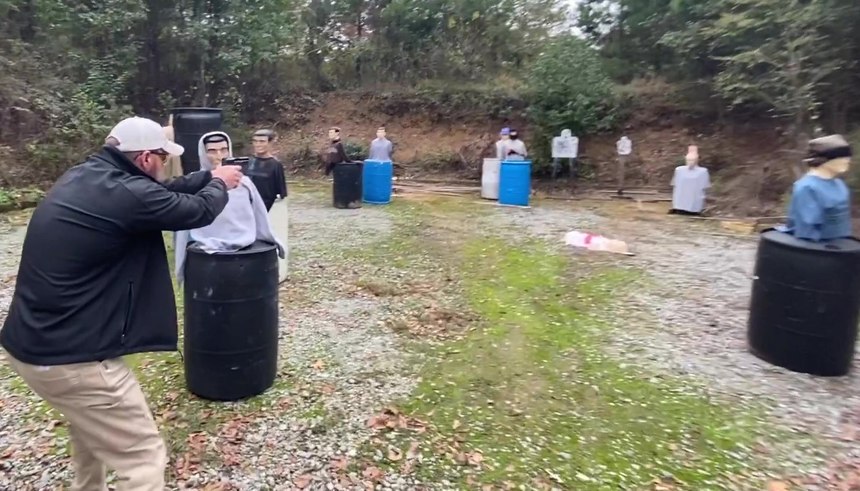 Ed ran demos, as do all quality instructors. (Photo/Warren Wilson)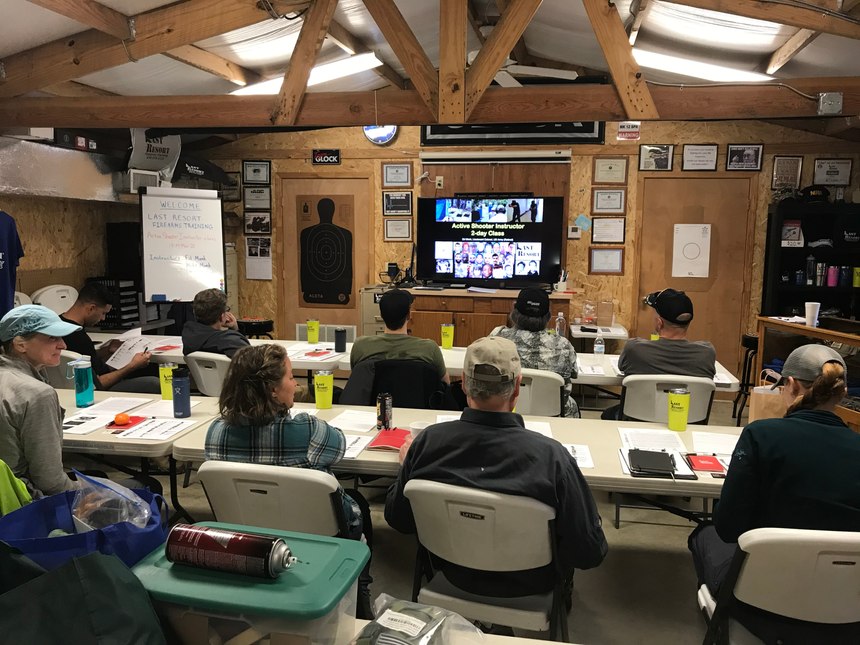 Last Resort HQ accounts for all the basic creature comforts. (Photo/Warren Wilson)





Planning
The course had plenty of focus on practical application, but pre-planning and preparedness was the theme, without doubt. Ed has spent nearly two decades in the quest to bring schools, businesses and law enforcement agencies into the right headspace to properly prepare for "the day." All plans work well until they're needed, as he intimated to us more than once. Monk gave us an in-depth breakdown of many active shooter events and an evidence-based approach as to how reality-based planning could have minimized the victim count.
Practical
Monk offers many different classes and lectures. The crux of the Active Shooter Instructor class is teaching, not shooting – though there was a bit of that – as well as valuable critique and encouragement. The round count was 400 or less plus a handful of quality defensive rounds. Some of us shot all of that and more and some did not. Ed left it up to us, as instructors, to choose how many rounds to expend on each practical iteration. 
The practical work was realistic and dynamic. There were two bays devoted to practical exercises. The student's time was used as efficiently as possible. The exercises used both audible and visual cues via 3-D targets, loudspeakers and simulated weapons.
Preparedness
Ed gave us an unflinching look at active shooter events and an evidence-based approach to the best reactive and proactive measures. After taking this class, not only will you be better prepared to teach cops and citizens to respond to an active shooter, you'll be better prepared to give presentations to cops, businesses, schools and community groups. This school was very unique in that I felt I could walk out of Last Resort Firearms Training headquarters and teach a class with very little preparation. Without, exaggeration, Monk gives the student instructor everything they need, both in the way of information and example, to disseminate the information to others in this comprehensive, easily digestible format.
Questions
If you attend this class, you will get answers to the following questions:
What does more than one shooter tend to tell you about the origin of their motivation?
What flaws are inherent in "shelter in place" plans?
What single element can keep the victim count from entering double digits?
In what venue does the shooting more often start in the parking lot?
What shooting drills are most effective for defenders in active attack events?
Conclusion
If you spend a few moments speaking with Ed Monk, his passion for this work is palpable. Since being in the military, a public school teacher and a cop, he's been striving to educate the populace for almost a generation now. He considers his successes to be all too few. I disagree. His passion for this topic and drive to mitigate these tragedies have made a difference; at least for me and dozens of my colleagues. If you are at all concerned about this topic, seek him out.