21 arrested, 4 cops injured during weekend unrest in DC
Discord Saturday between Trump supporters and counterdemonstrators led to fistfights, a stabbing and 21 arrests
---
By Suzie Ziegler 
WASHINGTON — Police in Washington, D.C. arrested 21 people Saturday after clashes between Trump supporters and counter protesters turned violent. After thousands of Trump supporters marched to the Supreme Court to protest election results, nighttime violence led to fistfights and a stabbing. 
According to NBC Washington, five people face gun charges, two are accused of assaulting police officers and others were cited for aggravated assault, simple assault, disorderly conduct and destruction of property. 
Among those arrested, a man and a woman from Georgia were seen openly carrying guns; four people were arrested for assaulting a man and stealing from him; another man hit someone with a flagpole multiple times; and a D.C. man was arrested for assault with a dangerous weapon after he threw a firework at a crowd. Video shows the firework exploding at an outdoor restaurant area. 
BREAKING 3 Trump supporters are eating outside at a restaurant, 2 blocks from the White House. 16th & K St. A large group confronts them. Someone throws what appears to be fireworks. Moments later, police push back a crowd that wants to confront Trump supporters: @nbcwashington pic.twitter.com/B8NDOTE0MJ

— Shomari Stone (@shomaristone) November 14, 2020
Police said four officers were injured during the unrest and a stabbing victim was treated for non-life-threatening injuries, reported the Associated Press. Police are still searching for three other assault suspects, according to NBC Washington.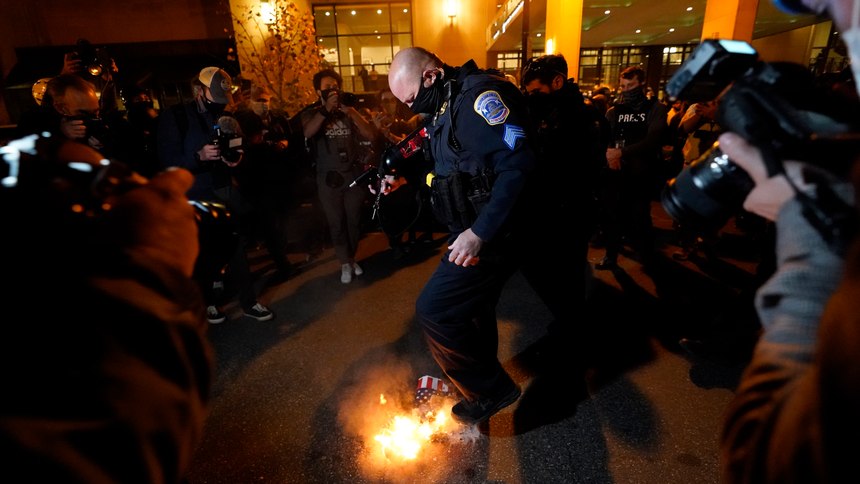 The Associated Press says authorities are reviewing surveillance footage.