RISE Awards: Check out a dozen of our outstanding 2016 nominees
These officers and agencies go above and beyond in myriad ways to serve and protect their communities
---

Editor's Note: In the third annual edition of the RISE Award Program, TASER | Axon and Police1 again honor agencies and officers who have risen above the rest. Take a look at some of our outstanding nominees below, and find out who our winners are on September 1.
By Rachel Zoch for Police1
With hundreds of nominations from across the country – and Canada! – this year, it's difficult to choose which to recognize for the 2016 RISE Awards. But it's easy to see that law enforcement officers are doing outstanding work, from community outreach to agency leadership and so much more.
As we prepare to close nominations and begin the review process, we want to showcase some of the inspiring stories we've received this summer. Here are a few standouts from each category.
Agency of the Year
The New Castle County Division of Police (Delaware), like many other jurisdictions across the United States, is battling a heroin epidemic. In the past year, the department has launched several new programs aimed directly at preventing addiction and curbing related property crimes. In May, the department launched a program called "Hero Help," which is a collaboration between the New Castle County Police, the Delaware State Attorney General's Office and the Delaware Department of Health and Social Services.  Under the program, subjects who are arrested and are found to be struggling with an addiction can be screened for entry into a rehabilitation and counseling program.  Those who qualify may have charges reduced or dismissed at the discretion of the Attorney General's Office. 
The department is also working to build trust with the community through several new programs and technology, including a local DNA database and a new cold case unit, plus an expanded body-worn camera program.  New Castle County's Targeted Analytical Policing System, which uses analytics to focus on hotspot areas, has yielded double-digit reductions in most crime categories. Further, the department's professionalism and the new enforcement and outreach programs earned it a recommendation for re-accreditation under the Commission on Accreditation for Law Enforcement Agencies Gold Standard.
The Burlington Police Department (North Carolina) embarked on a campaign to improve officer safety, purchasing equipment, implementing training and changing policies to reduce officer injuries and prevent line-of-duty deaths. Safety measures include the purchase of tactical medical kits and ballistic helmets and vehicle panels, as well as mandatory minimum staffing and permanent shifts in the patrol division. The permanent shifts allow officers to develop regular sleep and eating patterns, leading to overall improvements in health and well-being.
The department also renovated a city warehouse into a gym facility and provides free nutritional training. For all officers involved in a shooting incident or other critical incident, attendance is mandatory for debriefings with a newly established peer support team. Officers are now more involved in creating policies and guiding the future of the department through issue-based committees, which builds morale and increases job satisfaction.
Community Impact
Detective Juan Wilson, St. Charles PD (Missouri), is a DEA task force officer who has spearheaded an effort to hold narcotics (especially heroin) distributors accountable in overdose deaths. His efforts led to the indictment of four defendants for their roles in the distribution of heroin in 2015. He participated in two ABC "Nightline" documentaries about the heroin epidemic in St. Louis and the surrounding area, as well as local news reports, awareness videos on YouTube and extensive public speaking engagements (more than 30 since January), mostly in schools. 
The St. Cloud PD (Florida) joined forces with the Osceola Council on Aging to provide a community service program for seniors age 60 and above who live alone. The free program focuses on elderly crime prevention such as elder abuse, neglect, exploitation and fraud. Patrol officers visit seniors at their homes and report any issues. Knox Boxes are also implemented in cases that would otherwise require forced entry. Officers now have better knowledge of services offered within the community, seniors feel safe and secure, and the weekly checks provide law enforcement presence and can lead to intelligence about criminal activity.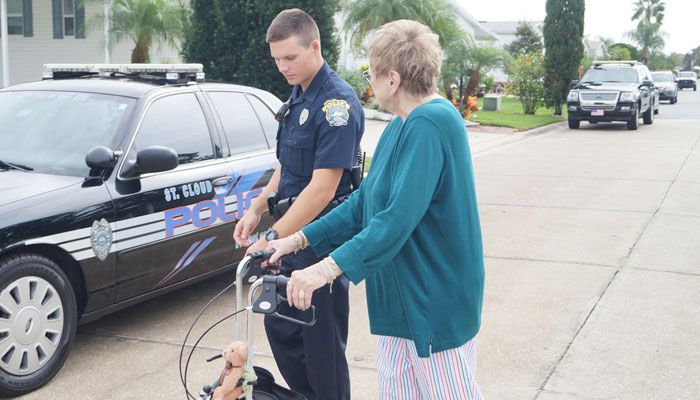 The St. Cloud PD participates in a community service program for seniors age 60 and above who live alone. (Photo/St. Cloud PD)
Officer Tommy Griffiths, Boston PD, volunteered more than 500 hours to help build a teen center in Franklin Field, Boston's toughest housing development, in 2008. In 2015, a sewage backup ruined the space and it was shut down. Griffiths again volunteered his construction skills and stepped in to organize and oversee an army of volunteers to totally rehab the center, calling in favors from old construction friends and colleagues from across the city. Home Depot donated $50,000 worth of labor and supplies. Volunteer tradesmen put in over 1,000 hours of hard work. Kids from the neighborhood also jumped in to help, and many have benefited from the center's culinary arts program and now work in the food industry.
"It was an incredible example to the city of how nonprofits, the business community and police can change the world for hundreds of kids," said Jay Paris of the North American Family Institute, which provides services at the center. "All because one cop who wasn't afraid to beat the drum for the communities he served made it happen."
Sgt./Acting Cmdr. Nicholas Borges, Seaside PD (California) organized Heroes 4 Kids, a fundraiser and toy drive for the Lucile Packard Children's Hospital Stanford, where children from families in need receive care, regardless of their ability to pay. Heroes 4 Kids organized a toy drive and hospital visits from police, fire, EMT and community members. Borges provided presentations to civic and community groups to promote Heroes 4 Kids and hosted a free community barbecue. More than $26,000 was raised and donated for the Monterey Peninsula Clinic, and more than 1,000 toys were collected and donated to the LPCHS children.
Law Enforcement Leadership
Officer Ron Hall, Columbia PD (Missouri), a longtime member of the CPD Vice, Narcotic and Organized Crime division, completed many wiretaps, pen registers and phone warrants to identify and investigate the largest drug distributor in Columbia. In the process, he provided information to the ATF that resulted in more than two dozen federal indictments. He also provided information to the FBI in Kansas City regarding drug sources that led to 19 people being indicted. Hall has been responsible for the federal indictment of more than 100 people and the seizure of more than $1 million during his time spent with the DEA on behalf of CPD. 
During the past year, Hall also finished his nine-year tenure as a K-9 handler with CPD, during which he and his four-legged partner, Leah, seized drugs and cash worth over $4.5 million. Since his return to patrol, he has become a training officer to assist with the teaching and training of new recruits.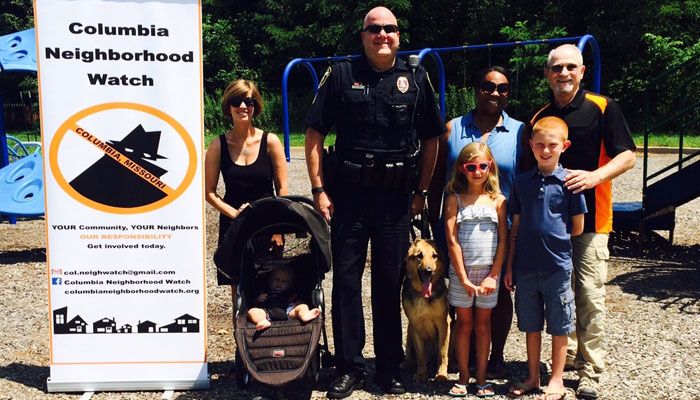 Officer Ron Hall has been responsible for the federal indictment of more than 100 people and the seizure of more than $1 million. (Photo/Columbia PD)
After retiring as a lieutenant with another agency, Michael "MC" Williams, Elizabeth PD (Colorado), serves part-time with the Elizabeth PD and continues to serve full-time as a Colorado State Criminal Investigator. He also serves independently as a mentor, chaplain and law enforcement leader as founder and director of Centurion Law Enforcement Ministry and on the national board of the Fellowship of Christian Peace Officers. Williams speaks all over the country on issues of servant leadership, police suicide prevention and restoring and strengthening law enforcement marriages in an effort to help fellow officers.
Protect Life
Officer Brandi Kamper, Fort Worth PD (Texas), rushed to the aid of an officer shot while in pursuit of a fugitive. Although dressed in civilian clothes and without weapons or body armor, Kamper, who served in the U.S. Army as a combat medic, grabbed her Tac Med backpack, jumped in a marked police unit with a SWAT officer and ran to locate the downed officer in a thickly wooded area.
Despite the danger of being in an open area with no cover or concealment, Kamper immediately began assessing and triaging Officer Matt Pearce's injuries. She applied a tourniquet to his right leg, dressed three bullet wounds on his chest and shoulder and used a pressure bandage on his right arm. Kamper later said, "I just kept finding holes in him!"  She and other officers then carried the injured officer up a muddy, slippery hill to get him to the awaiting helicopter.
"She demonstrated extraordinary courage in an extremely stressful and dangerous situation to save a fellow officer and friend's life," said Sgt. Rachel DeHoyos, who helped locate the downed officer. "Not only were her actions heroic, but also her integrity and character make her the type of officer that will do what is right when it is necessary."
At the time, the FWPD's tactical medical unit had been discontinued, but Police Chief Joel Fitzgerald decided to reinvest in the program after the shooting. This means that each of the FWPD's five divisions will include a full-time patrol officer trained and certified as a tactical medic.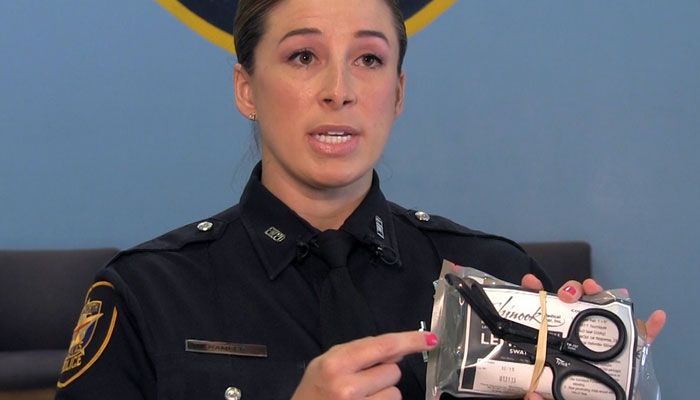 Officer Brandi Kamper rushed to the aid of an officer shot while in pursuit of a fugitive. (Photo/Fort Worth PD)
Senior Police Officer Dan Whitney, Athens-Clarke County PD (Georgia), responded to a 3 a.m. highway accident to find an SUV engulfed in flames against a large tree. A man was yelling for help from a small rear driver-side window. Whitney retrieved his fire extinguisher and tried to put out the fire, then began trying to extricate the person trapped in the car. The impact of the accident had bent the frame and all the doors were jammed shut, so Whitney bent the door frame back enough to pull the man through the small rear window. As he was doing this, an explosion from under the hood knocked off his hat and body-worn camera. 
The driver of the vehicle (who could not be seen until after the flames were extinguished) burned to death in the fire. Without Whitney's rescue, the passenger likely would have suffered the same tragic death as the driver, as the backseat was completely melted and gutted within minutes. Other officers on scene described the heat from the fire as unbearable from 50 feet away.
Deputy Karl Griffiths, Sacramento County Sheriff's Dept. (California), was on patrol when a call for service came in reporting that a woman had been shot and the suspect was firing rounds at responding officers and anyone attempting to help. When Griffiths arrived at the scene, he saw that his fellow officers were taking cover behind their patrol vehicles and an injured woman and male postal worker were pinned down behind a mail van parked in the middle of the street. No one could get to them to render medical aid to the woman.
Griffiths handed off his rifle to another deputy then ran under fire to the location of the injured woman and postal worker, and with the postal worker's help, dragged the woman through the bushes to the main roadway and called for assistance. A detective in an unmarked truck picked them up and drove to a nearby hospital while Griffiths remained in the bed of the truck with the woman, keeping pressure on her neck wound. The surgeon later told Griffiths that the woman would have died had she not arrived at the hospital when she did. 
Patrolman Garrett Kimmell, Elizabeth Borough PD (Pennsylvania), responded to a shooting at a local bar to find dozens of people running through the scene. It was unknown if the shooter was still on site, but Kimmell ran to help Patrolman Jason Shallenberger, who was already on site triaging and assessing victims. Kimmell quickly applied a tactical tourniquet to assist a woman whose leg was bleeding profusely. In the body-worn camera video, he can be heard trying to calm the victim, telling her he is trying to stop her bleeding. The department's chief, who nominated this officer, also praised his support of and skill with K-9 units and said, "I could not ask for a more well-rounded, tactically sound and professional officer."
---
About the author
Rachel Zoch is a writer and editor for PoliceOne's BrandFocus division. Previously, she worked the copy desk of a local daily newspaper and served as managing editor of a trade magazine for the multifamily housing industry.

​Contact Rachel Zoch