RISE Honorees: How a Mass. PD is winning the opioid overdose battle
After his city suffered 47 overdose deaths in an 18-month period, Lt. Patrick Glynn began to think seriously about the role of cops in treating OD victims
---
This spring, TASER and PoliceOne launched our second annual RISE Awards to acknowledge the officers and agencies who go above and beyond in the line of duty. After receiving countless qualified candidates, we decided to extend the program with the RISE Honorees in order to give some of the strongest nominees some much-deserved attention for their efforts. Quincy (Mass.) PD's trailblazing efforts against drug overdoses has earned them a spot as a RISE honoree in our Agency of the Year category​.
In 2009, a young resident of Quincy, (Mass.) overdosed in his mother's home. It was the result of a tragic downward spiral that began with a dependency on prescription pain medication and escalated to heroin use. Despite multiple attempts at CPR, police officers and firefighters who arrived on the scene were unable to revive the young man. Powerless to take any further life-saving measures, the first responders were forced to wait until paramedics arrived. The victim survived — but it was a very close call.
It was a familiar sight in this city of nearly 100,000 citizens — a city that would ultimately have 47 opioid overdose deaths in an 18-month period spanning from 2008 to 2009. Just a few years later, Massachusetts would officially declare opioid abuse a public health emergency.
Drug Control Unit Commander at the Quincy Police Department, Lt. Patrick Glynn, had had enough. The incident inspired Glynn to think seriously about the role of police officers in treating overdose victims and spearhead an initiative to train and equip all cops in the city with the same drug paramedics used on the young man who had almost lost his life. That drug was Naloxone Hydrochloride, more popularly known as Narcan.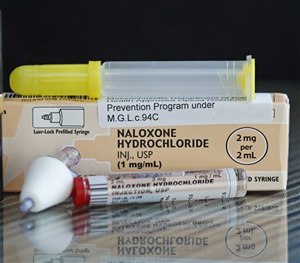 "I've been in drugs for 25 years. They [overdose victims] needed more than just the criminal justice system, they're not the dealers," Glynn said. "It's not just an overdose. That's a person. That's someone's father, brother, mother, sister."
In the event of an opioid overdose, the effect on the body becomes rapidly catastrophic — the difference between life and death often coming down to a matter of seconds. Narcan, which is administered as a nasal spray or injected, counters the depression of the central nervous system in minutes — allowing an overdose victim to bounce back from the grips of death.
According to Glynn, Quincy police officers were on the scene of an OD "90 to 95 percent of the time before paramedics," — a reality Glynn does not believe is isolated to Quincy.
The Pilot Program
Glynn began work on an hour-long training program that would teach officers to recognize the signs of an opioid overdose and familiarize them with the proper methods of administering the antidote. After putting his officers through the training and working with state officials to legally allow them to carry the drug, a pilot program was launched in October 2010.
Each of the agency's 220 officers was equipped with a kit containing two doses of Narcan — making the department the first in the nation to have all of its cops carry the treatment. The move was in sharp contrast to the traditional school of thought for the roles police officers play in the national struggle against drug abuse. For Quincy cops, drug treatment would have just as important of a role as drug enforcement.
In the first year alone, they reduced the death rate by 66 percent. The victims ranged in age from people in their teens to their 60s.
"The public's perception changed toward us. They started seeing us showing up at the scene and helping people. They started calling us the 'Narcan cops,'" Glynn said.
In partnership with the Bay State Community Services, the department also began holding a yearly vigil. Family members gather together with police and state officials to pray for those who died as a result of an overdose. At last year's wake, a woman who had OD'd two years prior approached Glynn and credited the department's life-saving efforts for turning her life around — she had sought treatment and had been clean for a year and a half after Quincy police officers brought her back to life.
"All you need is one person to say they turned their life around and were able to function in life because of the Quincy PD — that's a success to us," Glynn said.
It wasn't the only success story. Glynn has received a number of calls — from family members or the victims themselves — thanking the department for the program and crediting it for allowing them to finally break the addiction cycle. And in 2012, when the state passed a Good Samaritan law that protects bystanders from arrest for possession of small quantities of drugs if they call for help for an OD victim, the department saw the number of those seeking assistance skyrocket.
In one instance, a driver flagged down a marked cruiser when a passenger was suffering from an OD. "When does that ever happen — that a civilian pulls over a marked police cruiser?" Glynn said.  
Narcan Doesn't Distinguish
Since the start of the program, Quincy cops have used Narcan 424 times — 75 times in this year alone — and successfully reversed 407 overdoses. Those treated have ranged from victims of drug addiction to those who suffered an accidental overdose from a prescription. In one instance, a man who had received oral surgery was treated after mistakenly taking his medication in combination with alcohol. Glynn emphasized the importance of understanding that these victims are not limited to serial abusers — and that the perception of the type of person that suffers from an overdose needs to change.
"Everyone should have an open mind. It's easy to say sometimes that these people are criminals — but these people have an illness. The motto is to 'protect and serve.' We don't get to pick and choose who we protect and serve. We hope people go into treatment — we're not saying everyone will. But it provides them a choice — a choice they have to be alive in order to have."
The treatment isn't limited to civilians, either — if a drug-sniffing K-9 were to accidently ingest an opioid, for example, the treatment would also work on the animal.
And as for those that have criticized the program as a way for abusers to engage in riskier behavior?
"Everyone thought abusers would come to Quincy because we had Narcan," Glynn said. "That didn't happen."
Expansion and Future Plans
It wasn't long before the White House Office of National Drug Control Policy recognized the work officers were doing in Quincy. Now known as the "Quincy Model," the program has expanded to nearly 60 police departments in the state and around the nation under the guidance of Glynn. A state-wide training course for all officers in the Commonwealth was developed in collaboration with the Massachusetts Department of Public Health and the Massachusetts Police Training Council — with the aim to have all 18,000 police officers in the state carrying the treatment in the future.
Glynn has also been traveling across the U.S. to educate other agencies on the importance and successes of the program. His hope is that eventually, every police officer in America will have the life-saving drug. With an estimated 44 people in the United States dying from overdose of prescription painkillers each day — a threefold increase in the total number of deaths from 2001 to 2013 — that adoption cannot come soon enough, and it's the reason we're honoring the Quincy PD as a RISE honoree.