The challenge of hiring and keeping officers in small and rural agencies
Poor leadership can be particularly destructive for an agency's ability to recruit and retain its workforce
---
In December 2019, the COPS office hosted a meeting to discuss the challenges of recruiting and retaining officers in small and rural agencies.
The 32 participants included researchers, topical experts and command staff from small and rural jurisdictions across the country, from Idaho to Tennessee. Over the course of the day, attendees agreed that recruitment and retention are not separate problems, but two sides of the same issue. A report of the meeting is available below.
Find the right person
Law enforcement agencies have to find the right person before they can be hired. To find the right person, recruiters have to decide what that means. Attendees brainstormed a frankly huge "good officer" list of ideal characteristics, broken down into four major categories: cognitive, emotional, moral and social/interpersonal skills (see Table 1).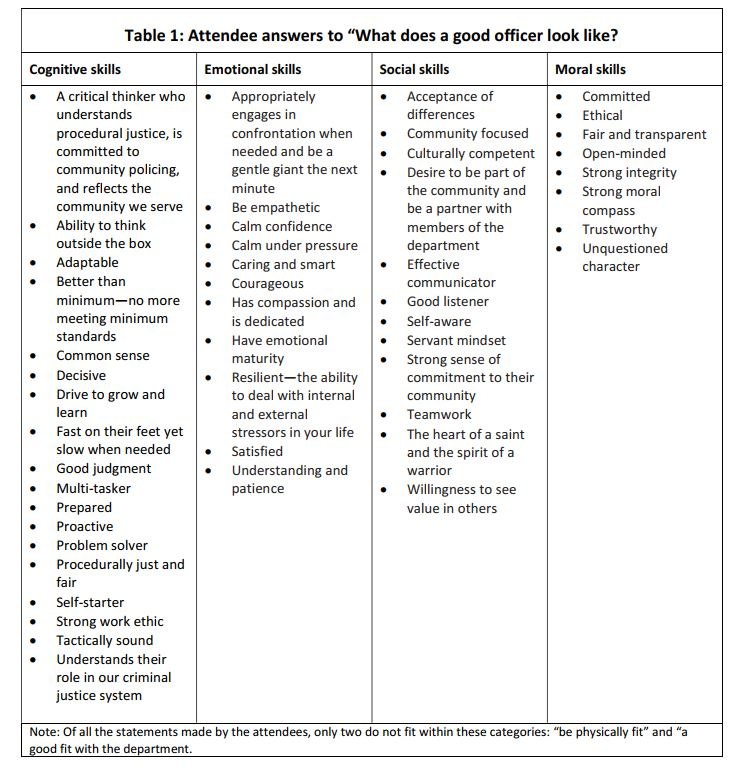 The report noted that the resulting list closely resembled characteristics already identified in previous forums and professional research papers, suggesting that what rural policing requires from its officers isn't much different from what policing in general requires. Compared to the available research defining bad policing, there's relatively little material that describes good officers and good policing, to use as a baseline.
Forum members proposed that poor outcomes and poor officers are easier to identify and "operationalize" than good ones, since "soft skills"  are valuable, but hard to measure. For example, it's easier to quantify a reduction in community complaints than it is to quantify emotional intelligence, but both are desirable. It's easier to evaluate marksmanship skills than negotiating skills, but an ideal officer needs both. Also, what one agency wants and needs may differ from another jurisdiction, setting up discrepancies in definitions.
As one participant concluded, "I can train anyone to be a cop, but I can't train integrity."
Why rural cops leave
Attendees worked to identify reasons officers leave agencies, either leaving the field of law enforcement entirely or leaving one department to work for another
Generally, the top reason rural officers give when leaving for other agencies is better pay and benefits. A research study was cited that found higher pay reliably reduced turnover at small agencies, but not at medium-to-large-sized ones. One forum attendee noted that when his department increased pay, turnover fell immediately.
Other reasons included frustration with limited promotional or specialization opportunities, and issues outside the control of employers, like housing costs, long commutes, an unhappy spouse, or lack of resources.
Officers who leave the field entirely fall into two general categories: those who leave early in their careers (some even quitting the academy) and those who leave late. The early leavers perplexed participants more than the late ones, who mostly succumb to illness, injuries, and burnout. 
Why, they wondered, would recruits go to so much effort getting through the hiring process and then quit? Why would new hires slog through the academy and field training, just to leave? Are agencies failing to communicate what the job entails? Are academies preparing recruits adequately for "real-world" policing?
The discussion turned to a comparison of academy styles, such as "stress academies" vs. "adult-based academies," without agreement regarding the superiority of either. Regardless of style, the two top reasons recruits left the academy were failures of fitness and academic failure. After agreeing that there is simply not enough research yet, one participant remarked, "They leave because we fail them."
Leadership failures
Leadership failures, it was noted, erode employee trust and confidence. Attendees told of employees who were promoted to supervisory roles but not trained, perpetuating a cycle of ineffective and even destructive leadership that contributes to officer turnover.
Chief Jim Porter of the Bend Police Department gave a presentation on "health-oriented leadership," a style he adopted after a well-respected sergeant died of a cardiac event while on duty. He described a system designed to encompass and enhance all aspects of departmental life, from streamlining hiring processes down to 90 days, to family education and support programs. While all of the new programs have value, options such as on-duty workouts and yoga to an in-house psychologist are likely to be out of reach for most rural departments. However, the overarching idea that the employee is an inherently valuable resource and should be treated that way, is not.
The report quoted a Center for State and Local Government Excellence paper stating that jurisdictions have a harder time filling police positions than any other kind of opening. If that's the case, then rural departments can know they are not alone in their recruiting and retention struggles, but they do need to identify the ways their situations are unique. That is hard to quantify because even a definition of "rural" or "small" is hard to find.
While fit and culture are huge in all small agencies (it's harder to ignore bad fit in a department of 10 than a department of 1500), consensus is a slippery thing. A sheriff's office patrolling thousands of square miles of high desert is rural, but it has little in common with the six-officer police department in the cornfields of Iowa, just a few miles from several other small departments. Neither one of those is the same as the town marshals policing a resort town near a popular national park, where even the police chief can't afford to buy a house.
Success stories
Forum attendees raised more questions than they found answers to. Nevertheless, they shared successes too.
One chief has begun interviewing not only exiting officers but those who stay, every six months, confidentially. In fact, he interviews his entire staff and then implements as many of their suggestions as possible. In addition, all command staff works a midnight patrol twice a year, maintaining ties with the community and relatability to their staff.
Another department, where commutes are long and housing is expensive, acquired a bunkhouse for commuting officers. It was expensive, but the sad reality of a fatigued officer who died in a crash when he fell asleep on the way home got the rest of the town's administration on board.
A conventional perk for one agency is simply to provide the best equipment and vehicles for their officers, including take-home cars. Another encourages officers to attend family and sports events while on duty, as long as they are responsive to calls; it's considered part of community policing, as well as an improvement to work-life balance.
Emphasizing that departmental reputation is an attractant, and all officers are potential recruiters, several forum participants said they entrust all officers, not just a formal PIO, with posting to social media and conversing online with community readers. Another described their policy of a completely transparent budget process, with each officer's share of the training budget allocated to that individual officer's control.
The importance of strong, healthy leadership and choosing the right candidate from the outset was emphasized repeatedly. By the end of the discussion, three main points were clarified for strengthening recruitment and retention:
Fostering community support matters.
Reputation matters (a LOT).
To use all tools at your disposal, all at the same time.
A quote from one forum participant wraps up the concept of never giving up, and changing what is within each department's control. They said,
"We hire for competency, and we fire for character. Recruitment needs to place more emphasis on character. We don't focus on that when we hire, on the intrinsic draw. We are still focused on the competency side of the house. Maybe we should shift our perspective."
NEXT: Everyone is a recruiter
COPS Office Recruiting Small Departments by epraetorian on Scribd