6-year-old student shoots teacher at Va. elementary school
Newport News police Chief Steve Drew said the boy was involved in "an altercation" with his teacher before he shot her with a handgun
---
By Josh Janney, Peter Dujardin, Ian Munro and Eliza Noe
Daily Press
NEWPORT NEWS, Va. — A teacher was injured after being shot by a student Friday afternoon at Richneck Elementary School in Newport News, according to police and school officials.
No students were injured but a teacher was taken to the hospital. Newport News police Chief Steve Drew said a 6-year-old boy was involved in "an altercation" with his teacher before he shot her with a handgun. The extent of the teacher's injuries was unknown.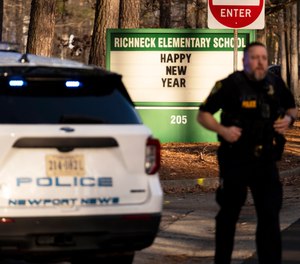 At least one child who said she witnessed the shooting described the shooter as a classmate.
"We believe that once we walked in and had the information we had coming in (the school), we had the individual in custody," Drew said at a news conference outside the school. "We did not have a situation where someone was going around the school shooting. We had a situation in one particular location where a gunshot was fired."
Drew declined to provide the age of the suspected shooter and would not say if that person was a student.
Several parents interviewed outside the school said officers on scene told them a 7-year-old male student shot a teacher.
A 6-year-old student, whose mother didn't want her daughter's name used, said she witnessed the shooting. The girl told a Daily Press reporter that one of her first-grade classmates shot their female teacher "on purpose."
The teacher was shot in the stomach and fell to her knees, the girl said.
Richneck Elementary is a fully accredited public school located off Richneck Road in northern Newport News. There were 553 students enrolled at the school in the fall for the 2022-23 school year, according to the Virginia Department of Education.
Hundreds of parents were waiting Friday afternoon outside a reunification center, located at 128 Deal Drive, anxious to pick up their children. Cars were parked alongside the road for several blocks in all directions.
Officers on the scene separated parents in lines based on their child's grades. Some parents grumbled about confusing directions and difficulty hearing announcements.
Among the parents waiting outside the reunification center was Joselin Glover, whose fourth-grade son, Carlos, was inside. Glover said she received a text notification from the school reporting one person was shot and one person was in custody.
"My heart stopped," she said, saying she immediately rushed to the school. "I was freaking out, very nervous. Just wondering if that one person was my son."
Glover immediately went to the school, with parents told to wait at a nearby church.
As officers "walked around trying to comfort us," Glover said, they told waiting parents that "it was a 7-year-old who shot his teacher."
Carlos, 9, whose class was in recess when the shooting began, said he and his classmates were holed up in the back of a classroom after the shooting. "Most of the whole class was crying," Carlos said.
She said she'd gotten numerous phone calls and texts to make sure she and her son were OK. She said she felt the school handled the situation "very well."
But other parents said the situation was communicated poorly by the school.
Joseph Hughes and Danyelle Rose, who each had children in the school, said they heard about the incident through social media and friends — not the school.
"I had already parked, and I was already right here with the school called and said, 'there's been a shooting,'" Rose said. "I work overnight, so I was sleeping. And my father came to wake me up and told me up, and I rushed out of the house. And that's why I said, 'why didn't the school call us? Like, why didn't I hear?'"
Hughes said he "dropped everything" when he heard the news and rushed to the school to pick up his 7-year-old and 5-year-old.
"I never expected anything like this," he said.
Rose, who had a fifth-grade daughter at the school, fears the situation will take a significant mental toll on the students.
"They're not physically hurt, but my daughter called me crying," Rose said. "Because they're supposed to be safe in school."
Newport News Mayor Phillip Jones and the other members of the City Council went to the scene to provide support. He said students were being kept in the cafeteria until they could be escorted out to their parents.
"These students are our No. 1 priority for safety," Jones said. "We're going to ensure that everyone is safe, and that everyone is accounted for."
Police requested that parents and guardians have identification ready when they arrive to pick up their children.
(Reporters Nour Habib and Eliza Noe contributed to this report.)
©2023 Daily Press.
Visit dailypress.com.
Distributed by Tribune Content Agency, LLC.
McClatchy-Tribune News Service