Chief: 6-year-old shot Va. teacher during class lesson; injured teacher's actions 'saved lives'
"What we know today is that she was providing instruction, he displayed a firearm, pointed it at her and fired a round," Newport News Police Chief Steve Drew said
---
By Peter Dujardin and Nour Habib
Daily Press
NEWPORT NEWS, Va. — Police say a 6-year-old student who shot his teacher Friday at Richneck Elementary School used a 9 mm handgun that belonged to his mother.
The first-grade teacher, Abigail Zwerner, 25, was in the middle of class just before 2 p.m. when the student suddenly pointed the gun at her and fired one round, Newport News Police Chief Steve Drew said at a news conference Monday.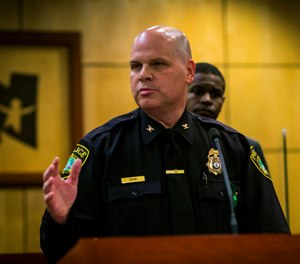 Zwerner took a "defensive position," bringing a hand up to protect herself. The bullet entered her hand, went out the other side and then entered her upper chest. Though her condition was initially critical, she's now in stable condition at Riverside Regional Medical Center.
Drew backed off a statement made Friday that there was an "altercation" between the student and Zwerner before the shooting. "There was no physical struggle or fight," he said, elaborating there was no argument between them, either.
The boy did not take the gun out of his bag, Drew said, but "had the firearm on his person" just before the shooting.
"What we know today is that she was providing instruction, he displayed a firearm, pointed it at her and fired a round," Drew said.
After being shot, Zwerner had the wherewithal to shuffle all the other students — between 17 and 20 children — out of the classroom, Drew said. The school's video surveillance footage showed the students, followed by Zwerner, leaving the class. The students went to another classroom and Zwerner went to an administration office.
"I believe that Ms. Zwerner, Abigail, she saved lives on Friday," Drew said, calling her "a hero" and "a trooper."
The 6-year-old student remained in the classroom, and another school staffer ran into the classroom as the other children were fleeing.
That staffer restrained the boy until sheriff's deputies and police arrived a few minutes later. The boy "became a little combative and actually struck the school employee," Drew said. Arriving officers then took control of the boy, escorted him out of the building and placed him in a police car with an officer inside.
Police found a handgun on the floor of the classroom near the child's desk, as well as his backpack and a cell phone.
Drew said the boy was taken into hospital custody under an emergency custody order and evaluated at a hospital. A Newport News magistrate then issued a temporary detention order, and the boy is "currently receiving treatment at a medical facility."
The Taurus firearm was legally purchased by the child's mother in York County, Drew said. Police are still working to determine how the firearm was secured in the home and how the child got a hold of it.
The 6-year-old's parents willingly went to police headquarters for an interview, Drew said.
"We determined that the firearm was in the residence where they live," he said. "The child takes that firearm, places it in his backpack and brought it to school — he was brought to school that day by his mother."
As for any possible charges against the parents, Drew said any such determination would be made by the Newport News Commonwealth's attorney Howard Gwynn after the investigation and all interviews are completed.
The chief continued to strongly maintain that the student acted with purpose. "I want to reiterate that this shooting was not accidental," Drew said. "It was intentional."
The police investigation is looking into prior interactions between the student and teacher, and any prior disciplinary actions against the student. But no motive has so far been established for why the student shot Zwerner, and Drew said he doesn't know if the boy intended to shoot anyone else.
The initial 911 call came in at 1:59 p.m., Drew said, with deputies and officers arriving at the school at 2:04 p.m. Medics were cleared to enter the school at 2:07 p.m., reaching Zwermer two minutes later.
Drew said he saw Zwerner twice — once on Saturday and once Monday — and had a "good conversation" with her, saying she asked about her students both times.
"Abigail is thankful for the thoughts and prayers that have gone out to her, and the people that reached out to her not only here locally, but also across our state and across our nation," the chief said.
Newport News Schools Superintendent George Parker also spoke at Monday's news conference, held at the schools administration building on Warwick Boulevard.
"An incident like this does not traumatize one community, it traumatizes the entire city," he said.
Parker said Richneck will be closed for the rest of the week, and division leaders will use the time to come up with a plan to re-open. He said the mental health of staff is one of his highest priorities, and he had a meeting with Richneck staff Monday to seek input on what support they need before they are able to return to school.
A virtual town hall event is also planned for 6:30 p.m. Thursday with Richneck families.
"I have received many emails — some supportive, some concerned, some afraid — and it's understandable," he said. "Some angry, and I'm angry. But I know that we have to find a pathway to move forward."
The school division has set up a 24-hour helpline to provide mental health support to the school community and has offered targeted support to the students who were in the classroom where the shooting occurred.
Parker acknowledged this is the second instance of gun violence inside a Newport News school in less than two years, with a shooting inside Heritage High School in September 2021.
"We learned a lot from the first incident," he said of the shooting at Heritage.
A student also killed another in a Menchville High School parking lot after a school basketball game in December 2021.
Parker said the district has metal detectors at its high schools but said officials will now reevaluate whether they are needed at the elementary level.
"In no way do I believe that we were fully prepared for a 6-year-old student to bring a gun, this weapon, to school and shoot his teacher," he said.
©2023 Daily Press.
Visit at dailypress.com.
Distributed by Tribune Content Agency, LLC.
McClatchy-Tribune News Service