More Nev. officers are going "back to school" this year, including weapons-detection K-9
Four officers and their powerful noses will be playing an even bigger role in the effort to reduce the number of guns being brought to schools in Las Vegas
---
Brett Clarkson
Las Vegas Review-Journal
LAS VEGAS, Nev. — King, Jack, Marley and Peppermint — all weapons-detection dogs with the Clark County School District Police Department's K-9 unit — will again play a "large role" in the department's overall school-safety strategy, a school police spokesperson said.
Like last school year, each dog will each continue to do at least one random so-called "classroom sniff" each day — for a total of four per school day, according to Lt. Bryan Zink.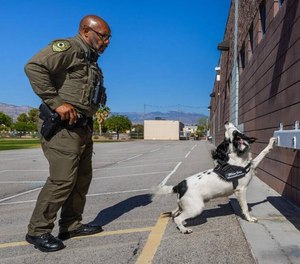 But the goal this year will be to double or possibly triple that number, Zink said, for a total of as many as 12 random searches by gun-sniffing dogs every school day.
That would mean the number of random searches would potentially jump from about 720 per school year to possibly 1,440, or even 2,160. Either way, the dogs and their handlers will be doing more searches, Zink said.
The obvious hope is to deter both students and adults from bringing guns to school.
In the 2022-2023 school year, police seized 33 guns from school campuses, according to the department. The school year before, police seized 32 guns. In the two school years affected by the pandemic, 2020-2021 and 2019-2020, police seized 21 guns and 18 guns, respectively.
The plan is also to eventually expand the department's K-9 unit — which consists of the four gun-detecting dogs and another two narcotics-sniffing dogs, Ace and Oreo — by four more weapons-detection dogs, Zink said.
"When it comes to children, you can't be too safe," said Sgt. Bernardo Abarca. "Here's the thing, we want to protect our children and communities as much as possible. I know the community has called for extra measures and this is just one of the many that we're putting in place."
In May, after a campus security monitor was shot outside Von Tobel Middle School in northeast Las Vegas, the victim of a stray bullet from a shooting a few blocks away, school district and law enforcement officials held a press conference to draw attention to ongoing school safety issues and to ask for the community's help in keeping the schools free of violence.
The Metropolitan Police Department's Deputy Chief Reggie Rader, as well as the school police department's Chief Mike Blackeye, outlined a "Back to School Initiative" that would see an increased police presence in public schools as students return to classrooms.
On a recent morning, the six dogs and their handlers that comprise the school police department's K-9 unit gathered at O'Roarke Elementary School, near Floyd Lamb Park in the far northwest valley, for a departmental photoshoot and to discuss their goals for the upcoming school year.
The K-9 unit consists of two narcotics-detecting teams: Sgt. Dan Clark, who works with Ace, a 3-year-old Belgian Malinois; and Officer Anthony Cooke, who works with Oreo, a 3-year-old Springador, which is a cross between a Labrador Retriever and a Springer Spaniel.
The gun-sniffing teams are Officer Steven Patty and a 2-year-old American Labrador named Peppermint — whose name was chosen because it works well with her handler's last name. Peppermint is also the only female on the K-9 unit.
There is also Officer Joe Cordsen and Jack, a 6-year-old Springer Spaniel; Officer Joseph Thomas and King, a 6-year-old English Labrador, the unit's oldest dog; and Officer James Harris and Marley, a 4-year-old American Labrador.
Cooke said the K-9 teams do as much community relations as they do detection and enforcement. Cooke also manages Oreo's Instagram account, which has almost 8,000 followers, as well as Oreo's Tik Tok, which has over 41,000 followers.
The officers also hand out stickers and trading cards featuring each dog. Peppermint's talents, according to her card, include finding a piece of pizza "in the most remote depths of any trash can."
The kids can also pet the dogs, Cooke said. Even though the dogs are highly skilled in detecting drugs or guns, Cooke said the department has prioritized having family-friendly dogs on the K-9 unit because the animals are constantly meeting kids.
"All of it is just finding ways to be able to reach out to kids and interact with them," Cooke said. "And to let them know that police officers are there to help them."
—
©2023 Las Vegas Review-Journal. Visit reviewjournal.com..
Distributed by Tribune Content Agency, LLC.
McClatchy-Tribune News Service