NM police officer named national school resource officer of the year
Officer Miguel "Mick" Rael was described as committed and passionate about the health of everyone at his school
---
By Suzie Ziegler 
ORLANDO, Fla. — Officer Miguel "Mick" Rael of the Albuquerque Police Department has been named school resource officer of the year.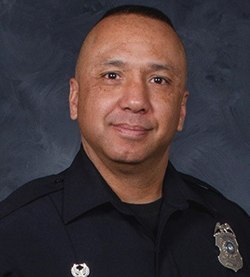 Rael received the honor Monday at an awards ceremony in Orlando, Florida, hosted by the National Association of School Resource Officers (NASRO). The Floyd Ledbetter National School Resource Officer of the Year Award recognizes SROs "who have made specific and significant contributions to their local communities or school districts," according to the release.
"Each of the experienced educators who nominated Officer Rael commented that they have never seen an SRO who is as available and committed to students, staff and the community as he is," said NASRO executive director Mo Canady in a statement. "They described many ways Officer Rael demonstrates his passion for the health and wellness of everyone in and near his school. We're proud to have someone like Officer Rael in the SRO profession." 
The Albuquerque Police Department also walked away with the Model SRO Agency Award for exemplary training and standards – an accolade it shared with the Val Verde District Police Department in Perris, California. 
Also honored at the National School Safety Conference was Officer Anthony Pate with the Southlake (Texas) Police Department. Pate received NASRO's National Award of Valor for intercepting an armed man at a middle school. Pate persuaded the suspect to lay down his weapon and arrested him with non-lethal means.