SROs will be stationed at Denver schools following policy reversal
Board members who voted to reinstate the officers cited the rise in teen gun violence and the increasing number of weapons found on DPS campuses
---
By Jessica Seaman
The Denver Post
DENVER, Colo. — When children return to Denver classrooms on Monday, at least 14 armed officers will join them at campuses across the city — one of the most significant changes to emerge in the five months since a shooting at East High School spotlighted safety concerns at Colorado's largest district.
School resource officers — or SROs — will be a more permanent fixture at Denver Public Schools during the 2023-24 academic year. The Board of Education, which voted to remove officers from schools three years ago, reversed the policy earlier this year amid calls from parents and others in the community following the East shooting.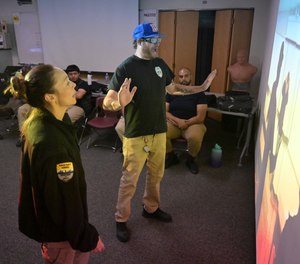 Superintendent Alex Marrero also released a new districtwide safety plan during the summer, which he has said is a roadmap for how DPS will tackle school safety and rising youth gun violence.
Most of the safety plan covers systems that were already in place at DPS, such as mental health resources. The most significant — and visible change — is the return of SROs to campuses.
DPS is one of a handful of districts across the United States that have rolled back policies enacted during the racial reckoning that followed the murder of George Floyd, a Black man, by a white police officer in Minneapolis in 2020.
The school board voted in March to temporarily put police back in schools immediately following the East shooting but made the decision more permanent in a split 4-3 vote in June.
The decision faced pushback from community members and even some board members, who argued having police in schools contributes to the school-to-prison pipeline by involving students with the criminal justice system when addressing behavioral issues.
The board members who voted to reinstate the officers said they did so because of the rise in teen gun violence across Denver and the increasing number of weapons, including firearms and fake guns, found on DPS campuses in recent years.
SROs will be stationed at 13 campuses — most of which are comprehensive high schools — with one officer at each location. East, the city's largest high school, will have two SROs, according to the police department.
The SROs have completed a 40-hour training offered by the National Association of School Resource Officers. They have also received other training, such as how to de-escalate conflicts and crisis intervention, according to the department.
DPS will also not have to reimburse the police department for the use of the SROs during the new school year, according to the agency.
DPS and the police department have not yet signed a new agreement — called a memorandum of understanding — for the school year, but expect to finalize the document this week, said district spokesman Scott Pribble.
"We will start the school year under the same agreement that was in place at the end of last school year," he said.
Such agreements lay out what tasks SROs can perform in schools, according to the National Association of School Resource Officers.
Another big change at DPS will be in how the district handles students on safety plans that require them to undergo searches for weapons.
Student safety plans were thrown into the spotlight in March after a 17-year-old shot and injured two administrators who were checking the teen for weapons.
Educators were among the ones to carry out weapon checks because they were allowed to under a caretaker exemption, unlike police officers who need probable cause, district officials have previously said.
DPS campus safety officers and patrol officers also searched students for weapons last year. But now only DPS patrol officers will check pupils for weapons when required by a student safety plan, said Greg Cazzell, the district's chief of Climate and Safety.
School leaders will still search students for other items, such as vapes, he said.
Patrol officers are employed by DPS and respond to schools when called. They are also armed, unlike the district's campus safety officers.
"They're not law enforcement, but they are trained under those same standards," Cazzell said.
SROs will not perform weapon checks on students because they are employed by the Denver Police Department, meaning they would need probable cause to search a student, he said.
"SROs still need to operate under criminal law," Cazzell said. "An administrative search is not in the purview of an SRO."
DPS has also prepared in other ways for the return of the school year, Cazzell said. Staff will also receive more training on emergency protocols and lockdowns, he said.
The district has also received a grant from the City and County of Denver to hire youth violence liaisons who will work in the community with students in crisis or who have potential gang ties, Cazzell said.
Earlier this month, patrol officer and campus safety officer trainees also underwent crisis intervention training where they learned how to de-escalate students who are upset or in crisis.
McClatchy-Tribune News Service