'It SHOULD be illegal,' Ohio cops joke about Christmas lights before Thanksgiving
After a Facebook post went viral, the North Ridgeville PD clarified they will not actually be arresting anyone for this
---
By Mike Stunson
The Charlotte Observer
NORTH RIDGEVILLE, Ohio — If it seems like Christmas season begins earlier and earlier each year, you aren't alone.
And as Americans across the country begin to light up their homes for Santa Claus, an Ohio police department is saying enough is enough.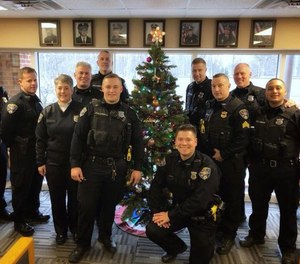 "Christmas season does NOT start tomorrow," the North Ridgeville Police Department said Oct. 31 on Facebook. "We're looking into it but it might be considered disorderly conduct to put Christmas decorations out tomorrow and if enough people on your street do it, possibly aggravated riot. Let's all be cool and get through Thanksgiving."
It turns out the Cleveland-area officers were joking, having to clarify their post after getting calls about it from as far away as Nevada.
No, decorating for Christmas in North Ridgeville is not a crime. That doesn't mean it shouldn't be though, the police department said.
"Heck, decorate in May if you're an absolute lunatic….we don't care," police said in another Facebook post. "I mean, it SHOULD be illegal."
So go ahead and put up that Christmas wreath and hang garland around your front door. Just know that North Ridgeville police officers will be judging you.
[RELATED: 5 holiday traditions every police household will understand]
Many commenters were aware of the joke in the initial post, but a lot wished police were serious.
"Put up lights anytime but, please, don't start the Christmas music until December," one person commented, speaking for many of us.
[NEXT: What's on your wish list? A gift guide for LEOs]
©2021 The Charlotte Observer. Visit charlotteobserver.com. Distributed by Tribune Content Agency, LLC.
McClatchy-Tribune News Service