Pro football player tweets that he gave cop an autograph and the cop let him go
Rice deleted the tweet from his Twitter account shortly after
---
Associated Press
OWINGS MILLS, Md. — Baltimore Ravens running back Ray Rice received a warning for the tinting on his windows and signed an autograph for a police officer.
He insists that's the order in which those events occurred Monday night, contrary to a misleading post he put on his Twitter account.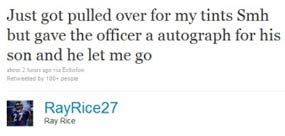 Rice insisted Tuesday that he only offered the officer an autograph after being issued a warning.
Rice deleted the post on his Twitter account that made it sound as if he got out of the ticket because of the autograph. He later said he wasn't granted special treatment because of his status as an NFL player.
Baltimore County police say Rice was stopped Monday about 6:45 p.m. at the Garrison Forest shopping center.
Spokesman Lt. Rob McCullough says Rice was given a warning to put a lighter tint on his car's windows. He said there was no paperwork or police report generated from the incident.
Police are conducting a preliminary investigation concerning the officer getting Rice's autograph. The officer has not been disciplined.
"It was a simple traffic stop," McCullough says.
Rice said the only thing he did wrong was exercise bad Twitter judgment.
"I was pulling into a parking lot, and I did get pulled over by a police officer for my tints," Rice said. "I didn't realize they were illegal until he pulled me over. He gave me a warning and told me to get it fixed. I didn't have anything outstanding or anything wrong with my plates.
"... The cop said his son is a big fan. I took it upon myself to offer him an autograph," Rice said. "That was after the warning. Bad decision by me wording it on Twitter. I did get a warning and I must get my tints fixed because they are pretty dark. I don't want to make it seem like I'm getting (preferential) treatment by an officer who was doing his job."
Rice deleted the following tweet from his Twitter account last night: "Just got pulled over for my tints. Smh, but gave the officer an autograph for his son and he let me go."