N.J. officers praised for peaceful resolution with armed man weeks after AG took over PD
Officers talked with the man with help from negotiators; after a nearly six-and-a-half-hour standoff, he agreed to surrender
---
By Chris Sheldon
nj.com
PATERSON, N.J. — Amid criticism over previous encounters with potentially violent subjects, a confrontation between Paterson police officers and a man armed with a knife who claimed he was suicidal ended peacefully over the weekend, officials said.
Officers were called to a location near the Paterson Great Falls shortly before 5 p.m. on April 8 and saw the man holding a large knife, according to a statement from the New Jersey Attorney General's Office, which took control of the department late last month.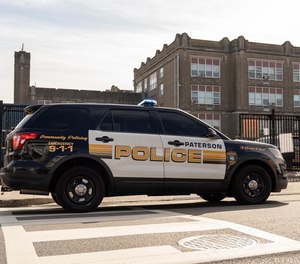 Officers talked with the man with help from negotiators from the New Jersey State Police and after a nearly six-and-a-half-hour standoff, he agreed to surrender and hand over the knife, the office said.
The man was taken to St. Joseph's University Medical Center and the crisis team there was alerted to the situation so he could be treated by mental health services, authorities said.
No criminal charges had been filed in connection with the incident as of Friday.
"While each situation is unique, in this instance thanks in large part to the Paterson Police Department and the New Jersey State Police Emergency Response Team, this situation was resolved peacefully," New Jersey Attorney General Matthew Platkin said in a statement. "I want to thank Interim Officer-in-Charge NJSP Major Frederick Fife for his leadership of the Paterson Police Department, the officers of the department and our community partners as we work together to ensure a safer Paterson and more transparent department."
Platkin appointed Isa M. Abbassi, a 25-year veteran of the New York Police Department currently serving as chief of strategic initiatives, to run the department starting in May. In interim, Fife has been overseeing the 400 officers of the embattled department. Chief Englebert Ribeiro, who just took over at the beginning of March, was relieved of command, though he remains with the department.
Residents have repeatedly complained, and at times protested, use of force by officers with the department. Protestors took to the streets again last month after Najee Seabrooks, 31, an anti-violence activist, was shot and killed March 3 during a lengthy standoff with police as he suffered an apparent mental health crisis.
—
Chris Sheldon may be reached at csheldon@njadvancemedia.com.
©2023 Advance Local Media LLC. Visit nj.com.
Distributed by Tribune Content Agency, LLC.
McClatchy-Tribune News Service