Car plows through N.C. airport terminal as driver flees officers on tarmac
Video shows the front end of the vehicle was heavily damaged as it sat in the terminal
---
By Mark Price
The Charlotte Observer
WILMINGTON, N.C. — A frantic Hollywood-style car chase played out at a North Carolina airport when a motorist drove onto the tarmac, then barreled through windows into the terminal, according to the New Hanover County Sheriff's Office.
It began around 7 p.m. on Thursday, March 9, at Wilmington International Airport, and concluded minutes later with one man under arrest, the sheriff's office said in a news release.
"A vehicle ... breached the fence line at the airport and drove onto the tarmac," the sheriff's office reported.
"The vehicle then retreated from the tarmac and the driver was engaged by deputies with the New Hanover County Sheriff's Office. The vehicle ultimately ended up inside the terminal after crashing through doors and windows."
Details of how the car was stopped were not released, but a photo shows the front end was heavily damaged as it sat in the terminal.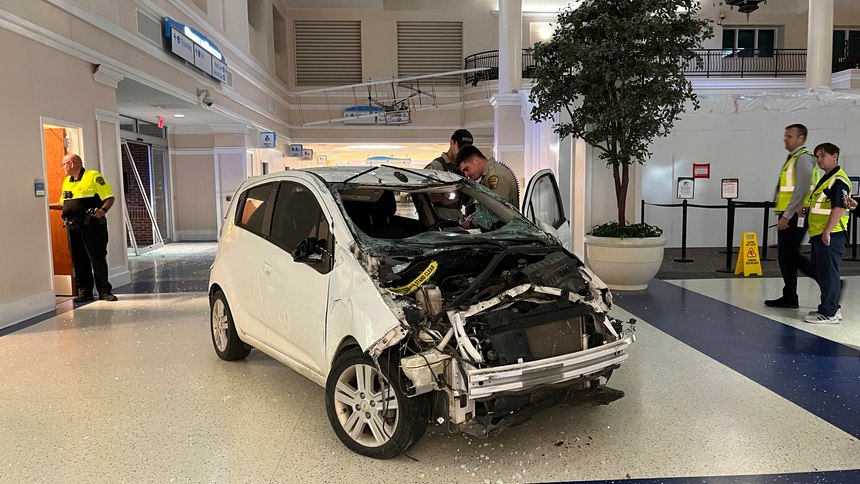 The driver was identified as Tray Anthony Dvorak and investigators have not released a motive.
Dvorak was arrested and charged with assault with a deadly weapon on a government official, speeding to elude arrest, trespass on airport property, disorderly conduct and resisting/obstructing/delaying a government official, the sheriff's office said. Bond was set at $50,000.
A Facebook page reports Dvorak lives in Wilmington.
Airport officials reported the security breach on Twitter late Thursday and noted "no one from the public was injured."
The incident "had minimal impact to operations," and the terminal was expected to be fully operational on Friday, officials said.
©2023 The Charlotte Observer.
Visit charlotteobserver.com.
Distributed by Tribune Content Agency, LLC.
McClatchy-Tribune News Service