Driver fleeing Mich. police charged in crash that killed 2 kids
A parole absconder was charged Friday with two counts of second-degree murder in a pursuit that left two children dead and four other people injured
---
Associated Press
DETROIT — A parole absconder was charged Friday with two counts of second-degree murder in a high-speed police chase that left two Detroit children dead and four other people injured.
Lorenzo Harris, 29, also faces charges of fleeing and eluding police, leaving the scene of an accident causing death, reckless driving, carrying a concealed weapon and other charges, the Wayne County prosecutor's office said. Harris' arraignment is scheduled for Saturday.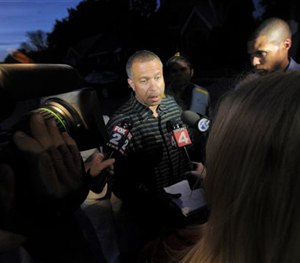 Relatives have identified the dead children as 6-year-old Michaelangelo Jackson and his 3-year-old sister, Makiah.
They were playing on the sidewalk outside a home Wednesday evening when they were struck and killed by a speeding Chevy Camaro. The car continued traveling through front yards along the residential street, eventually hitting three more children and a 23-year-old woman before crashing into a porch.
Detroit police are investigating whether officers involved in the pursuit and their supervisor followed protocols, Chief James Craig said Thursday.
Craig said the chase started after an officer in a marked squad car reported seeing someone in the Camaro with a handgun. The chase lasted just 62 seconds and spanned 1.64 miles, with the Camaro averaging a speed of 95 mph, according to Craig.
Craig said a supervisor reported making several attempts to verbally stop the pursuit, but it's not clear if the orders were heard over police radio traffic.
Harris and his passenger were arrested after the crash. The passenger has not yet been charged.
Harris is on parole for a 2006 methamphetamine possession case. He was listed by state Corrections officials as absconding on Feb. 25, 2014.
Corrections records show he also served time for assault, attempted carrying a concealed weapon, resisting a police officer and receiving stolen property.

Copyright 2015 The Associated Press