Fla. sheriff catches shoplifting suspect in foot pursuit
"I'm probably the first sheriff to be involved in a foot pursuit in probably decades," the sheriff said
---
Ron Hurtibise
Sun Sentinel
FORT LAUDERDALE — As the saying goes, once a cop, always a cop. Even if you are the top cop.
Broward County Sheriff Gregory Tony said he was driving on Broward Boulevard in Fort Lauderdale on Monday when he noticed a young man running down the street at top speed carrying a shopping bag.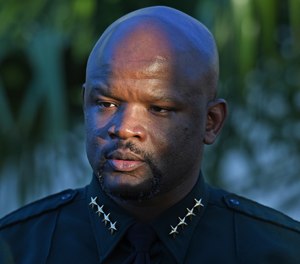 Then he noticed a 7-Eleven clerk running after the man -- and decided to take matters into his own hands.
In an interview with WPLG-TV that the station plans to air Sunday at 11:30 a.m. on channel 10, Tony said he told his security staff to pull his car over, then got out and gave chase.
The pursuit lasted for several blocks, the station reported.
"Fortunately, I train hard every day. I still maintain conditioning and I was able to track the young man down and take him into custody," the sheriff said in the interview.
After putting the man in handcuffs, "I could see it registering, 'Hey I've seen this guy before,'" Tony said.
The two joked a bit, and the sheriff told the suspect, "You just made part of history. I'm probably the first sheriff to be involved in a foot pursuit in probably decades."
———
©2019 Sun Sentinel (Fort Lauderdale, Fla.)
McClatchy-Tribune News Service