Sheriff: Per new law, deputies stopped pursuing bus thief who drove into home
Sheriff Brian Burnett said deputies "had to abandon the pursuit" when the driver refused to stop
---
By Suzie Ziegler 
LEAVENWORTH, Wash. — Sweeping police reforms went into effect Sunday in Washington state, raising some use-of-force standards from reasonable suspicion to probable cause. In response, multiple police leaders voiced concern that the new policies could impact public safety. According to one sheriff, that's exactly what happened during a pursuit over the weekend. 
In a Facebook post, Chelan County Sheriff Brian Burnett said deputies stopped pursuing a stolen school bus on Saturday when the driver refused to pull over. According to Burnett, the state's new laws no longer allow police to pursue a fleeing vehicle unless there is probable cause that a serious felony has occurred. Although this incident happened a day before reforms took effect, Burnett says deputies abided by the new policies and stopped pursuing. 
Later that same day, Douglas County deputies began pursuing the school bus as it traveled through their area. Burnett said these deputies "also discontinued pursuit per the new reform laws."
The suspect, 39-year-old Andrew Loudon, was ultimately arrested on Sunday. Police learned that Louden had also stolen a front-end loader and used it to smash through the home of his estranged wife, according to Burnett. Luckily, his wife was not home at the time.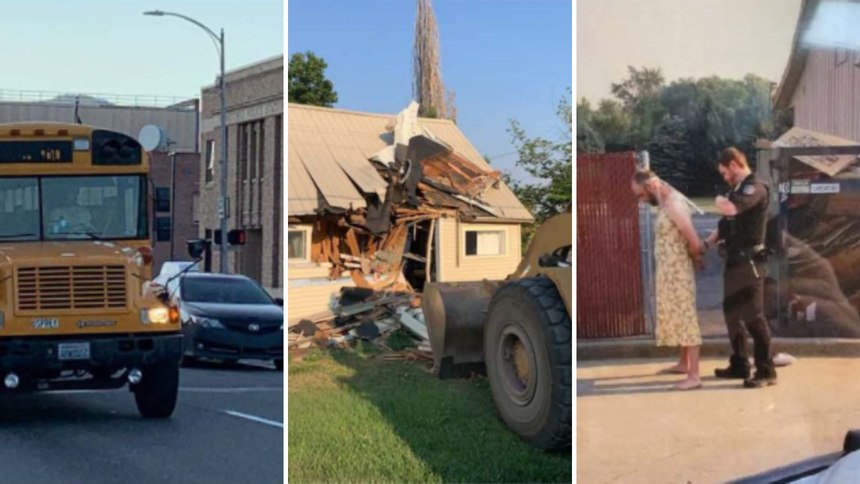 When describing the events, Burnett said that "law enforcement's response was dictated" by the new policies. 
According to Burnett, the following four criteria must now be met to pursue vehicles in Washington state: 
Probable cause for violent offense, sex offense or escape (from custody or detention facility) or reasonable suspicion for DUI 
Pursuit is necessary to identify or apprehend the person and 

The driver possesses an imminent threat to the safety of others, and the risk of failing to apprehend or identify the person is greater than the risks of vehicle pursuit 

Supervisor has provided authorization