How LAPD's first female SWAT officer broke the glass ceiling
Sgt. Jennifer Grasso has overcome many obstacles in her trailblazing career
---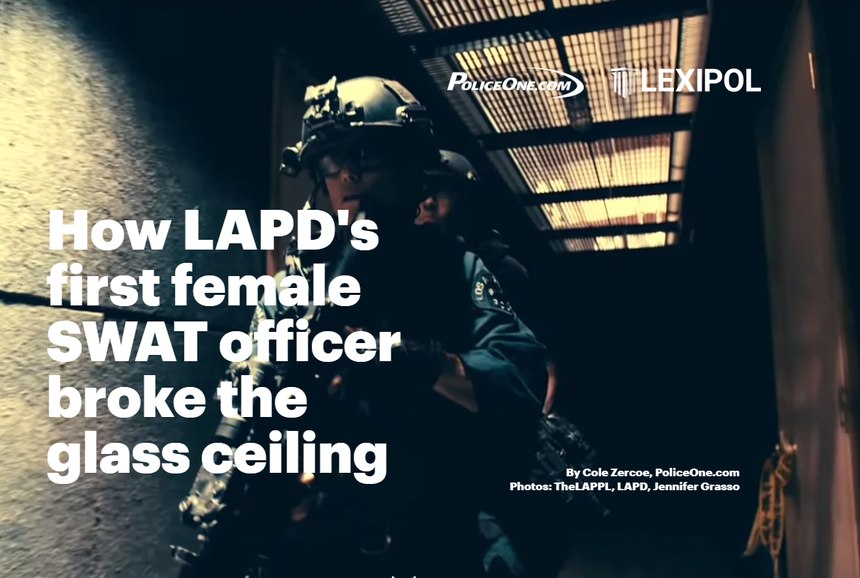 Sergeant Jennifer Grasso doesn't like the term "scary." Years spent serving in elite units turns the fear most people would experience when their life is on the line into something else. The chemical attributes are still there – the adrenaline spike, pulse thumping so hard you can feel it in your neck – but there isn't an emotional component. What's in its place is more mathematical: an acute understanding of the probabilities. On July 21, 2018, Grasso wasn't afraid. But she knew how high the stakes were. As she looked through the storeroom doors of the Trader Joe's where multiple people had been taken hostage, in the back of her mind she knew there was a good chance she or someone on her team was going to get seriously hurt. Or worse.
The scene was surreal – a juxtaposition of the mundane and the horrific. There were unmanned shopping carts full of groceries, and women's handbags abandoned in the child seats. On the floor between the aisles of produce and canned foods were trails of blood. It was all over the store. The perpetrator had already shot multiple civilians and exchanged gunfire with police in the chaos leading up to the standoff. He'd surrounded himself with hostages. If officers heard screaming, or more shots, or if the negotiations broke down, Grasso and the rest of her team were going to be the ones to make entry. There was no reason to believe the suspect wouldn't shoot at them. Grasso knew the probabilities. But she wasn't afraid.
It was one of the last callouts in Grasso's 10 years serving as the first and only female in the Los Angeles Police Department's SWAT unit, and although the standoff garnered national attention, for Grasso, it was just one high-risk call in a career full of them. Despite the steady drop in violent crime since L.A.'s apex of violence in the late 80s and early 90s, the city that was instrumental in the development of SWAT remains a tough place to police, and Grasso, who joined the LAPD in 1995, cut her teeth during the height of the gang war.
To access the full version of this enhanced special feature, sponsored by Lexipol, click here.