Making SWAT: 4 vital components for making the team
Tips for young officers in their quest to make the SWAT team in their department
---
I'm often asked, "What can I do to prepare myself to make SWAT?" There isn't one single thing a young officer can do that will make him or her look more appealing than others. However, there are four key components that will stand out on your resume. These four key components are essential to be a successful SWAT operator, so use them to guide your career and let them mold you character as a police officer. By doing so, you'll gain the advantage in making the team — and along the way you'll quickly become a better cop. Those four components are:
Training
Teamwork
Physical Conditioning
Motivation
SWAT is an elite special operations unit within a police agency. SWAT officers train to perform high-risk operations that fall outside of the abilities and training of regular uniformed officers. SWAT officers are selected from volunteers within their law enforcement organization. SWAT applicants undergo a tough selection process and should attend rigorous training. The four abovementioned components are vital for successful selection to the SWAT unit.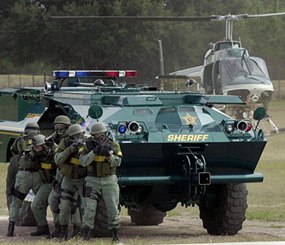 Most applicants are given a physical agility test, written examination, and an oral interview. Some officers may be required to take a psychological test.
After selection, SWAT officers should attend and pass specialty courses such as a basic SWAT course or a basic sniper course. These courses will train the officer to become a qualified SWAT operator—an individual whose duties will likely include:
Armed patrols
Countering terrorist operations
Counter-sniper operations
Crime suppression
Hostage rescue
Providing assistance on warrant service
Providing security at special events
Providing superior weapons systems and tactics in dangerous situations
Rescue operations of injured citizens and officers
Resolving barricaded gunmen, hostage crisis, and suicidal subjects
Resolving high-risk situations with a minimum loss of life, injury, or property
Riot control
Stabilizing dangerous situations dealing with violent criminals
The Four Components
Training: Attend as much training as your department will allow. Focus on tactics and firearms training. Get involved with as much training as possible, especially those things which require an officer to acquire instructor certification such as defensive tactics, firearms, and close quarter battle tactics.
Teamwork: SWAT commanders will not take officers who have been unable to work in a team environment. Helping out other officers and taking constructive criticism while working in uniform are good ways to help your chances of making SWAT.
Physical Conditioning: Most SWAT teams have a physical fitness test during the selection process. The tests may include running, pushups, sit-ups, or obstacle courses. Staying in top physical shape is beneficial for your uniformed duties and a great way to prepare yourself for the selection process.
Motivation: Police work has its trials and tribulations and staying positive 24/7 is a healthy thing to do. More importantly it's the SWAT officers whose resilience gives them a positive attitude toward the job (and life) during stressful times get to become SWAT.
Recently, my department interviewed 50 Special Response Team applicants. As the team commander, I sat in the interviews and was a part of the selection process. Some of the factors that I personally considered in addition to the four components during the selection process included:
How trainable is the applicant?
Does the officer operate with humility or does his ego prevent him from absorbing critical information during training?
Does the officer display the necessary cognitive thinking skills required of a SWAT operator?
What is the officer's work ethic on the street?
Does the officer display the appropriate social relationships with fellow officers?
Does the officer display the "warrior spirit" necessary for special operations?
When you consider all that has been mentioned, these factors and components can be found in many senior patrol officers that aren't a part of SWAT. Something that I found beneficial to me in the Army — and as a rookie cop — was to emulate one of those senior officers who was well respected by their peers. It's often difficult for rookie officers to define their police character, so start by picking up positive traits of a well-respected senior officer. As the years go by you will change the way you operate to become your own person, but the foundation has been laid.
Take these considerations with you, never give up, and work hard until you make SWAT.
Good luck and stay safe,
Sgt. Glenn French