Nev. SWAT rescues kids during manhunt
Officers transported children via their armored vehicles out of one school directly across from the threat zone
---
By Police1 Staff
RENO, Nev. — A Nevada SWAT team came to the aid of children after a manhunt resulted in the lockdown of several schools Wednesday.
KOLO-TV reports officers transported children via their armored vehicles out of one school directly across from the threat zone – a building across the street.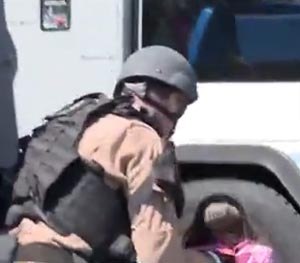 "The armored vehicles are just that. They are armored. Were there to be some type of a threat situation, they would be protected that way," said Lt. Nate Parker of the Reno Police Department.
The manhunt began after officers tailing a wanted fugitive were forced to open fire as the man brandished a gun.
The suspect was killed. A second suspect on the loose prompted the school lockdowns.
No officers were hurt in the incident. The second suspect was later captured.