MedStar crews award Texas LEOs for saving 2 shooting victims
The officers will be honored at a ceremony for saving two victims from bleeding to death last month
---
By Suzie Ziegler 
FORT WORTH, Texas — A trio of Fort Worth police officers will be recognized Wednesday for their life-saving actions last month, according to a press release from MedStar. Officers Alfaro, Morgan and Newsom helped treat two shooting victims, one of whom was shot in the neck. 
Their efforts unfolded on October 19 when police responded to a shooting call. Alfaro arrived first on scene, found the two gunshot victims and immediately began applying pressure to the neck wound.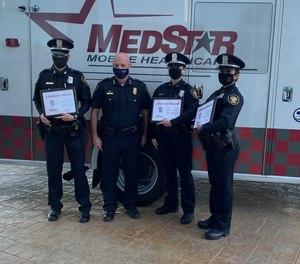 Officers Morgan and Newsom then arrived on scene and applied tourniquets to the second shooting victim. That victim had a gunshot wound to the upper left thigh, which traveled through her leg, lodging in her right upper thigh. 
The three officers worked to staunch the blood flow until MedStar units arrived. 
Both victims were at risk of bleeding to death, but the officers' actions were critical to their survival, according to the release. 
"Officers Alfaro, Newsom and Morgan quickly utilized their training, while showing care and compassion for the victims during a high stress situation," the statement reads in part. 
The MedStar crews who were part of the response will present the officers with LifeSaver Awards at a ceremony Wednesday. 
The MedStar crews who were part of the response will present the award to the deserving officers.