Fifth victim dies in France Christmas market attack
Barto Pedro Orent-Niedzielski, a 36-year-old Polish native, died after five days in a coma
---
By Kate Feldman
New York Daily News
STRASBOURG, France - A fifth victim succumbed to his injuries after last week's terror attack at the Strasbourg Christmas market in France, the Paris prosecutor's office said Sunday.
Barto Pedro Orent-Niedzielski, a 36-year-old Polish native, died after five days in a coma, his brother told the BBC.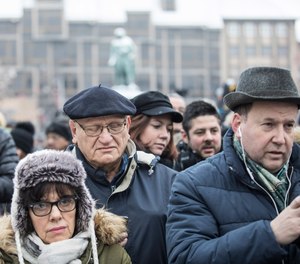 His family kept him on life support long enough for friends and relatives to come say goodbye.
Orent-Niedzielski is the fifth victim — and fourth identified — to die after the Dec. 11 attack. Kamal Naghchband, a garage mechanic and father of three from Afghanistan. Anupong Suebsamarn, a 45-year-old Thai national on vacation with his wife, Antonio Megalizzi, a 29-year-old Italian journalist, and an unnamed 61-year-old retired bank worker have all died.
Gunman Cherif Chekatt, 29, was killed in a police shootout Thursday evening after a two-day manhunt of more than 700 officers.
Prosecutors believe that Chekatt had been radicalized during one of his stints behind bars — he did time in 2008 and 2013 for robberies in France, Switzerland and Germany — and his father said over the weekend that his son was an ISIS supporter.
Four members of his family were detained for questioning, but released on Saturday. Two other associates were let go on Sunday, according to the BBC.
———
©2018 New York Daily News
McClatchy-Tribune News Service