French Christmas market suspect killed by police; ISIS claims attack
Cherif Chekatt was killed by French police forces on Thursday
---
By Julia Naue and Christian Boehmer
dpa
STRASBOURG, France — The gunman who carried out the deadly shooting at a Christmas market in the French city of Strasbourg was an Islamic State soldier, the terrorist group's Amaq news agency said late Thursday.
The report came hours after police confirmed the death of Cherif Chekatt, the suspected gunman in Tuesday's shooting.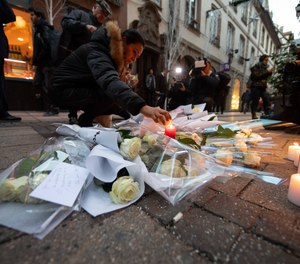 Chekatt, a 29-year-old on a state security watch list who had a criminal record for nonterrorism offenses, was suspected of opening fire at Strasbourg's crowded Christmas market, killing at least three people and leaving one other brain-dead.
French prosecutors had been treating Tuesday's shooting as an act of terrorism.
Earlier Thursday, French prosecutors confirmed to dpa that a fifth person has been arrested in connection with the attack.
The individual is not a family member of the suspected attacker, prosecutors said.
The four previous arrests made in connection with the attack were Chekatt's parents and two of his brothers.
A large police operation underway in Strasbourg in the afternoon wrapped up later in the day, French media reported.
The number of deaths following the attack rose to three Thursday, while a fourth victim is brain-dead, French prosecutors told dpa.
The attack took place on Tuesday evening, when Chekatt opened fire at Strasbourg city center's popular Christmas market, shouting "Allahu akbar" — "God is greatest" according to witness reports.
At least 12 people were injured, with five in serious condition.
On Thursday, EU leaders began a summit in Brussels with a minute of silence to remember the victims of the shooting.
The meeting was taking place in a "bereaved" context, said French President Emmanuel Macron.
"I want to once again pronounce France's solidarity with the victims and their families," he said.
A Thai tourist was among those confirmed dead, the Thai Foreign Ministry said. Anupong Suebsamarn, 45, had been vacationing with his wife, who survived the attack.
A French man was also among those killed, French media reported, saying that he had been waiting for his family outside a restaurant.
The third person killed is a Strasbourg-born man of Afghan origin. The Eyyub Sultan mosque in Strasbourg confirmed to dpa that he would be buried in the coming days.
The Italian Foreign Ministry also confirmed that Italian journalist Antonio Megalizzi was among those in critical condition.
Italian media quoted the father of his girlfriend as saying that Megalizzi was in a coma and that doctors were unable to perform surgery as a projectile was lodged too close to his skull and spine.
The attacker first opened fire Tuesday at 7:50 p.m. local time. Soldiers from an army anti-terrorism patrol shot at him but he escaped in a taxi. The taxi driver later confirmed to investigators that the attacker was injured, and that he had dropped him off in Neudorf, close to where his flat is situated and where Thursday's police operation took place.
French prosecutors are treating the attack as an act of terrorism. The suspect was on a state security watch list, but also had a criminal record for nonterrorist offenses.
Chekatt, a French national with North African roots, is known to have served several prison sentences in Germany, Switzerland and France. Altogether, French prosecutors said the suspected attacker had 27 convictions and that it was believed he had been radicalized while in prison.
In the wake of the latest such assault to take place on French soil, Prime Minister Edouard Philippe said an additional 1,300 soldiers have been deployed as part of an anti-terrorism operation.
©2018 Deutsche Presse-Agentur GmbH (Hamburg, Germany)
McClatchy-Tribune News Service