Learning from the infiltration of the 'Newburgh four'
FBI confidential informant Shaheed Hussain — code-named Malik — was an invaluable asset to law enforcement's takedown of four would-be terrorists
---
In a New York courtroom, four men stand trail on terrorism charges in a convoluted plot to bomb two New York City synagogues and use anti-aircraft missiles to shoot down military aircraft departing an Air National Guard base near the Hudson river an hour's drive from Manhattan. Each has pleaded not guilty to charges of conspiracy to use weapons of mass destruction within the United States and conspiracy to acquire and use anti-aircraft missiles. They claim they were entrapped by a federal informant — Shaheed Hussain, code-named Malik and also known as Shahed Hussain — who they maintain was the person who actually orchestrated the plot.
Whether or not the entrapment defense will hold water is not relevant to the following discussion, although it's true that the trial has the potential to adversely impact the U.S. government's ability to use informants in future terrorism cases. What matters here is the fact that the FBI was able to successfully develop and place a confidential informant inside the Newburgh mosque where the plan was hatched.
A Brief History of Helping Law Enforcement
This was not the Shaheed's first rodeo. The Loudonville man became a government informant after being caught "scamming illegal immigrants trying to get driver's licenses" according to reports. Following that recruitment, he posed as an arms dealer who had sold a shoulder-launched missile to be used to kill a Pakistani envoy. Mohammed Hossain and Yassin Aref were later sentenced to fifteen years in prison when they tried to help the FBI informant launder money from that sale.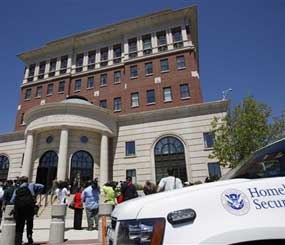 In his analysis of the failed Newburgh plot, Police1 Columnist Fred Burton explained that with an informant in place, the task force in charge of tracking the Newburgh plotters most likely constructed an elaborate surveillance system that kept the four men under constant watch during the investigation and sting operation, using technical surveillance of their residences and potential targets.
Having the ability to closely observe the group's communications and movements, law enforcement officials were able to gain control over the group's activities to such a degree that they felt confident in letting the plotters plant a 37-pound inert explosive device (they believed it to be C-4 plastic explosive) in the trunk of a car outside of one temple and two similarly-harmless bombs outside the Riverdale Jewish Center, a synagogue a few blocks away.
Confidential Informants Always Important
Police1 Contributor Pat McCarthy, commenting on the importance of developing and working with confidential informants in terrorism investigations, explains, "I firmly believe that informants are the most important aspect of good police work. It doesn't matter if you're a street cop investigating a drug gang or a federal agent working an investigation on a terrorist organization. Without inside information, law enforcement is most often headed for failure. The very nature of terrorism is to run under the radar of law enforcement, so it's essential that we learn how to develop and properly work confidential informants."
McCarthy says he learned firsthand how valuable and necessary good informants are while he was assigned to the FBI's Asian Gang and Organized Crime Task force in Chicago. Although McCarthy spent most his six-year stint concentrating on Asian gang activity, he was involved in several Asian organized crime investigations.
"Without the help of confidential informants," McCarthy explains, "almost all of our efforts would have been futile. In every successful case, my team worked, and relied, heavily on the inside information provided by informants... I've heard many times over my career that the Muslim community is very close knit and it is very hard to develop informants within this community. I heard the exact same B.S. when I was first assigned to work Asian crime, and I found out that it was totally untrue. I had more informants working Asian crime than I did in any other part of my career."
Developing Voluntary Informants
It's true that Shaheed Hussain only agreed to work for the FBI in order to avoid deportation to Pakistan after being arrested on fraud charges in his 2002 arrest, but the fact is, most American Muslims want to thwart, rather than plan, a terrorist attack.
McCarthy emphasizes that point, telling Police1, "I truly believe that most Muslims are against terrorism. Like any group, there are fringe players who are fanatics. After all, who in their right mind would want to have to worry about getting blown up just going about their normal daily activities?
"All you need to do is look at the past history of law enforcement and you'll discover that cops and federal agents have been able to develop confidential informants in all classes of criminal activity," McCarthy says. "Informants have been instrumental in helping cops infiltrate organized crime groups, biker gangs, and street gangs etc. Don't be discouraged because developing informants on terror groups might take a little effort.
"The sources you need are out there," McCarthy concludes. "It's up to motivated cops to work a little harder to develop and properly work them."
Vital to Newburgh (and Future Cases)
Shaheed Hussain's credibility as an informant will be closely scrutinized when he takes the stand as one of the prosecution's top witnesses in the trial of the Newburgh four. The defense has sought to portray Shahed as an instigator who "lured down-and-out dupes into a phony scheme by offering them a pile of cash," and in a pre-trial court filing, lawyers claimed that Shaheed "proposed, directed, supplied, funded and facilitated every aspect of the terrorist plot." Some members of the Masjid al-Ikhlas mosque in Newburgh reportedly said that they were surprised when James Cromitie, Onta Williams, David Williams, and Laguerre Payen fell for his overtures, which they thought to be an obvious government sting operation.
Their trial should provide for some entertaining TV newscasts and late night jokes. The four men who stand accused in this case have been called inept, irrational, and completely unable to have actually carried out their intended attack. It has been reported that the ringleader cannot even tie a necktie. But Police1 will follow the case — known officially as U.S. v. Cromitie, 7:09-cr-00558-CM, U.S. District Court, Southern District of New York (Manhattan) — because it could prove important for the use of confidential informants in future counterterrorism investigations.
Regardless, law enforcement's work to take down the plotters in the Newburgh terror case — from the placement of the confidential informant in that mosque, to the investigation and the arrests it produced — shows the positive effect American cops are having in the fight against terrorists in the United States.