Ga. LEO dragged by car on highway after traffic stop
The officer stopped the suspect for allegedly texting while driving, then was dragged by the car after the suspect tried to flee
---
By Police1 Staff
DUNWOODY, Ga. — A police officer is recovering after being dragged behind a car on the highway by a fleeing suspect.
The Atlanta Journal-Constitution reported that a police officer pulled over a man who was allegedly texting and driving. While the officer was at the driver's window, the suspect sped off, dragging the officer along the highway, according to police spokesman Sgt. Robert Parsons.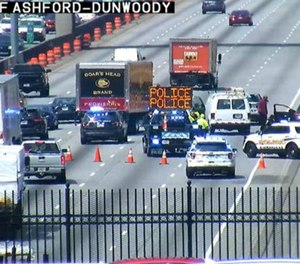 About 1140, officers pulled over a vehicle on Ashford Dunwoody at 285. The driver fled, dragging one of our officers onto 285. The officer fell to the ground on 285. The suspect was pursued and captured. Our officer is in stable condition receiving treatment at an area hospital.

— Dunwoody Police (@DunwoodyPolice) August 1, 2019
The officer held on as the suspect sideswiped cars to force him off, eventually landing on the ground on I-285.
Police continued to pursue the suspect, who attempted to bail out of his car and run but was quickly apprehended.
The injured officer was loaded into a police car and driven to the hospital, where he was treated and released. He is expected to make a full recovery.
We are very happy to report that our officer has been released from the hospital and is recovering at home. The officer is pretty banged up, but is expected to make a full recovery. Thank you all for the words of support. We hope to release more information tomorrow. (RP)

— Dunwoody Police (@DunwoodyPolice) August 1, 2019