NYC Mayor Adams says officers to patrol solo in subways, angering union
Eric Adams says the new policy will double the NYPD's reach and help riders feel safer
---
By Suzie Ziegler 
NEW YORK — The NYPD will no longer require transit officers to patrol in pairs, effectively doubling its patrol area, Mayor Eric Adams announced last week. The new initiative will "maximize the deployment" on subways by going back to single patrolling officers, Adams told ABC 7. 
[LATEST: NYC amends solo subway patrol plan after cop attacked on day 1]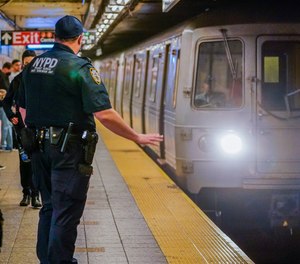 "That's what I did as a transit police officer during the '80s," Adams told ABC 7. "We are going back to that because that was one of the ways we were able to bring down crime." 
Adams says extending the patrol's reach will give police the "omnipresence needed" to help subway riders feel safer.  
Yet the new policy has worried police groups. The Patrolmen's Benevolent Association condemned the move, citing officer safety and staff retention issues, according to ABC 7. 
"We can't fix the NYPD staffing crisis by spreading our overstretched resources even thinner. Solo transit patrols were abandoned because they make it harder for cops to protect straphangers and ourselves," said Patrick Lynch, president of the PBA, in a statement. "New York City police officers are overburdened, underpaid and leaving in droves. This proposal will only accelerate the exodus." 
Still, Adams defended his decision, saying solo patrolling will not be a "blanket" policy. 
"We're not going to do anything that's going to jeopardize the safety of officers or the safety of the public," Adams said, according to the Gothamist. "During the midnight and the overnight hours, we're going to make sure that officers are put in a safe place." 
It's unclear when the new patrol policy will begin.