1st civil trial over use of force during 2020 protests in Portland begins
A protest medic filed a $450K lawsuit against the city for a broken arm obtained during a protest
---
By Zane Sparling
oregonlive.com
PORTLAND, Ore. — A protest medic was trying to leave the scene of a 2020 demonstration in North Portland when a baton-wielding officer struck her from behind, causing her to fall and break her arm, her lawyer said as the trial on her $450,000 lawsuit against the city opened Tuesday.
The civil suit is the first protest-related lawsuit to be heard by a jury, though City Hall has approved hundreds of thousands of dollars to settle other cases filed by demonstrators or journalists over police conduct during the months of racial justice demonstrations after George Floyd's killing.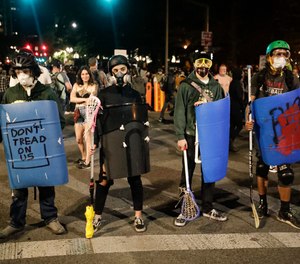 OHSU care coordinator Erin Wenzel says she was knocked to the ground twice by police officers charging into a crowd gathered behind a line of protesters carrying shields during the nighttime protest on Aug. 14, 2020.
"The attack was completely unprovoked and without warning," her attorney, John Burgess, told the jury during opening statements. "She was trying to get away from the police who were trying to get her to leave."
Wenzel's damage claim is based on the medical costs of a radial arm fracture, as well as for treatment of post-traumatic stress disorder, Burgess said, adding that city officials knew officers were regularly using excessive force against demonstrators.
Wenzel, 35, brought a first-aid kit and taped a red cross to her helmet before driving to Peninsula Park with her husband, Philip Wenzel, her attorney said. There, they joined 200 to 300 other demonstrators marching toward the Police Bureau's union headquarters.
Officers halted the crowd at North Killingsworth Street near Mississippi Avenue, declared an unlawful assembly and ordered the crowd to leave about 10 p.m. after protesters set dumpsters alight and hurled projectiles, The Oregonian/OregonLive reported at the time.
In his opening statement, Senior Deputy City Attorney William Manlove said Erin Wenzel was dressed all in black and standing next to husband about 10 feet behind the shield wall when officers rushed forward.
"She did not leave until she saw the police make physical contact at the shield wall," Manlove told the jury of seven men and seven women, including two alternates. "Ms. Wenzel had multiple opportunities to get out of the street and she didn't get out of the street."
Manlove said no one witnessed or documented Wenzel being struck by police, suggesting any mental trauma was likely due to her husband's arrest that night, which led to a federal charge that was eventually dropped, as well the public exposure when someone posted the couple's personal information online.
Wenzel told the jury her right arm was immobilized in a sling for weeks, causing her to take medical leave from work. The injury was particularly shocking, she said, because of the high regard she had for police officers for most of her life.
"There was no reason for that type of violence to happen to me or to others," she said, growing tearful. "I am absolutely terrified of the police."
The trial is being closely watched in part because Wenzel's attorney plans to call several members of the Police Bureau's now-disbanded Rapid Response Team to testify, including Detective Erik Kammerer and Officers Brent Taylor and Craig Lehman, each accused of using excessive force but legally cleared earlier.
The list includes calling Officer Corey Budworth, who is accused of striking a protester on a separate night and faces a pending fourth-degree assault charge. But Budworth's lawyer has filed an objection to Budworth's subpoena to testify, according to Burgess.
Budworth was a member of the Rapid Response Team at the time. After he was charged, the entire team resigned in protest.
The trial, which began Monday with motions and is expected to reach the jury by Friday, is already stirring up old animosities.
At one moment, Deputy City Attorney Caroline Turco asked Multnomah County Circuit Judge Katharine von Ter Stegge to quiet the audience after someone muttered "fascist!" during her arguments.
©2022 Advance Local Media LLC. Visit oregonlive.com. Distributed by Tribune Content Agency, LLC
McClatchy-Tribune News Service