All-electric off-road vehicle now available from Polaris
The RANGER XP Kinetic is expected to have 70% lower maintenance costs
---
By Police1 Staff 
MINNEAPOLIS — Polaris, a manufacturer of off-road vehicles, has announced its latest creation: the all-electric RANGER XP Kinetic.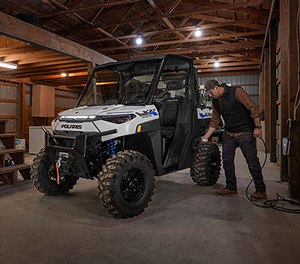 The new electric RANGER was created through a partnership with Zero Motorcycles, a company that makes electric motorcycles, according to a press release from Polaris. 
The electric vehicle will be offered to Polaris' government clients at the federal, state and local levels, the company said. 
"This all-new, all-electric RANGER XP Kinetic is a significant offering for our government customers that need to incorporate more electric vehicles into their fleet without sacrificing utility, performance or durability. Not to mention its ability to also decrease total cost of ownership," said John Pepas, manager of Government Sales, Polaris Government and Defense. 
According to Polaris, the RANGER XP Kinetic was tested on "treacherous" terrain, can tow up to 2,500 lbs, has 10 inches of suspension travel, and is equipped with 29-inch Pro Armor X-Terrain tires for added traction. Maintenance costs are expected to be 70% less than average maintenance costs for similar gas-powered vehicles, the company said. 
The RANGER XP Kinetic starts at $24,999 and is available as a 3-seat model in one of two battery capacities – one with a range of 45 miles and the other with a range up to 80 miles. 
For more information about the Ranger XP Kinetic, see here.