SRO rams patrol car into suspect's vehicle to stop pursuit near N.C. elementary school
The SRO was driving to work when he heard a call over the radio about a man driving the wrong way at high speeds
---
By Ashley Silver
Police1
BRYSON CITY, N.C. — A North Carolina school resource officer is being hailed a hero after ramming his patrol car into a suspect's vehicle that was driving at high speeds during a pursuit near an elementary school.
According to FOX News, Officer P.D. Hampton was driving to work when he heard a call over the radio about a man, later identified as Reginald B. McMahan, traveling the wrong way at 100 mph near a school in an attempt to evade police.
After hearing the report, the SRO joined deputies with the Swain County Sheriff's Office in pursuit of McMahan near West Elementary School. 
"As I pass West Elementary School, I see the headlights of this vehicle in my lane," Hampton told FOX News. "I try to block him in and he rams me head-on trying to get by me."
McMahan managed to squeeze by the patrol car and get free, attempting to drive through the bus entrance to the elementary school. In order to prevent McMahan from gaining access into the school, the officer rammed his patrol car into the truck.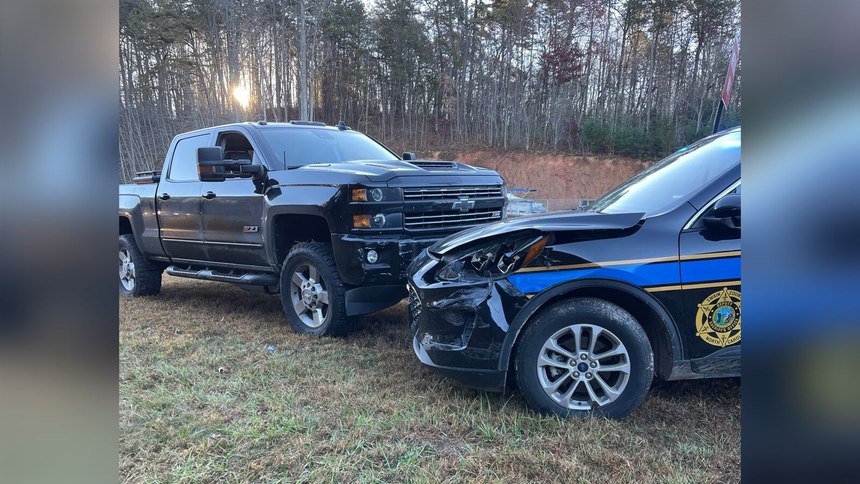 McMahan was taken into custody a short time later and charged with eluding arrest with a motor vehicle, failure to heed light or siren, assault with a deadly weapon and reckless driving to endanger, according to FOX.
"He did appear to be very impaired. He had, at several points, thrown stuff out of the vehicle. We did find ammunition in the truck, but a weapon was not found," Hampton told FOX News.
While Hampton is appreciative of the positive reactions he's received since the incident, he said, "I've never been one for applause. I think it's something that the majority of our officers would do, if not all of them."
RELATED: Watch: Tenn. police officer sprints into exploding home, rescues woman