How to help officers' traumatic stress
It threatens lives and inhibits performance – here's what to do about it
---
By Captain Michael "Shane" Buckhannon
Careers in law enforcement have become increasingly difficult, and job-related stress has led to officer cynicism, suspicion, emotional detachment and reduced efficiency. The demands placed upon our officers today should not be underestimated. The scrutiny faced by law enforcement has increased significantly and taken a significant toll on departments, their employees and the communities they serve. Public protests that frequently follow high-profile officer-related incidents, such as shootings perceived as excessive force, have fractured police and community relationships. Recent events have also injured the trust police agencies have worked hard to nurture, leading to police-community relationships in desperate need of repair.
A factor in many instances of officers acting poorly is the underlying stresses of the job and the long-term impact of the rigors of policing. Fortunately, there are technologies emerging that can relieve that trauma and improve the mental health of police professionals, enhancing their well-being and improving their performance in the field.
Post-traumatic stress is prevalent
The stress on the lives of our first responders has led to more officers being diagnosed with post-traumatic stress disorder (PTSD). The law enforcement community has a culture, though, that dissuades members from seeking mental health assistance. Officers who seek help are often isolated or placed on administrative leave and may risk losing their careers because they are not considered mentally fit to work in the field.
There are about 800,000 law enforcement officers in the United States. According to the National Alliance on Mental Illness (NAMI), up to 19% of these officers may suffer from post-traumatic stress. This would translate to about 150,000 police officers experiencing some type of symptom. However, many states do not recognize PTSD as a work-related injury. There are employee assistance programs and peer support services, but needing professional mental health services comes with a stigma many feel could risk their jobs.
Many officers, especially those with significant tenure, are reluctant to seek assistance due to this culture. As the rate of suicide and PTSD increases for first responders, how can agencies implement mental health programs to improve career longevity?
In a 2012 article in "Connecticut Medicine," a group studied the prevalence of post-traumatic stress disorder, depression and alcoholism among officers from that state's New Haven Police Department. [1] The authors found around 873 police officers had chosen the unfortunate option of suicide to terminate their discomfort. In 2011 four Connecticut officers committed suicide, which prompted a statewide conference to discuss intervention options. The study revealed 24% showed symptoms of PTSD, 19% were using alcohol excessively to cope with their issues, and 9% percent said they'd suffered from depression. [1]  
The officers also reported difficulties managing their time, frequent sick days and distress performing physical tasks due to health reasons. The research concluded that this missed time alone cost the agency more than $4,000 per officer each year. This means in New Haven alone, the economic impact of PTSD, depression and alcohol was more than a half-million dollars each year. One must also include the human toll such suffering took on officers, their colleagues and their families.
Another study that amplified the reality of the mental health dangers police practitioners face found suicide is so prevalent in policing, the number of officers who take their own lives is triple the number killed in the line of duty. [2] In 2018 167 American officers died as a result of suicide. The Chicago Police Department's rate of officer suicides was 60% higher than the national average for police officers, comparable to the rate suffered by the New York Police Department. Both agencies launched mental health campaigns that doubled the number of clinicians and therapists available to officers. [3] Because of the emergence of such data, researchers and mental health experts now link the stresses of law enforcement to PTSD and not to the individual symptoms of drinking, depression and suicide.
How does PTSD affect police performance?
Epidemiologist John Violanti, Ph.D., and his colleagues from the University of Buffalo are currently researching the effects of PTSD on decision-making among police officers. [4]
Violanti explained in a 2018 article how important the decision-making process is when officers face the use of deadly force. "When split-second decisions are necessary, the officer with PTSD is at a distinct disadvantage," he says. Decisions that involve conflict or uncertainty require more complex brain processes that take more time.
---
Policing Matters podcast: Listen to John Violanti discuss the health risks officers face, from the impact of stress on cardiovascular health to the leadership support needed to build resilient LEOs.
---
In August 2020 psychologist Michelle Lilly, Ph.D., and Illinois police Sergeant Shawn Curry, codirectors of the Training and Research Institute for Public Safety, created a survey to assess the psychological health of law enforcement officers following the riots of 2020. A total of 1,355 active-duty officers participated, with 636 of the sample screening positive for PTSD. "The majority of participants reported they often feel trapped or helpless in their job at least once per week and indicated they are unlikely to recommend a job in law enforcement as a career choice," wrote Lilly and Curry. [5]
These feelings reflect the symptoms of depression and anxiety – symptoms that can impact an officer's decision-making and problem-solving in the field. The survey reveals the weight of criticism and suffering officers carry and the consequences to their mental wellness. It affirms the need for intervention resources to meet the needs of officers who seek assistance, as well as those who are more tentative due to fears of stigma.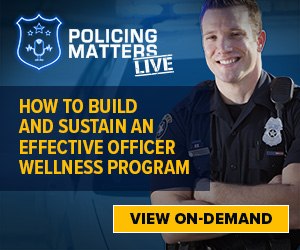 Seeking help gets easier
As additional research is conducted about police suicide, PTSD and the mental illness ailments of police officers, law enforcement leaders are starting to take notice. The stigma surrounding the topic of mental health among first responders is beginning to shift. Wellness programs, peer support teams and funding for these programs are making it easier for officers to seek help.
In 2017 President Donald Trump signed the Law Enforcement Mental Health and Wellness Act into law. The law provides grant funding for police departments to start peer-mentoring and officer wellness programs. In October 2019 the Police Executive Research Forum (PERF) released what Executive Director Chuck Wexler described as "one of the most important reports PERF has ever released." Titled "An Occupational Risk: What Every Police Agency Should Do to Prevent Suicide," the report identified the need to protect responders from the isolation that characteristically contributes to officer suicides. There are also emerging neural technologies that can facilitate treatment more quickly.
In 2005 a team led by California psychotherapist Karen Lansing investigated the effects of eye movement desensitization and reprocessing (EMDR) in six police officers by using a high-resolution brain scanner. EMDR is a psychotherapy treatment designed to alleviate the distress associated with traumatic memories. All six subjects had been in officer-involved shootings and diagnosed with PTSD, but only three had ever received any therapy for on-duty incidents. The results showed significant improvement following EMDR in each patient. EMDR appears to be a useful treatment for PTSD, and hopefully, its use will grow.
Implications to the future of policing
Law enforcement is unlike any other profession. What occurs in one place can affect officers around the nation. A perceived act of misconduct by a single officer not only damages police-community relations locally, but it can also gain nationwide attention and reduce trust of the police generally.
Trust between law enforcement and the communities it serves has been strained for many years. Police departments around the country have implemented various programs to improve their image and relationships with their communities. If campaigns like those in New York and Chicago were available everywhere, it's not difficult to imagine healthier officers doing a better job with less strife than we experience now.
Law enforcement will see its suicide numbers decrease because officers are diagnosed, treated and provided resources to manage stress. Communities will benefit from healthier officers who make better decisions when faced with life-and-death situations. The public needs to be educated about police suicide and PTSD as well. Happier, healthier and trusted officers work harder and treat those they interact with better. Building trust with the community is a byproduct of having healthier officers in the field.
Personal experience
The El Monte (California) Police Department experienced a tragedy on June 14, 2022, when two officers were shot and killed in the line of duty. The department had a contract with a counseling agency already in place and contacted that agency for assistance the morning after the incident. All employees received counseling. Sessions were provided for officers involved, those not involved, civilian employees and spouses. Some officers were open to expressing their grief and hurt, while some needed encouragement. Nevertheless, many shared they were grateful for the opportunities to speak with a counselor and be aided in processing the incident. Spouses expressed their grief and fear of the job their significant others face. They received guidance on how to monitor and support their spouses, while also taking care of themselves and their children.
Department administrators participated in a counseling session as well to debrief and share their experiences at the crime scene, hospital and supporting officers after the shooting. Counseling proved to be a valuable resource for all members. With the example of and encouragement by the administration, not one employee expressed any concern regarding stigma.
It was important that sessions were made available quickly (36 hours) after the incident, and employees were highly encouraged to attend. The participation of officers with leadership roles among their peers had a great impact on the overall attendance. While the department is still discerning the lessons learned and overall long-term benefits of counseling, supervisors will continue to monitor the wellness of officers and provide resources when necessary.
Recommendations
Agencies must consider ways to effectively diagnose and treat PTSD in police officers for a number of reasons. First and foremost is the health and wellness of those in the profession. Police suicide cannot be a secret no one wants to talk about. The importance of the following suggestions is to change a culture. Officers will buy in as long as they know they are being treated fairly and departments have their best interests in mind.
Create policy and procedure for a peer support team, wellness team or other programs that address the psychological needs of officers and their families. These should include significantly enhanced professional mental health and counseling resources.
Create and support programs for officers' spouses and families to include training on police suicide and PTSD.
Conclusion
The culture regarding the psychological health of officers needs to change. Federal grants are now available for departments to implement peer support programs, and nine states have enacted laws that recognize PTSD as a work-related injury for first responders.
Passing these laws, implementing peer support programs and having mandatory routine mental health checks will impact the culture of law enforcement. The old culture of not seeking help, suffering in silence and self-medicating will become a thing of the past. Support from police administration, city officials and the public will enable officers the ability to maintain mental wellness.
NEXT: Key components of a successful officer wellness program
References
Fox J, Desai M, Britten K, Lucas G, Luneau R, Rosenthal MS. (Oct. 2012.) Mental health conditions, barriers to care, and productivity loss among officers in an urban police department. Connecticut Medicine.
Heyman M, Dill J, Douglas R. (2018.) The Ruderman White Paper on Mental Health and Suicide of First Responders. Ruderman Family Foundation. 
Hilliard J. (Sep. 14, 2019.) New Study Shows Police at Highest Risk for Suicide of Any Profession. Addiction Center.
Violanti J. (May 2018.) PTSD among Police Officers: Impact on Critical Decision Making. U.S. Department of Justice, Community Policing Dispatch.
Lilly M, Curry S. Sep. 14, 2020. Survey: What is the state of officer mental health in 2020? Police1.
---
About the author
Michael "Shane" Buckhannon is a captain with the El Monte Police Department in California. Reach him at MBuckhannon@elmontepd.org.