Why drones should be part of every PD's disaster response plan
The instantaneous air support offered by drones proved indispensable to the Daytona Beach Police Department during the response to Hurricane Irma
---

Editor's note: Law enforcement agencies nationwide are adopting unmanned aerial systems (UAS) – also known as drones – for operations as diverse as search and rescue, traffic accident reconstruction and SWAT response. PoliceOne's special coverage series – 2018 Guide to Drones in Law Enforcement – takes an in-depth look at considerations for police departments looking to implement a UAS program.
By Jinnie Chua, Assistant Editor of In Public Safety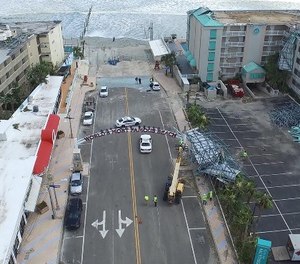 Drones were a vital part of response and recovery in Daytona Beach following Hurricane Irma, the catastrophic hurricane that tore through Florida in September 2017. It was the first time the Daytona Beach Police Department (DBPD) utilized drones, also known as unmanned aircraft systems (UAS), in a disaster response.
"They're a tool we can deploy when we need a bird's eye view of a critical situation," said Anthony Galante, a criminal justice faculty member at American Military University and assistant professor in the UAS program at Embry Riddle Aeronautical University. He is an 11-year veteran officer at DBPD and was one of the primary officers involved in the development of the department's new UAS program.
Galante explained that the UAS program is not designed to replace personnel support, but when manned police helicopters are kept in the neighboring state and carry a price tag of $1.4 million, drones are an attractive alternative. DBPD's drones were launched out of the trunk of a car at $1,200 a piece; they were flying less than 24 hours after the hurricane passed.
Drones perform many tasks during disaster response
Instantaneous air support proved indispensable to the DBPD with their drones serving a dual-purpose:
Streamlining the response time of first responders;
Collecting information necessary for the recovery process.
In the immediate aftermath of the storm, the priority for first responders was to reach those who needed help. Downed power lines, unstable infrastructure and road blocks were both difficult and time-consuming to navigate from ground-level, but drones were able to increase response time significantly by identifying the quickest and safest routes.
"Our first responders have to be safe to help the community," said Galante. "We had the ability to tell public works where to clear the roads so first responders didn't have to find other ways around blocked bridges or hazards in the road."
In addition, pictures and videos captured by the drones were essential when working with the Federal Emergency Management Agency (FEMA) during the recovery process. Following natural disasters like Hurricane Irma, FEMA manages the federal funding necessary for rebuilding what is destroyed. However, they require evidence of the state of infrastructure before a storm hits.
In anticipation of this, the DBPD deployed their drones in the days before Irma's advance to collect images of the city's critical infrastructure. The day after the hurricane passed, they repeated the process. With two sets of images that demonstrated comparable timeframes, FEMA was able to turn around the funds at a much faster rate.
"FEMA just needs proof so they can justify handing out the money," said Galante. "Pre-hurricane assessment is key to letting people in the community get back to normal quicker."
Galante hopes that the UAS program has set a precedent for future disaster response preparations, but as drones are a relatively new technology, there are still a number of challenges to iron out. The greatest concern is crowded airspace.
The importance of interagency coordination
As DBPD officers discovered, there may be a number of different organizations attempting to conduct post-disaster assessments from the air. Alongside the DBPD were drones from Florida Power and Light assessing their downed power lines, as well as low-flying National Guard and Black Hawk helicopters.
"It was a little bit hectic because everybody was out doing their own thing with no communication," said Galante. "In the future, it all needs to be coordinated in one spot, preferably with the local Emergency Operations Center."
He stressed that if departments plan on integrating drones into a public safety role, they must also involve the community in the process. That includes educating people on the dangers of flying their own drones illegally in a conflicted airspace. Maintaining transparency is also crucial to ensuring the public is at ease with exactly what a UAS program will and won't entail.
---
About the author
Jinnie Chua is the assistant editor at In Public Safety, an American Military University sponsored website. She graduated from New York University in 2016 with a bachelor's degree in Journalism and Sociology. At In Public Safety, Jinnie covers issues and trends relevant to professionals in law enforcement, fire services, emergency management and national security. She can be reached at IPSauthor@apus.edu. For more articles featuring insight from industry experts, subscribe to In Public Safety's bi-monthly newsletter.