50 states, 50 police heroes: How cops made an impact in 2021
Law enforcement stepped up through acts of heroism – big and small – to create some good this year
---
By Police1 Staff
From giving brand-new shoes to a man in need to replacing a bike for a trusting teen who loaned his to a stranger, we've rounded up one act of police heroism from each of the 50 states – just a small sample of the excellent work LEOs do every day across the country.
Looking for more uplifting stories like these? Follow The Up-Beat – a monthly series that aims to bring greater attention to police acts of heroism and kindness. Email your police hero stories to editor@police1.com. 
Alabama
Police chief applauds officer who comforted child victim of bloody machete attack
Florence Police Chief Ron Tyler used social media to recognize the work of Officer Justin Whitten on the department's Facebook page for his conduct during the incident. "These are the men and women of law enforcement," Tyler wrote. "Not perfect, always improving. You're always invited to go into the pit after the lions. Come join us." FULL STORY
Alaska
Anchorage cop helps save box of mice sitting on a wall
"Officer Keating, who is clearly NOT the squeamish type, gave them some food, water, and secured them for safe transporting over to our friends at Anchorage Animal Care and Control," the department wrote on Facebook.  
Arizona
Ariz. officers get elderly man home safe, help put away his groceries

Officers Phillips and Rosario were responding to a call from a concerned citizen about an elderly man who was sitting in his car in the scorching heat. When they arrived, the officers offered to drive the man home.  "Well, but I have groceries," the man said. "We can take those too," an officer responds. FULL STORY
Arkansas
Quick-thinking rookie cop saves choking infant
Pottsville Police Officer Cody Hubbard, 23, responded to a call for a 3-week-old baby boy who was choking on anti-gas drops. The rescue was caught on Hubbard's bodycam. "It was life-changing," Hubbard, who has experienced the same problem with his daughter, said. FULL STORY
California
Deputies rescue man who became stranded on rock due to high tide
The Del Norte County Sheriff's Office received reports of an individual becoming trapped on a rock near White Rock Resort in Smith River. Witnesses said the man, who had been stuck for several hours, was periodically getting knocked off the rock by the surf. Deputy Lucero and Sergeant Ortega swam out to the man, eventually reaching him on the rock. FULL STORY
Colorado
Colo. officer walks with woman with dementia until she's ready to go home
Officer David Kaufman approached the woman, but she refused his assistance. Instead, Kaufman walked with her for "quite a long time" until she got tired and accepted a ride home. The encounter was caught on an officer's body camera. FULL STORY
Connecticut
Conn. LEO donates kidney to complete stranger
Sgt. Chris Halstead makes his life's mission to help people. In May, Halstead again gave part of himself to help someone – literally. In the video above, listen to what the kidney recipient had to say about Sgt. Halstead's gift. FULL STORY
Delaware
Police officers step up to replace late husband's hat 
After a 66-year-old woman lost her late husband's Vietnam War Air Force veteran hat when her vehicle was stolen, Laurel police officers bought a duplicate hat for her.
Florida
Fla. officers break window to save man trapped inside burning car

A driver narrowly escaped with his life as his car was engulfed in flames. The horrifying incident was caught on body cam footage. In the video, four cops surround the SUV, its interior completely filled with white smoke. FULL STORY
Georgia
Atlanta officer gives brand-new shoes to man in need
Officer S. Thomas had bought shoes for a barefoot homeless man she had encountered while on her shift. Thomas left to buy him shoes, but he was gone when she returned. Later, while Thomas was working an extra job, she saw a man who was barefoot. That's when a passerby began filming as Thomas gave the shoes to the man. FULL STORY
Hawaii
Idaho
Officers brought their snow shovels to work & in between calls headed for driveways that needed a little help. Thank you to everyone who shoveled a little snow for their neighbor or who hit the sidewalks all the way down the street. We see you, we appreciate you. Happy snow day! pic.twitter.com/WvWq4jHy8s

— Boise PD (@BoisePD) February 14, 2021
Illinois
Chicago cops help wounded officer celebrate son's 11th birthday
After being shot in both legs, a Chicago police officer was unable to host the birthday party she had planned for her son. So, her fellow officers stepped up. Officers staged a motor parade for the 11-year-old to lift his spirits. The officers brought gifts and ran their sirens to celebrate. FULL STORY
Indiana
Cop tends to memorial of woman killed in crash 20 years ago
An Indianapolis officer was praised for going above and beyond the call of duty after a passerby shared video of his act of kindness. The video shows Officer Jeff Stagg cleaning up the roadside memorial of a woman who was killed there 20 years ago by a drunk driver. FULL STORY
Iowa
Twins, 9, donate thousands to police fund after cops save their lemonade stand

When someone stole their tip jar, Katelyn and Elias were devastated. Luckily, local first responders were in the mood for lemonade. FULL STORY
Kansas
Kan. PD replaces bike for trusting teen who loaned his to a stranger
"This sweet trusting boy loaned a complete stranger his bicycle believing the stranger when he said he would return it. The teenager sat outside and waited for two hours for the stranger to return it. The teen's hard-working father was having a difficult time replacing the teen's mode of transportation. The officer who took the theft report contacted us and we were able to replace the bicycle. The boy was so excited he took off riding around the block," the department wrote on Facebook. FULL STORY
Kentucky
Police track down kidnapping suspect, save 6-year-old
Officers found the suspect in 30 minutes thanks to tips from an eagle-eyed neighbor. FULL STORY
Louisiana
Sheriff: Deputy used 'brute strength' to rescue children from sinking truck
In the middle of the night, in a misty rain and fog, Deputy Daniel Haydel dove in a canal to punch out the window of a truck sinking in the water and pull a mother and her two children to safety, Ascension Parish Sheriff Bobby Webre said. FULL STORY
Maine
Maine cops help rescue goat from ocean after it fled veterinary hospital
The goat is doing well after his adventure and dramatic rescue at sea, veterinary staff said. FULL STORY
Maryland
When an elderly couple reported to police that they had been scammed out of $33,000 for a roof job, the patrol squad that covers their Ellicott City neighborhood (w/ help from a neighborly roofing expert) decided to trade their duty belts for tool belts & fix the roof themselves. pic.twitter.com/K9QZXdPujC

— Howard County Police Department (@HCPDNews) May 28, 2021
Md. cops fix roof for elderly couple scammed by contractor
A patrol squad took matters into their own hands after senior citizens on their beat lost $33,000. FULL STORY
Massachusetts
Mass. cop, who is also a nurse, helps deliver healthy baby girl
Officer Ashley Baldwin, who is also a registered nurse, put her medical skills to good use when she was called to an expecting mother's home. When she got there, Baldwin found the mother in advanced stages of labor. Baldwin used her nurse training to determine there was no time to waste – the baby was coming now. FULL STORY
Michigan
After emotional traffic stop, Mich. officers set up TV for elderly driver
The man explained that he had bought the TV for his ill wife, but couldn't figure out how to get it working. FULL STORY
Minnesota

State troopers' 'blood run' saves life of mother after dangerous birth
When a hospital was short on blood supply, five state troopers jumped in to save the day. FULL STORY
Mississippi
Bodycam video shows police rescue 2 from flooded vehicle
"Officer Collier dove right in and begin to rescue citizens that were trapped in their vehicle when Hurricane Ida brought some serious flash flooding to our city," the department wrote on Facebook.
Missouri
Donated kidney from slain Mo. officer goes to another cop
Although the two officers never met, they "will forever be connected," police said. FULL STORY
Montana
Police captain rescues choking woman
The department awarded Capt. Brett Petty with a Lifesaving Award for saving the woman. "Brett has always been a person and an officer you would expect to step up and help anyone in need, because that is his character," Helena Police Department Chief Steve Hagen said. 
Nebraska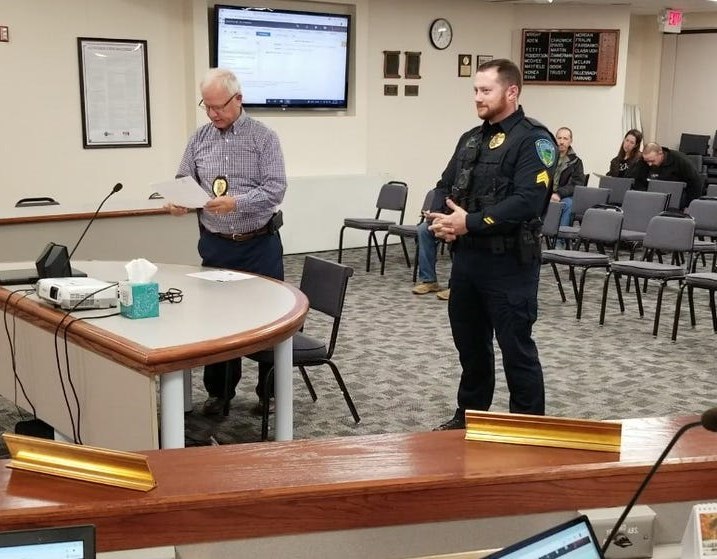 Officer recognized for pet-saving effort in house fire
"Sergeant Derrick Hosick's quick thinking under stress worked flawlessly. He retrieved his gas mask from his patrol vehicle, which would allow Hosick to breathe inside the residence. Sergeant Hosick is a K-9 handler and knows first-hand that pets are not just animals ... but a part of the family. Hosick put on the gas mask and went into the residence, and was able to locate the dog, hiding underneath a bed," Beatrice Police Chief Bruce Lang said.
Nevada
⚠️Thanks to an alert citizen as well as a security guard, we were able to step in and save more dogs in distress. This happened last week in the 5200 block of South Fort Apache. Sadly one of the three dogs did not survive. One person was arrested. pic.twitter.com/zoGUH2ri6Z

— LVMPD (@LVMPD) July 30, 2021
Las Vegas police rescue 3 dogs from hot car in parking lot
Las Vegas police are using the video to remind dog owners not to leave their dogs in a hot car. It was 96 degrees at the time of the incident.
New Hampshire
NH State Police rescue owl from road
The owl, who was taken to a wildlife rehabilitation center, had apparently suffered a concussion, according to police.
New Jersey
Cop on lunch break saves choking girl, 10, with Heimlich
Det. Richard Jupinka was in the right place at the right time. FULL STORY
New Mexico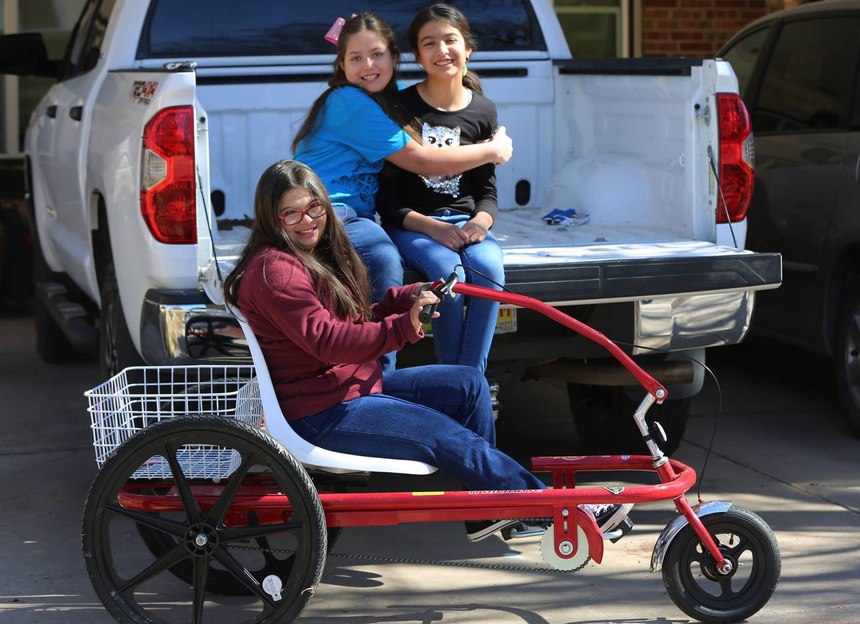 LEO helps recover stolen adaptive tricycle for girl with special needs
A New Mexico marshal is being praised for going above and beyond to help a family in need. FULL STORY
New York
In the tense moments after Saturday's shooting in Times Square, Officer Vogel, from @NYPDMTN, was directed to a child who was shot, exclaiming — "There's a baby?" She quickly applied a tourniquet & rushed the 4-year-old girl to a nearby ambulance. pic.twitter.com/6oX12VL26q

— NYPD NEWS (@NYPDnews) May 10, 2021
NYPD cop sprints through Times Square with 4-year-old shooting victim
"This little girl was so strong," said Officer Alyssa Vogel, who carried the child to safety. FULL STORY
North Carolina
NC troopers take stranded elderly woman to lunch
A pair of troopers went above and beyond to help a woman who ran out of gas along the interstate. FULL STORY
North Dakota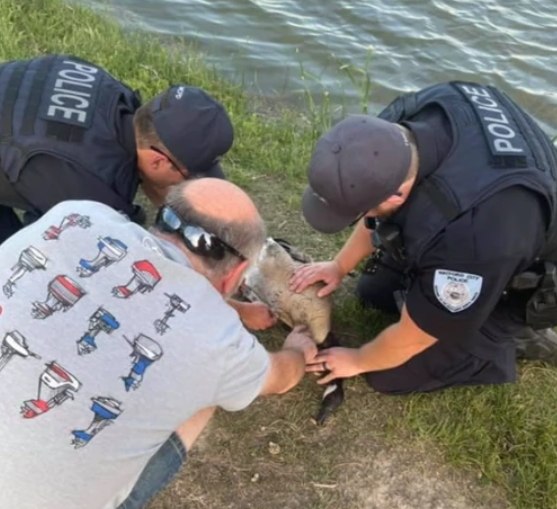 Police officers rescue goose caught in fishing line

With help from another passerby, the officers removed the line and released the goose back into a pond.
Ohio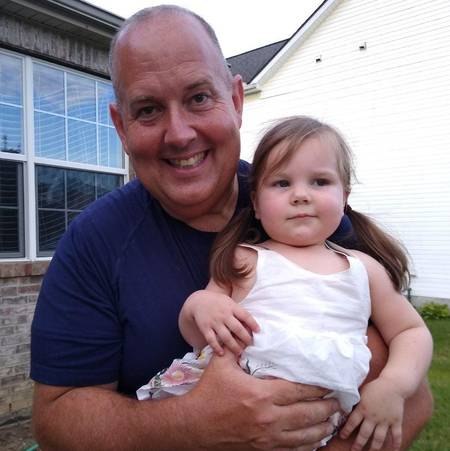 Off-duty LEO saves girl, 2, from drowning
Mary Giedeman screamed for help as loud as she could, over and over. An off-duty cop, five houses down, heard her. FULL STORY
Oklahoma
Police officers save dog from Lake Hefner
"According to the owner, 'Dennis' had been missing for a week when he was found swimming in the middle of the lake, but was struggling to keep his head above water," the department wrote on Facebook. "Sgt. Parsons and Sgt. Sanchez to the rescue!"
Oregon
Troopers go above and beyond to help driver in need
"One of the troopers stopped by the local auto parts store to get a part that was needed to fix the truck and get him back on the road. This is definitely not something that OSP would do, but the driver shared his sense of urgency since the truck was transporting a load of fruit worth $150K which would have spoiled if not quickly transported," the department wrote on Facebook.
Pennsylvania
Pa. cops rescue unconscious man from burning building
The three officers ran into the building, thick with smoke, before finding a man on the floor. FULL STORY
Rhode Island
Officer recognized for saving baby inside stolen car
A 7-month-old baby was inside of a car when it was stolen out of a parking lot. Providence Patrolman David Impagliazzo started searching for the car. Less than an hour later, Impagliazzo found the car in the parking lot of an apartment complex. The uninjured infant was found inside of the car.
South Carolina
Deputies show support for fallen officer's daughter at graduation
Karlee Burdette was just 2 years old when her dad died in the line of duty. More than 30 deputies supported her while she gave her valedictorian speech. FULL STORY
South Dakota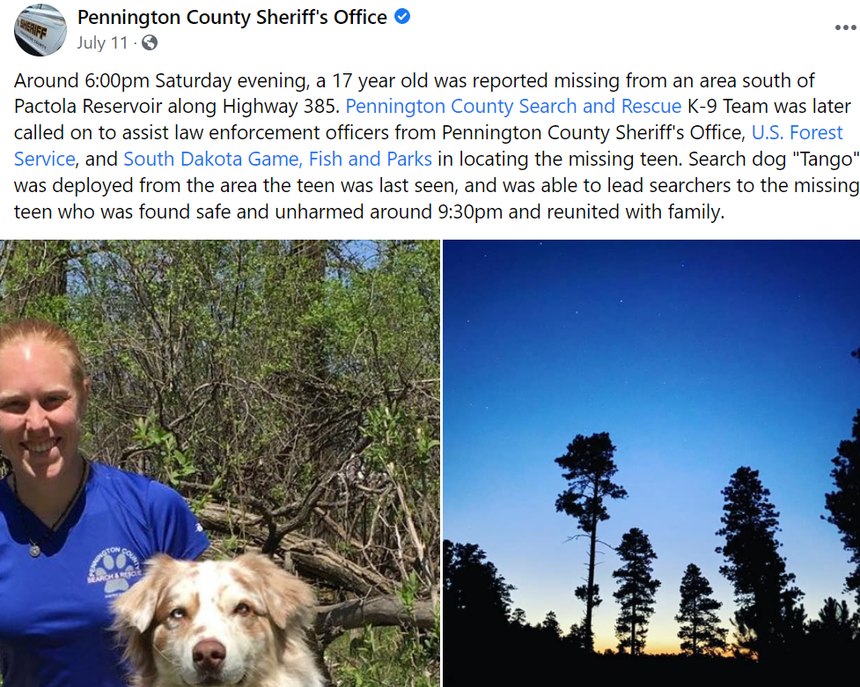 Search and rescue team dog leads police to missing SD teenager
"Search dog 'Tango' was deployed from the area the teen was last seen and was able to lead searchers to the missing teen, who was found safe and unharmed and reunited with family," the department wrote on Facebook.
Tennessee
Tenn. police officer sprints into exploding home, rescues woman
"Timing was very much on my side that day," said Cpl. Allan Ervin. FULL STORY
Texas
Deputy helps find 3 children lost deep in the forest
The kids, aged seven and younger, said that their parents had told them to stay put if they ever got lost. FULL STORY
Utah
Utah police officer replaces boy's stolen bike on his own dime
Officer Dan Johnson said he knew exactly how the boy was feeling, having had a bike stolen as a kid himself. FULL STORY
Vermont
Police comfort dog gets his own book
The book follows Williston Officer Matthew Cohen and K-9 Duke through a typical day while showing his skills.
Virginia
Va. LEO single-handedly lifts car off trapped woman
Through "sheer will and determination" the deputy was able to physically lift the vehicle. FULL STORY
Washington
Police officer details rescue of 2 boys who were stuck in drainage pipe
The boys, 11 and 10, were playing in a storm pond when they got sucked into a drainpipe and dragged off by the current. Officers Travis Tilford and Lee Price showed up and leaped into action.
West Virginia
Officers aid in rescue efforts during flooding
"This is a good reminder of how quickly situations can change during a flood," said West Virginia University Police Capt. Sherry St. Clair. "We are thankful the situation was resolved without any injuries. However, University Police reminds our campus community that six inches of water is enough to reach the bottom of most passenger cars, which can flood the exhaust and leave occupants immobile and at risk."
Wisconsin
Officer hailed as hero for saving elderly man from burning home
Port Washington Police Officer Tony Becker was just down the street at a nearby police station when he heard an explosion. When Becker arrived at the home, it was in flames and a woman told him her husband was still inside.
WYOMING
Officer hailed as hero for saving woman's life 
"Our dispatch center received a call from a woman who was choking on a piece of food and couldn't breathe. Officer Gomez responded to help and arrived on scene in approximately two minutes. He quickly used first aid techniques to help the woman and she was able to dislodge the food item and breathe normally again," the department wrote on Facebook.